medu vada recipe - South Indian recipes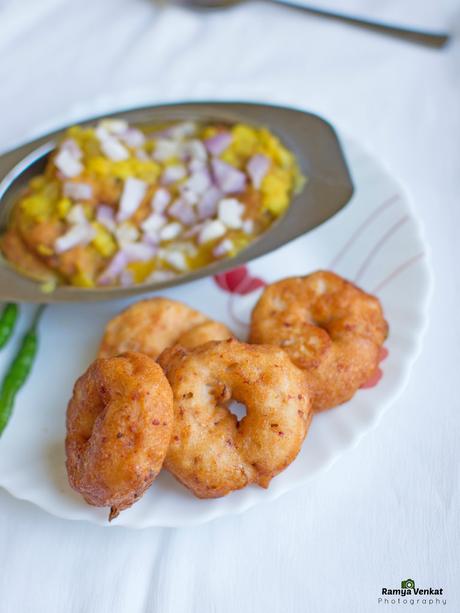 medu vadai/vada recipe , a South Indian recipe which is made with split black gram/urad dal/ulunthu.I already had the recipe for sweet medu vada which is made with black gram/ulunthu along with sugar or jaggery.I go through my recipes and saw that i did not had the basic medu vada recipe.
Prepared this last week for Thai poosam,which is the festival day celebrated in thai month(tamil month).Shot this recipe for blog and its been ages , i made this vada and i mostly prefer masala vadai,which is my favorite.my first try turns out hard as i added more rice flour and my second try was a disaster because of black pepper corns.And finally i made this successfully last year,but had low light for shooting that day.Postponed the recipe and had the chance to make it this year.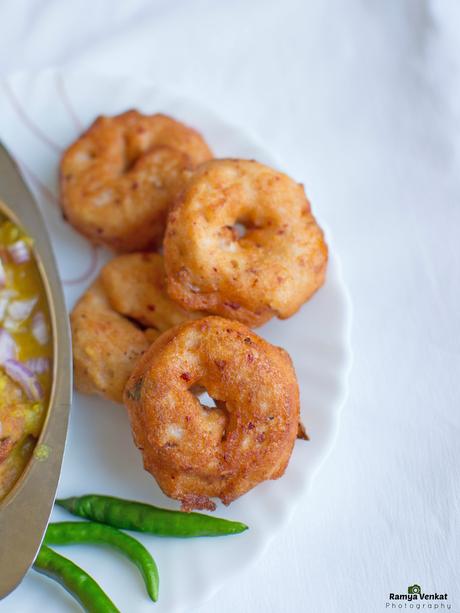 Ulunthu/balck gram/urad dal is really good for health especially for women.My sithi(aunt) prepares ulunthu kali during holidays in childhood.Amma makes this vada twice a month for us and we take black gram in thovaiyal which is good for health.So that we,South Indians taking idli or dosa for breakfast in everyday routine.After marriage,i switched to wheat flour for sometime but missing my regular routine.Now i came back to regular routine,to idli/dosa for breakfast.
for this recipe,if you are using black gram with skin,then soak it and rinse it thrice to remove it.If you are using it without skin,then soak it and rinse it and then grind it with less amount of water into a fine paste.I added finely chopped onions,curry leaves,green chillies along with black pepper powder.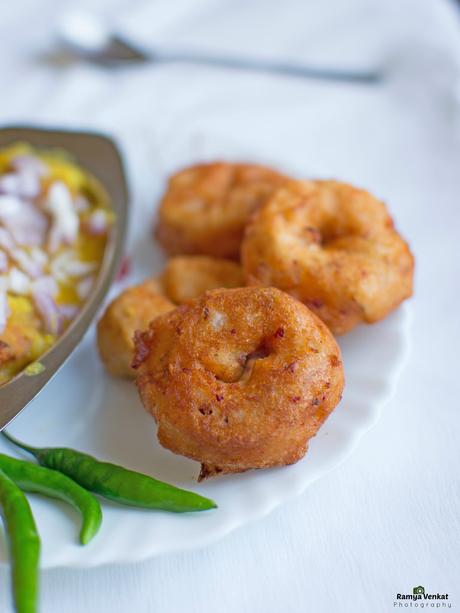 medu vada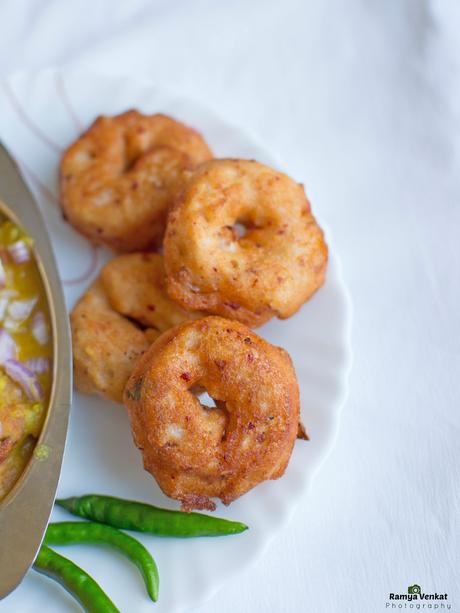 vada made with black gram,onion and green chillies

Ingredients

black gram/ulunthu/urad dal - 1 cup,soaked for 30 mins
rice flour - 2 to 3 tablespoons
onion ,finely chopped - 1/2 cup
green chilli - 3 nos,finely chopped
black pepper powder - 1/4 teaspoon
asafoetida - a pinch
salt - to taste
oil - for deep frying
Instructions
Make a fine(batter) paste from black gram in the blender by adding less water(sprinkle water if needed).

Take that batter in the bowl and add the onions,green chilli,black pepper powder along with rice flour and salt to it.

Mix that evenly and add asafoetida to it and mix it well.
Heat the oil in the kadai and once it is hot enough for deep frying,then lower the flame to medium.
Make vadas and gently slide them from the corner without touching hot oil.
Deep fry them and make sure both the sides are evenly brown.
Drain excess oil and serve piping hot.