I enjoy sheet masks! I really do! I'm a huge fan of it that I always try and get them when I can but the thing is, they get expensive too. I always save my sheet masks for spa day and getting ready for events. They make my skin so amazing and makeup looks fantastic because it adheres more efficiently to the skin.
Today's sheet mask review is the MEDIHEAL H.D.P. Pore Stamping Charcoal Mineral Mask. Whew. Quite a mouthful for a name!  A little background on MEDIHEAL. MEDIHEAL is a brand that was created and tested by aesthetic specialist using principles of treatments. They incorporate special skin prescription and know-how of skin specialists to provide custom solutions for an individual's skin problem MEDIHEAL uses highly concentrated formulation of natural materials that helps the unbalanced skin to become healthier by making it resistant to stress and restoring skin balance.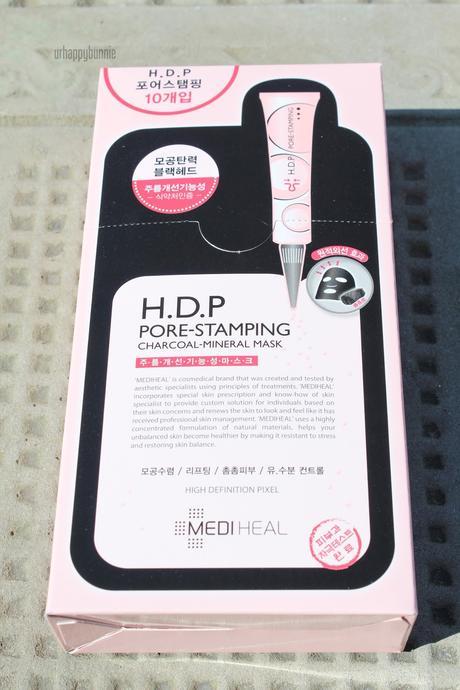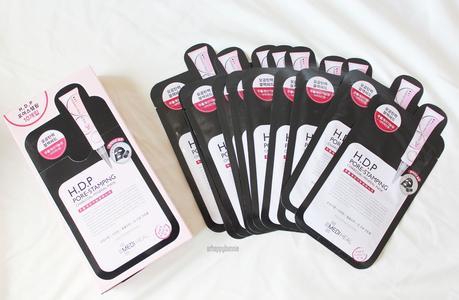 H.D.P. stands for High Definition Pixel. The main purpose of this mask is to tighten the skin and diminish the appearance of pores, key elements in looking flawless and "high definition." The main ingredients for this mask is the LS8865(homes Officinalis - Mushroom Extract) and ZINC PCA which tightens pores and controls excessive sebum. It also contains Seagrape extract and Camellia sinensis callus culture extract which nourishes the skin to become resilient and lift the skin.
The mask is black and the material is slightly thick with a felt texture. The sheet is fully soaked with the essence but it does not have a lot of extra essence in the packet. The essence is also a little bit thick in texture and quite slippery. It has a fresh, clean scent to it that is somehow relaxing.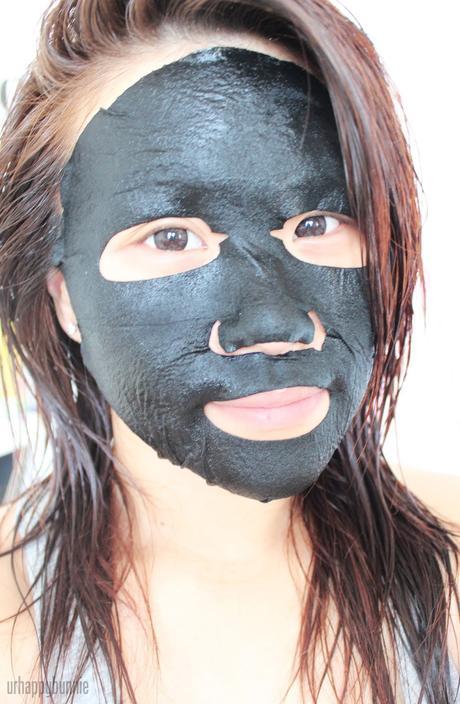 Using the mask is easy and you just have to do the basic steps in using a sheet mask. With a freshly washed face, apply your toner. Remove mask from the packaging and fit to the face. Leave it on for 10-20 minutes. I usually do chores, read a book or watch a movie while using a mask. I sometimes even take a nap and I wake up rejuvenated! After the said time, remove the mask and pat the remaining essence into the skin for it to be absorbed.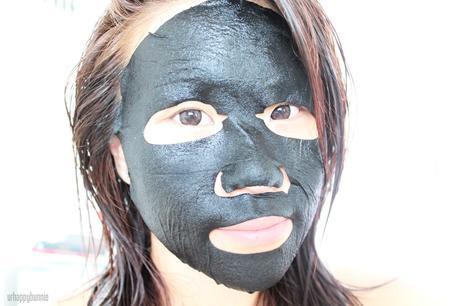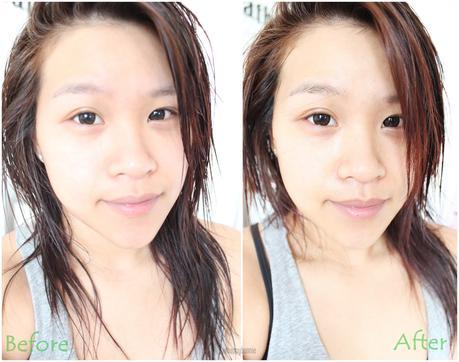 Above is a before and after photo of me. I didn't really notice much of a difference on my skin after using it although it did get rid of some redness. My skin felt tacky from the essence and kept my skin moisturized. I applied my makeup as usual and my makeup looked flawless. The only thing is that I noticed that my face produced more oil than it usually does which is quite contradictory as to what this mask is supposed to do, which is control excess sebum. It might be that this is not for my skin type because I have a normal to combination skin right now. 

Other than that, I don't have anything bad to say about this mask and I really like it, except for the fact that I might not use it as a mask when getting ready prior to an event. I don't think my makeup would last long if my skin kept producing oils. This would be perfect if my skin just needs a pick me up or extremely dry. 

It does say at the back of the packaging of the mask that "considering the skin's 4-week turnover term, it is most effective to use consecutively 2-3 times a week for 4 weeks (concentrated skin management program)" to see great results. Having only used this twice, I cannot vouch for the claims of this mask except from what I have experienced but I am gonna try and do the program to see if it does work.

Tip if you're a sheet mask lover like I am, pop your mask in the fridge for about 5-10 minutes before use. This would be great during a very hot summer day!

*This product was sent to me for review but as always, my reviews are honest and based on my own opinions and experience. Don't forget to visit the other BNTGirls, Doris, Laven, Alene and Bella.
Visit BNTNews for the latest Korean news and trends Official Page Tumblr YouTube Facebook  Twitter: @officialbntnews