Hi Huneybees,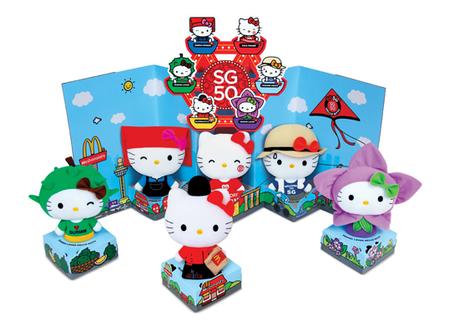 Now here's another reason for
Hello Kitty
fans to start queuing again, as McDonald's commemorates Singapore's Golden Jubilee by celebrating
SG50
with commerative
SG50 themed Hello Kitty Plush Collectibles
this July!
These cute adorable 6 exclusive SG50 Hello Kitty plush collectibles will feature Hello Kitty dressed in costumes representing some of Singapore's most iconic characters including a Trishaw Uncle, Durian Lover and Samsui Woman.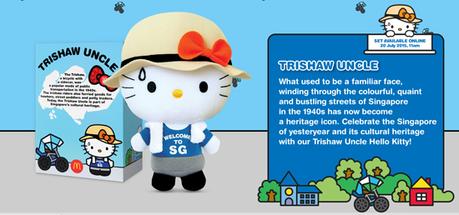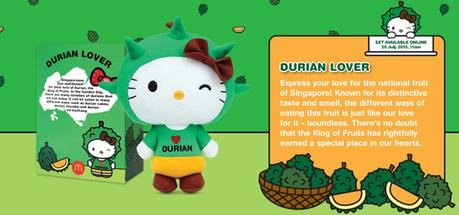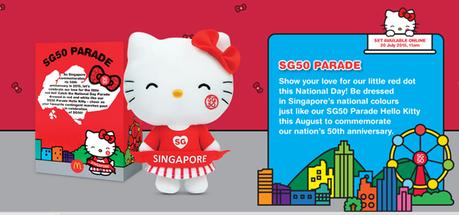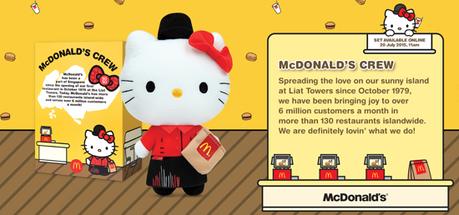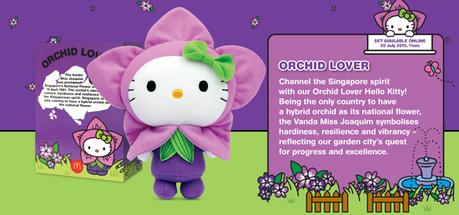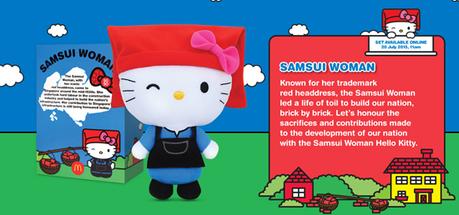 Of course, if you hate the queuing session, you can do the pre-purchase of the
McDonald's SG50 Hello Kitty Special Collector's Set Online
and have them delivered to your doorstep in collaboration with
DPEX Worldwide Express (S) Pte Ltd
. Be sure to get you fingers ready and sit yourself in front of the computer
from 11am on 20 July 2015
to grab the SG50 Hello Kitty Collector's Set at
onlinestore.mcdonalds.com.sg
.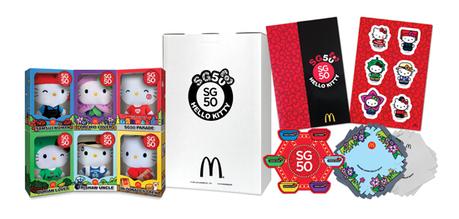 The Collector's Set will comprise six SG50 Hello Kitty plush collectibles along with a Limited Edition Singapore landscape booklet (inclusive of six paper standees and six Hello Kitty cards) and six Extra Value Meal food vouchers valued at S$5 each.
The set will cost S$80 inclusive of GST and delivery. 
Customers will be limited to three sets per online transaction, available while stocks last.
But if you just wana get a particular Hello Kitty and prefer to do the queuing, be sure to keep note of these dates below.
Collectors can look forward to a new design every Monday at 11am
:
Trishaw Uncle (From 27 July)*
SG50 Parade (From 3 August)*
Orchid Lover (From 10 August)*
Durian Lover (From 17 August)*
Samsui Woman: (From 24 August)*
*Whilst stocks last
*Hello Kitty Plush Collectibles will not be available via Drive-Thru, McDelivery and at KK Hospital and Tampines Kiosk
Each plush is available at S$5 with every purchase of an Extra Value Meal at McDonald's restaurants. You can buy up to 4 Hello Kitty Plush Collectibles per store visit.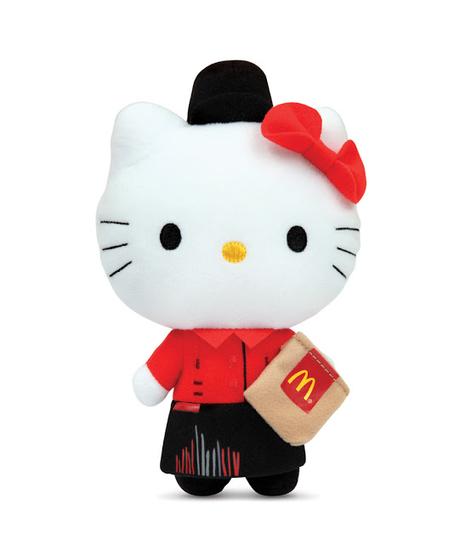 Do note: the
McDonald's Crew Hello Kitty Plush
 is  a Limited Edition launch and it will be
available from 11am on 6 August 2015 onwards
, available while stocks lasts too!
Not forgetting to not waste food, there is also an option for meal donation to The Food Bank Singapore Ltd (a local non-profit dedicated to collecting and allocating donated food to the needy).You could indicate to donate your Extra Value Meals to the counter crew when placing the order and The Extra Value Meals will be donated in the form of food vouchers to The Food Bank Singapore Ltd's network of member beneficiaries, including family service centres and eldercare homes.
THAT'S NOT ALL!
It's SG50 celebration, of course there has to be some new limited period only menu additions too!
There's going to be Love SG50 Cones that will be sold during Singapore's Golden Jubilee weekend, limited edition SG50 packaging for McDonalds' food items that Singaporeans like best as well!
McDONALD'S SERVES UP CELEBRATORY LOVE SG50 CONES
Cool down and enjoy a delicious McDonald's cone as the nation comes together to celebrate Singapore's 50th birthday. Over Singapore's Golden Jubilee weekend, from 7 to 9 August 2015, McDonald's Singapore will be selling limited edition Love SG50 Cones available for just 50 cents each. These celebratory Love SG50 Cones will feature the classic Vanilla Soft-Serve, loved by many, in an iconic red cone.
CELEBRATING SINGAPOREANS
McDonald's will also roll out limited edition SG50 packaging of three Singapore favourites – McSpicy®, Twister Fries and Filet-O-Fish®. In place of their usual packaging, SG50 packaging designs will feature colloquial Singaporean phrases and quotes that customers have used at McDonald's - such as "Steady Bom Pi Pi" and "Shiok". The limited edition SG50 packaging designs will be available from 23 July 2015 across all restaurants, while stocks last.
In addition, McDonald's Singapore has created a commemorative SG50 video that celebrates the different cultures, nuances, reactions and words that are uniquely Singaporean. This shared spirit, shared bond and shared knowledge that we are all one people will be depicted through a series of scenes depicting Singaporeans' everyday moments at McDonald's. The video will be aired on free-to-air television and online via YouTube, Facebook and MSN from 27 July 2015. So stay peeled!
So, what do you think of the McDonald's SG50 celebration items? Will you be rushing down to the restaurants like me too?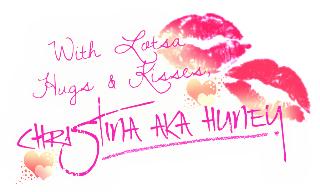 Don't forget to stay tuned to my blog / like my blog's Facebook page / follow me @huney_84 on Twitter & Instagram  for the latest updates!
http://www.huneyzworld.blogspot.com http://www.colourhuney.blogspot.com