Yesterday Mayor of Bet Shemesh Moshe Abutbol called in his deputy and replacement mayor Meir Balaish and fired him form his position as head of the Shefa (shipuy plei ha'ir) department of the city. According to the reports, Abutbol told Balaish that he is removing him because of the lousy job he has done, discriminating against the newer neighborhoods, consisting largely of the Haredi population of the city, and focusing the City resources of this department only in the older part of the city, where Balaish has a strong constituency.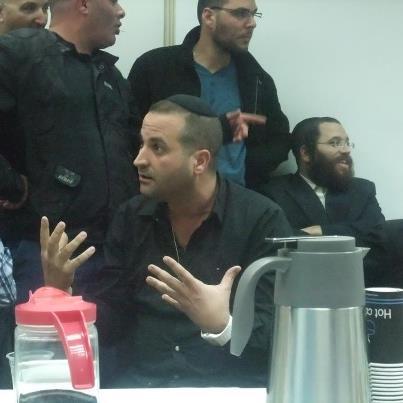 Meir Balaish, photo taken from Shopping Mekomi FB page
Balaish has recently announced that he is fed up with Abtubol and will no longer support him, and that he will be running for mayor of Bet Shemesh in the upcoming elections. This was a big blow to Abutbol, yet Abutbol has not removed him from any of his positions - until now. Despite having now lost his "shefa" portfolio, he still remains deputy mayor (with pay).
Where this will lead, nobody knows. Who will be given the newly vacant "shefa" portfolio, nobody knows. Rumor has it that it is being offered to TOV in exchange for returning to the mayors municipal coalition, though supposedly there are those already in the coalition who oppose such a move, just because they want TOV to continue being frozen out.
Personally, I hope TOV does not take the portfolio, if they were, or will be, offered it. There is not really enough time to do anything serious with it, to learn the issues and make improvements - elections are coming up in October. They really gain nothing by taking shefa now - unless for some reason they think they can move into the position and immediately make a big difference, which I dont see as being possible. Also, the lack of stability - they started in opposition, then joined the coalition for a measly price, then left the coalition again - looks bad for TOV, in my opinion. If they had been offered this 3 years ago, I'd say it would be worth joining the coalition to take control over this. But to join now, at a point when almost nothing significant can be done - it is just extending a lifeline to a mayor that has rejected them until now and only used them for his own needs.
The other factor is what this means for the city and upcoming elections. Are Abutbol and Balaish really in cahoots - after all, he only took away shefa from Balaish but left him in his position as deputy mayor (with pay) despite Balaish declaring his new opposition to the mayor. If Balaish is not in cahoots with the mayor and is really going to begin opposing him, will Abutbol even be a candidate in the upcoming elections? If he loses his support from the general community, and his support in the haredi community has waned, with UTJ murmuring that they are about double the size of Shas and deserve the mayorship for themselves... who knows where Abutbol might end up..
Nothing that has been expected to happen, until now, remains a definite. Everything is wide open.