Thursday, July 17, 2014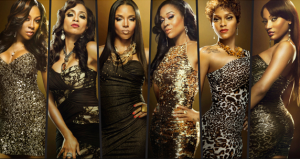 Several Fights Took Place During The Lahh Atlanta Reunion Taping A Couple Nights Ago . Joseline Seems To Have Beeen The Common Denominator In Every Single One & The Cast Wants Her FIRED .
Things Began Whenn Joseline Attacked Benzino's Fiance Althea Punching Her So Hard That Her Cast Members Say They Heard A 'Crack' . Joseline Then Reportedly Pulled Out Her Hair .
Joseline Continued On Her Rampage By Going After Waka Flocka's Wife Tami , Snatching Out Her Pony Tail . Tami's Mother In Law Deb Atney Then Jumped In Punching Joseline several Times in The Head And Ripping Out Her Extensions .
As Security Tried To detain Joseline She Bumped Into Mimi And Decided To Elbow Her And Throw Her Down A Flight Of Stairs . Once Again Security Got Ahold Of Her And She Bit One Of The Guards So Violently That She Tore Flesh From His Arm ( YUCK ).
Needless To Say The Reunion Didnt Continue With Filming . The Cast Will Reunite Again Tomorrow But Audience Free This Time ( No Liabilities ) .