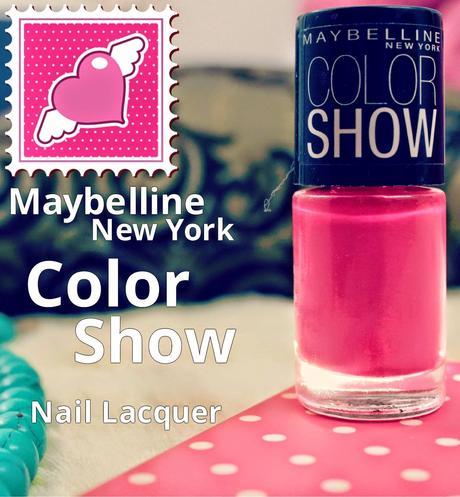 "Make a bold style statement with Maybelline New York's Color Show nail color range.
With trendy, super stylish shades, these nail colors add oodles of attitude to your overall look. Presenting 40 attractive shades, the Maybelline Color Show Range let's you mix, match and experiment with color!"
Here's why you'll love it:
• Nail colors have a gel-based formula for increased staying power
• Is chip-resistant and comes with an easy-flow brush
• Available in 40 different shadesPrice: Rs. 75 Buy it online on Nykaa and you can avail a cool offer ;)
How To :
With one sweep, paint the first line of nail polish up the center of your nail starting from the base to the tip. For the cleanest look, be sure to leave a small space at the base of the nail. Then apply color to the rest of the nail.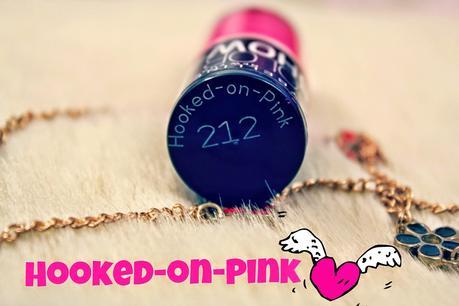 You would say...this massive post of multiple photographs dedicated to one small 75 bucks worth nail color...Why?? Well, if you do not know...this is
my very first post on nail colour
...like
EVER
!!! Yes...I have never before posted a nail color post...So I thought this deserves a special welcome, so I went all out
 ;)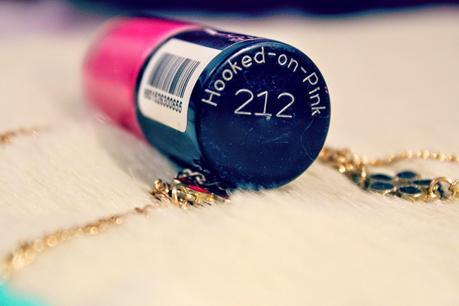 This nail lacquer/paint/polish/color (all terms a cool...and none is the coolest...) is the reason I sometimes get mad at
Colorbar
and
Lakme
. 75 freaking bucks for a nail paint!!Whaaaa...
Whereas Lakme and Colorbar are almost reaching the prices of
Ciate, O.P.I, and China Glaze
. I will not be surprised if they soon overtake
Butter London
...jeez..
The
Color Show
range comes in
40 shades
..all amazing. I picked up 2 colours from this range, and now I am regretting why I did not pick up more!
This very color -
Hooked-On-Pink
is a stunning
almost a neon-esq hot pink
. I totally love this super hot eye popping color.
-->> ignore my poor skills in nailpaint application. I rarely paint my nails --Oh yea..beauty blogger sin right there.. ;)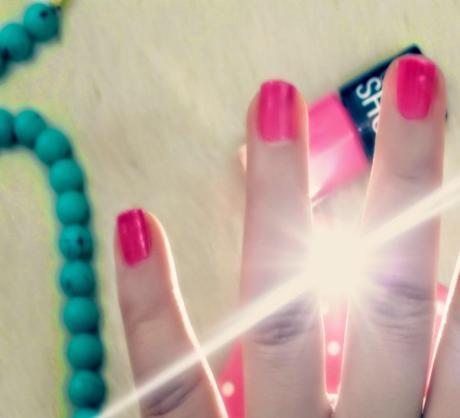 This click/swatch of my hand is bit blurred as I took it from my cellphone...don't mind :)
Maybelline states that it's gel based formula makes is long wearing and chip resistant. But lets be real here, it does chip, infact within 2-3 days it starts chipping. But, if you use a nice base/top coat, it will definitely help it last longer. No cribbing here as a good top coat is required by even the costliest of nail paints.It gives very good color pay-off on first coat itself. I almost did not go for second coat, but then changed my mind. Second coat came out to be a great decision as the color output went from very good to
BAM
!!! Opaque and simply fantastic!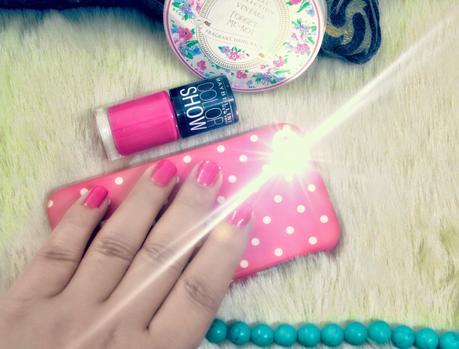 I absolutely recommend these nail paints. They are
awesome
, cost less than a decent bar of chocolate and are just stunning. At 75 bucks per bottle..you just can't go wrong.
Rating- 5/5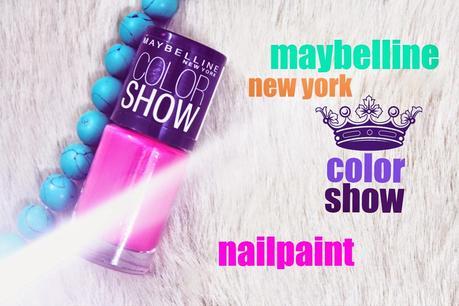 xoxo


P.S -  Did anyone catch 24 : Live Another Day a.k.a "Jack Bauer comes & saves the day" ;) . I swear, if you were/are a fan of 24 you need to watch this one...it is better than ever! I am hooked. 
I do realize that I watch too much TV...yep...