Today i am reviewing one of the most popular nail art trend from +Maybelline New York India . Maybelline Color Show was a rave in the blogger world and the company lived upto expectations with a step further in Graffiti nail coats & enamels. It has introduced an entire range of Go Graffiti with amazing 9 variants.
I tried many at the counter but the one which i loved most was- Maybelline Color Show Go Graffiti- Blue Beats 807.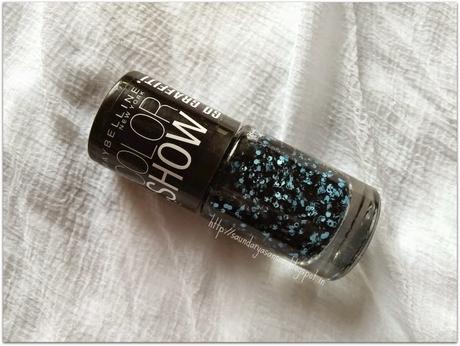 Price- 145 INR for a 6ml bottle. Maybelline has again won the race with proper price and market positioning.
Maybelline New York Color Show Go Graffiti Nail Color (as on website)
Bringing New York Street Art in a bottle under the much-loved Color Show franchise, Maybelline New York presents the all new Color Show Go Graffiti; a range of nine nail polishes with special innovative effects that will keep you captivated this Spring Summer. Now get nail art at your convenience with interesting effects that form the Color Show Graffiti range. Flash your graphic nails to make a fashion statement this season with the most playful range of nail polishes.

Maybelline Color Show Go Graffiti- Blue Beats 807 as the name suggests has blue tones- how?
it is a clear gel with pretty blue and black hexes loaded with tiny black dots and strips. The graffiti coat looks really pretty with bright or dull bases like pink, grey, yellow etc.
I tried this with my Lotus Herbals nail enamel in pink as base coat. I applied two coats of the base pink as many coats takes time to dry up. Moreover if the base coats is not properly dried then the paint spoils (cracks & creases) underneath the top coat.
I was planning for a yellow base but later settled to pink, you just need a single coat of the Go Graffiti Blue beats as its sufficient cover the nails. its not messy neither you need to pull out the stuff to properly tug on nails. its super easy and even dries fast.
The nail coat finish is not gritty to mess up with your clothes and is pretty smooth compared to other coats i've tried so far. Wear time is nice- goes for 5-6 days without chipping.
It looks quite trendy and goes with all kinds of indian to western attire very well.
Also its neither very easy nor too difficult to remove, just have to be little patient while removing. I forgot to try the 'fevicol' trick, has it ever worked with you?
Overall if you like pretty, perky nails without any hassles of mastering nail art, Maybelline Color Show Go Graffiti- Blue Beats 807 is the best thing to go for. Highly recommended!
Which Go Graffiti shade have you tried? or you are a more into nail art?