Now in the past, to be honest, I was never completely smitten with the Maybelline Color Sensational lipsticks. The color selection then was somewhat blah because none of the shades I encountered ever seemed to suit my oriental undertone. The shades would look great obviously on someone paler or Caucasian in ethnicity and I didn't care to buy darker shades just to find something that would suit. It's nice to know that the Color Sensational lipstick range is at least randomizing the reds up a bit and that Maybelline locally are bringing in a couple more vibrant colors. I was sent these shades to try. The swatches are pretty gorgeous. If you're having trouble distinguishing between the reds, here's a primer: Are You Red-dy is the softer, slightly milkier red, Very Cherry is like a non-matte, less cool dupe of MAC Ruby Woo, and the deepest red of all is Red Revival, a good drugstore dupe for MAC Russian Red, a warm earthy rouge.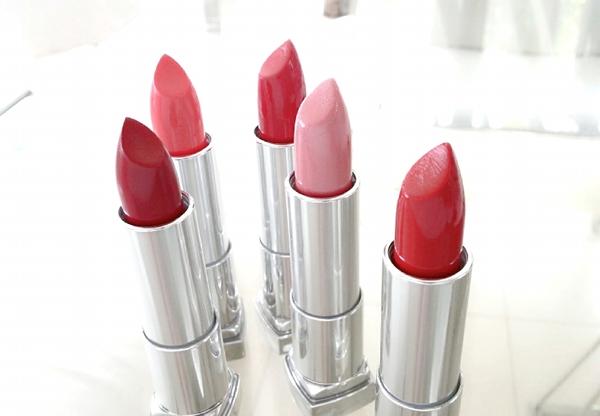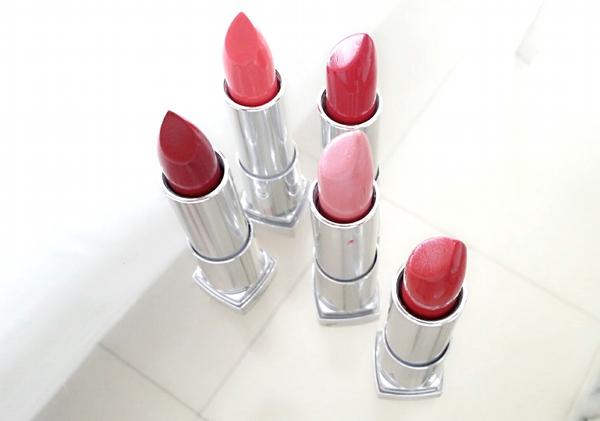 %20picsay.jpg">%20picsay.jpg">
%20picsay.jpg" alt="Camera 360" width="600" class="aligncenter size-full wp-image-11086" height="429" />
You'll have to excuse me but the lighting of the shots with the lipstick applied wasn't very good today…there were passing clouds and the dilemma of shifting sunlight. I balanced the hue out as best I could so that colors appear in their truest form.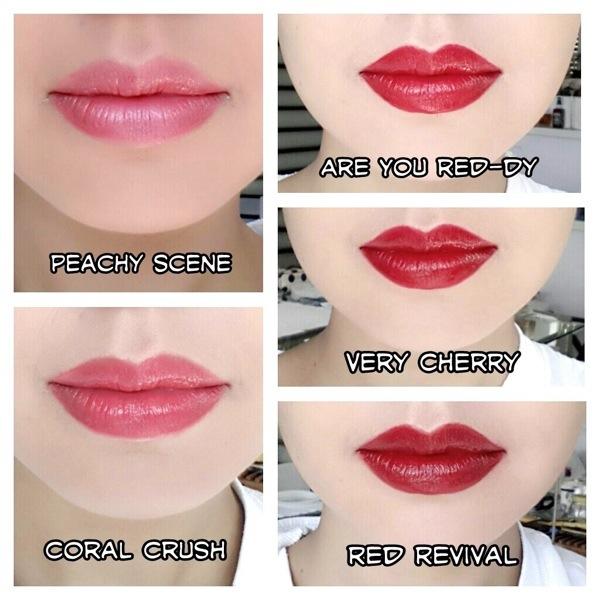 I was more impressed with the payoff of the reds than the lighter shades, it's a nice creamy texture and the pigment is more opaque than the previous formula of Color Sensational as I remember it. I'm not fully convinced though on the improved longevity end…I felt grease. I just wish these shades looked as good on my lips as they do on my arm. It's a bit too high shine for my personal taste mainly because my lips are massive. I feel this will only last 3-4 hours on me and once I eat it might be a goner. Lipliner is absolutely necessary. I used Nichido lipliners before applying the red shades. Blotting will add staying power.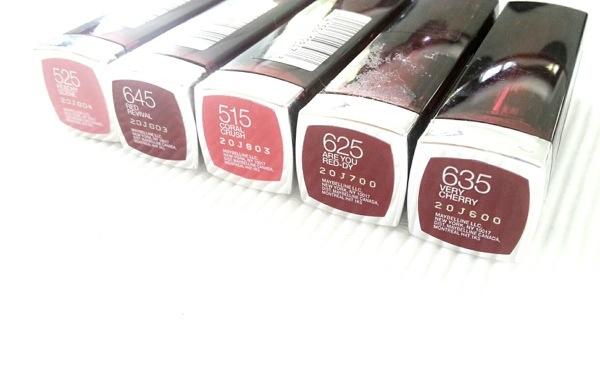 The problem of transfer wouldn't be the case if you used this in an air-conditioned environment or a country with a drier climate. It probably stays on better in less humid places like the U.S. or Europe. I prefer a tad more drag where my lips are concerned and less shine. This I think would be really pretty on girls with more petite lips and would certainly bring out that lovely pout. Color Sensational lipsticks are available for Php399 from PCX, Watsons, and leading department stores that carry Maybelline Products nationwide.