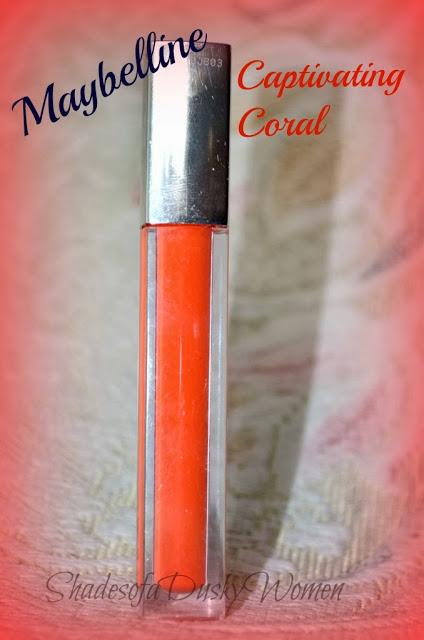 I'm not a huge fan of lip glosses as I have pigmented lips and every other lp gloss i have encountered did give my lips proper coverage. It has been ages since I had bought one, so I decided to treat myself with one and was hoping to change my opinion of it. I hated lip glosses, as I hated this gooey feeling on my lips and for the facts that the city's grime would eventually end up on my lips (yuck!!). I tested the consistency of this lip gloss and was super happy that it wasn't a sticky mess on my lips. I fell in love with the coral shade 'Captivating Coral' and got this. Here is my impression of it:
Why You'll Love It (Claimed by the Brand): Lavish lips with a molten hot glaze: More Vibrant Color from pure liquid pigments Cleaner Shine from our 100% wax-free gloss Creamier feel from nourishing honey nectar Now gloss goes gutsy in 12 arresting shades
Price & Quantity: Rs 350/- for 5ml
Ingredients: Not mentioned on the product or the website.
Packaging & Applicator: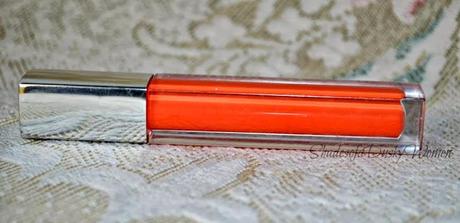 The packaging is pretty simple yet sturdy one. It comes in a transparent tube with a Silver cap. It comes with an doe-foot applicator. The doe foot applicator is convenient to use and spreads the gloss evenly.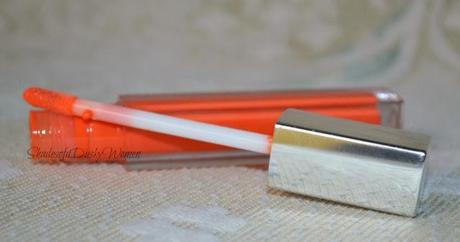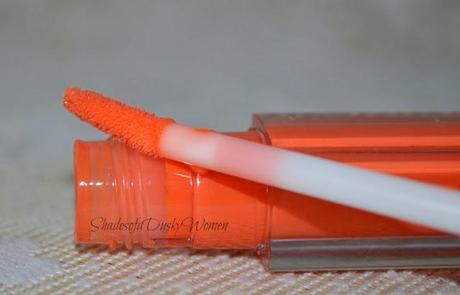 I'm still surprised that their brand name is not engraved or printed on the product. After removing the wrapper with the name and everything on it, the product is barren of any marking that makes it unique to this brand. The shade number and name are mentioned at the bottom.
All about the Shade - Captivating Coral: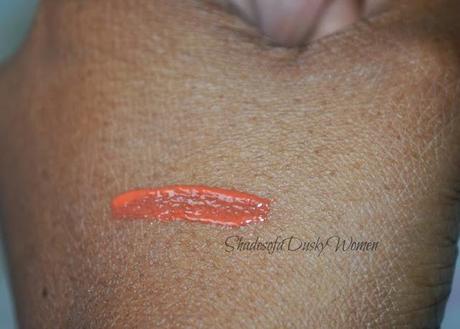 Captivating Coral is a vibrant Orange shade. This shade adds warmth and instantly brightens the face. This is one of the shades that will gorgeous on any complexion. This shade is a winner for this reason. This is a awesome summer shade that can even be worn to office.
Formula & Coverage: It feel really light and comfortable on the lips. There is no annoying hair-sticking-to-the-lips situation and am grateful for that. The formula is creamy enough to be spread easily and evenly. There is this Orange fruit/candy fragrance to it and makes me nostalgic about the inexpensive candies I used to buy during school time. Some might fight this mildly annoying but it fades away in minutes. So nothing biggie about it. The finish is high in shine and lives up to its claim. The lip gloss makes my lips look lush and doesn't highlight imperfections by settling in to the crease. The lip gloss stays put for 2 hours on my lips if I don't eat or drink anything. And after 2 hours, the gloss goes away but the shade is still there. I rub my lips together...a lot. So I'm happy with its lasting power and I also enjoying reapplying lippies. So this isn't a problem for me. 


The only downside of this lip gloss is its pigmentation. I have pigmented lips and this lip gloss provides medium coverage at the max. I have read a lot of reviews and pigmentation isn't a problem for them. I guess I stand out in regards to this issue. On a good day, my lips aren't that pigmented but most of the days i need really pigmented lippies. It's one of the reason I go for lipsticks than lip glosses.
Pros: 12 shades available. Affordable Non-sticky formula High shine finish. Creamy formula makes the lips look lush. Cons: Not pigmented enough.(for me) Doesn't last for more than 2 hours. (They never claimed to last really long)
Verdict: Love everything about it and I wish it had little more coverage than this, then it would have been super duper hit with me.I would still recommend this product as it suits an average pigmented lips.