I received four products from MAXCLINIC in my BNT Beauty Box this month. The first one was a dud (in my personal experience), the MIRACLINIC Ampoule Dressing and Contour Object, and the second one was a so-so, the CIRMAGE Lifting Stick. The third and fourth product I'm reviewing is a combo and it's the VITAMIN Purifying Vitamin Oil Foam and the Cloud Embo Massage Brush. I''m praying that this would be good.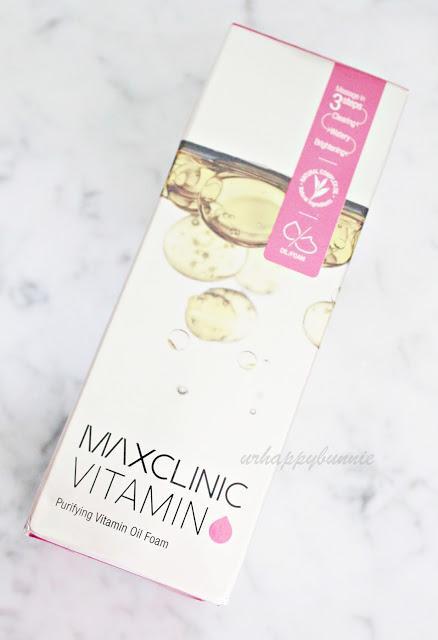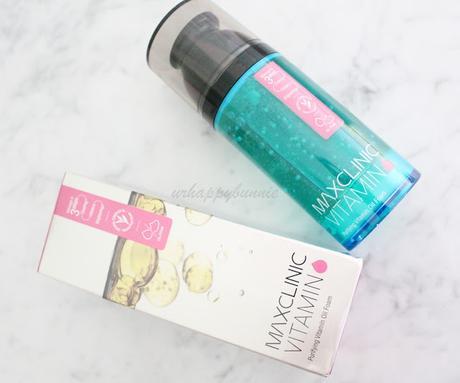 Made with natural ingredients and a handful of natural oils like Jojoba, Olive, Argan, Orange Blossom, Ylang Ylang, & Damask Rose oil for a refreshing cleanse. It also contain Kakadu Plum Oil, Sea Buckthorn Oil and Camu Camu extract that specifically targets skin brightening. French clay is also incorporated and is in tiny beads to help remove dead skin cells, blackheads and makeup residue for an intense cleanse while controlling the sebum.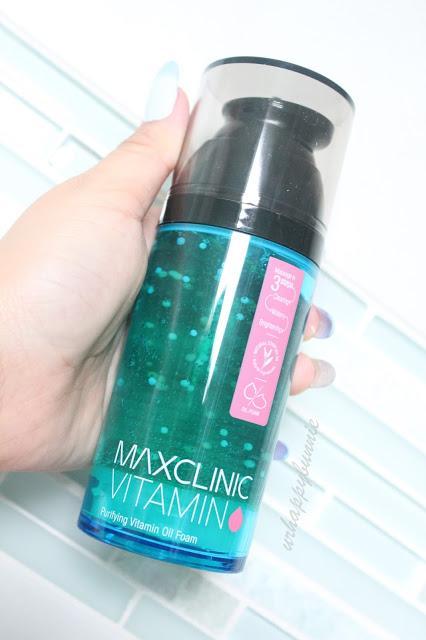 The oil to foam formula ensure that the face is clean while leaving the skin thoroughly hydrated.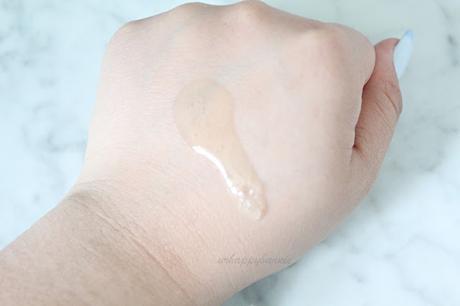 To get the best results of the Purifying Vitamin Oil Foam, the White Cloud Embo Brush was also sent for review. This brush is the softest brush I have ever touched. No makeup brush has come close to how dense and soft this brush is.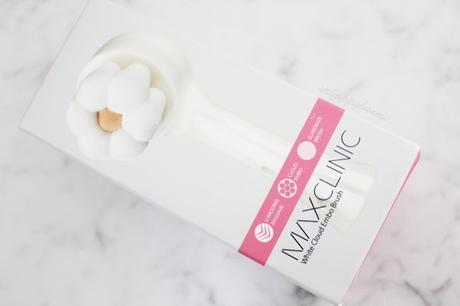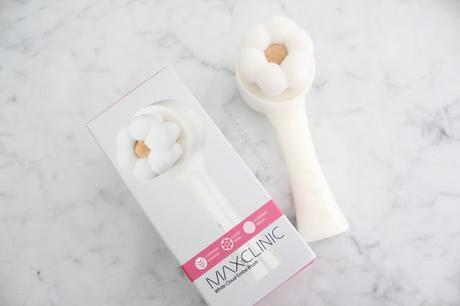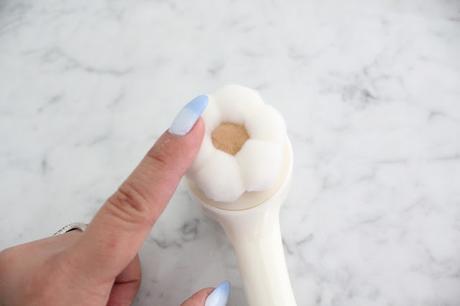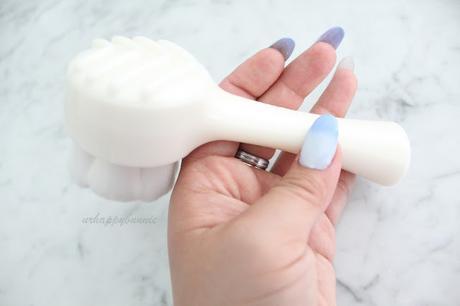 The opposite side of the brush is the V-pad which has ridges to massage your face to improve blood circulation.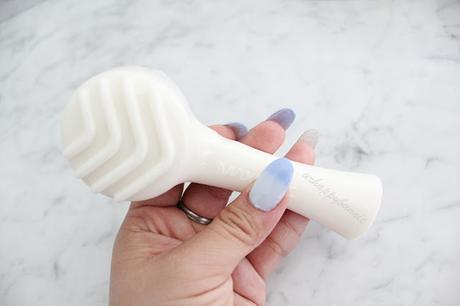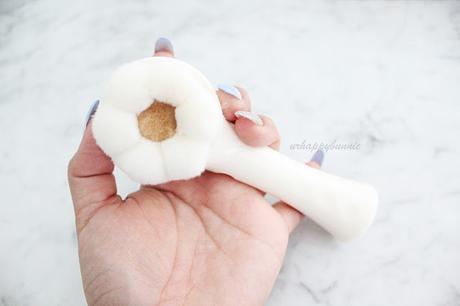 To use both products, simply massage the face with the oil cleanser, with your fingers, this will help breakdown the makeup. Use the V-pad to massage your face. Do gentle, massage strokes all over the face. Take your time. Wet the brush and roll over the face and finally rinse with lukewarm water.
To store the brush simply rinse and clean after use, gently squeeze out the water, fan the bristles slightly to create spaces and to help it dry and store standing up in a dry area.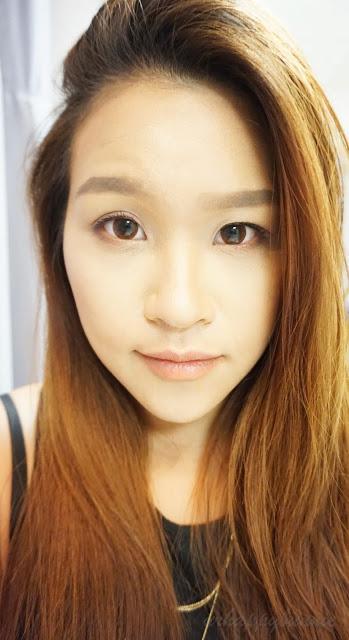 With makeup on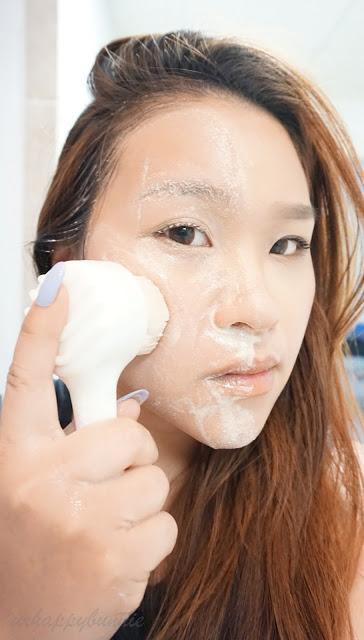 Using the Vitamin Oil Foam and Cloud Embo Massage Brush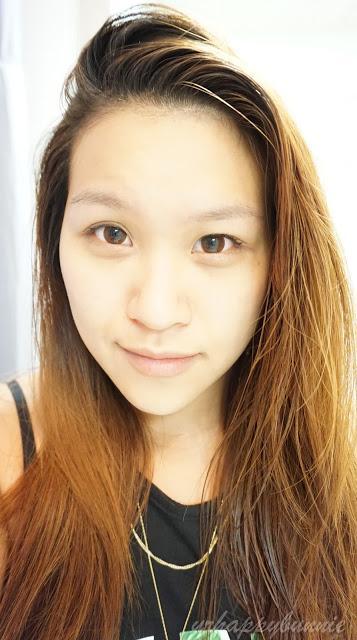 Squeaky clean free of makeup!
The VITAMIN Purifying Vitamin Oil Foam + Cloud Embo Masssage took the crown home out of all the MAXCLINIC products that I've tried this month. The Purifying Vitamin Oil Foam itself is so wonderful to use. It has a burst of citrus scent when you use it that I quite enjoy because it is so refreshing. Using the Cloud Embo Massage Brush is another thing because it was so fun to use! I love massaging my face with the V-pad and the bristles of the brush itself is so soft and nice on the skin. Seeing the my face foaming up with the use of the softest brush I ever tried was such a fun moment for me and I thoroughly enjoyed it!
I highly recommend this product! I'm super impressed by it and to think that this was able to remove all my makeup without too much fuss.This is definitely a must try!
*This product was sent to me for review but as always, my reviews are honest and based on my own opinions and experience.
Don't  forget to visit the other BNTGirls, Doris, Laven, Alene, Kim, Bella, Blair, Charmaine, Mary, Celine, and Mitha
Visit BNTNews for the latest Korean news and trends Official Page Tumblr YouTube


Facebook

  

Twitter: @officialbntnews