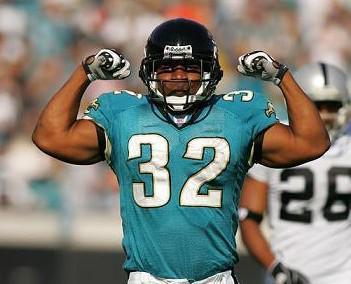 Photo: Sam Greenwood/Getty Images
- Adam Parker
This can't really be a surprise to anyone.
Of course the Jacksonville Jaguars aren't going to trade Maurice Jones-Drew.
He's the best player on the team by a country mile and, in addition to being the clear face of the franchise and the only
real
 reason the team ever sells any tickets, MJD is the only thing that keeps the Jaguars even moderately relevant in the national spotlight.
The MJD saga, which began just over a month ago when Jones-Drew held out in hopes of acquiring a new long-term deal in place of his current deal that still has two years left at $4.45 million in 2012 and $4.95 million in 2013, respectively.
Despite the stalemate between the two sides, Jaguars general manager Gene Smith told the Florida Times-Union that
"Maurice is a Jaguar,"
and he has no intentions of trading him away. Unfortunately for MJD, that big-money contract doesn't seem to be any closer now that it was at the beginning of his holdout, which is a damn shame.
Let's look at what NFL running backs are currently slated to make more than MJD, who is by far the best running back in terms of production; especially considering the aforementioned situation he typically finds himself in.
Jones-Drew's average salary per year ranks behind Minnesota's Adrian Peterson, (who's coming a knee injury) Tennessee's Chris Johnson, (who had a less than inspirational 2011 season) Philadelphia's LeSean "Shady" McCoy, Houston's Arian Foster, (whose success a few people still believe is merely a product of the Texans' zone-blocking scheme) St. Louis' Steven Jackson, (definitely deserving of his money considering his situation is similar to MJD's) Carolina's DeAngelo Williams and Seattle's Marshawn "Skittles" or "Beast Mode" Lynch.
All great backs in their own right, but truthfully, no one deserves to be compensated more than Jones-Drew. The guy has done more with less than I honestly ever that possible in that anemic Jaguars offense.
Considering he lead the league with 1,606 yards rushing (on a career-high 343 carries; 4.7 yards per carry average) last season despite defenses stacking the box against him since he remains Jacksonville's only legitimate offensive threat, it's more than understandable why the man wants and thinks he should be paid much better than he currently is.
In fact, after signing his current deal back in 2009, Jones-Drew has rushed for more than 1,300 yards in three consecutive seasons despite predominantly staring down the gun barrel of seven or more defenders in the box. If this wasn't already evident, the man is a 
beast 
and as such, has every right to want to be paid like one.
Every time one of these highly-paid professional athletes holds out (it's become a regular occurrence of late in the NFL; especially for running backs and wide receivers) the debate always arises of which side to take.
Do you side with the owner and the team because you believe they're doing what's best for the organization and also that you think, as a non-professional athlete, that
no one
 should be upset over a $4+ million per year salary?
Or do you take the player's side, especially in this case when considering the short shelf life of an NFL running back?
My thought is this — no doubt MJD has more tread on his tires than most considering he's the first and really
only
option if the Jaguars want to move the ball with any success. The Jaguars will continue to run him into the ground like an overworked mule until the wheels fall off and because we all know they will, shouldn't Jones-Drew be compensated for tearing his heart out for this franchise big hit after big hit? It seems pretty obvious to me.
But if you do prefer the owner's side simply because you believe the players are being too
greedy
, let me say this — it's not like the owners don't have the money to spend. They're just choosing not to reward their players for the hard work.
What a first few months on the job it's been for new Jags' owner Shad Khan. You remain in a stalemate with your franchise's best player and refuse to pay him what you know he deserves. That's fine. That's your prerogative.
But in the end, isn't it still a loss for you if you don't pay him? Sure, you may be trying to put your stamp on the team and set a new precedent as a new owner to prove that you're "top dog" by not paying MJD, but not paying him also means playing without him, which, unless you plan to be the first team on the clock come April, is not a smart move.
It's been a fun game, Mr. Khan, really it has. But the time for games is over. It's time to suck up your pride, take your medicine and pay your best player because in the end, when a franchise and it's 'face' are at odds, there are no winners, only losers.
Be sure to follow Beard And Stache on Twitter 
@BeardAndStache
, and also Adam 
@Adam_Parker43
, Like our Facebook page 
HERE
!