Sooooo…yeah, another tanning oil for you, but please know that when I feature something somewhat redundant it just means I was blown away.  Some guests who were common friends arrived at the resort I'm currently at and one of them, a lovely lady named Sunday, planted herself by me on shore as I was tanning.  She had an arsenal of tanning oils at her disposal and she ever so randomly planted  herself beside me (also probly' coz my mother headlined my tanning quest) offered one of them and said if I recall correctly (don't match me per word) "Have you tried this one?  Ito daw talaga ang the best.  It's made in  Hawaii…someone told me that Rissa Mananquil, you know her?…also uses it."  Indeed, leave it to the Hawaiians, people of perfect tans, to bring forth some of the best tanning oils in the world…and I'm not just talking about Hawaiian Tropics.  Meet the so-they-say revered original Maui Island Secret Browning Oil, word has somewhat gotten around for awhile, and it's finally gotten to me.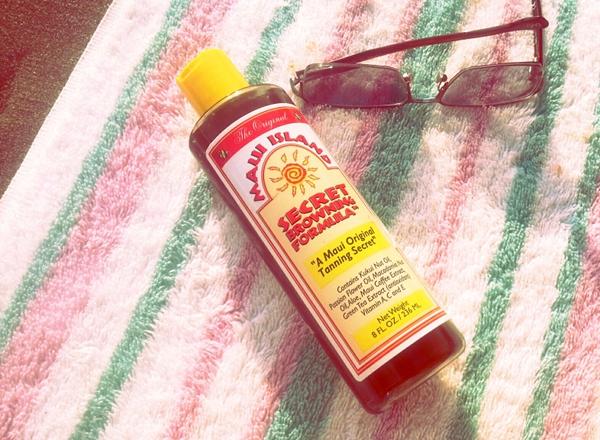 Key Ingredients: Kukui Nut Oil, Passion Flower Oil, Macadamia Nut Oil, Aloe, Maui Coffee Extract, Green Tea Extract, Vitamins A, C, and E.

"Our Browning Formula promotes the fastest, darkest natural sun tan while hydrating your skin and infusing it with nourishing oils and vitamins. We recommend that you have a base tan before using this as it contains no SPF. Combine with SPF for extra sun-sensitive areas where needed."
Before I talk about this Maui wowie, need to get this other thought out of the way, first.  As you regular readers know I've been testing out another previous tanning oil I posted and honestly, I'm actually wasn't disappointed with the the initial results considering that Ritual's Real Tan Browning Oil is 100% organic.  As expected the results were NOT as instantaneous as more chemically charged, mass-produced oils like Hawaiian Tropics (sorry I haven't posted a picture of myself, I will soon) since Real Tan by Ritual has an extremely short ingredients list. Read more to know why I now prefer this over the previous tanning oil I first blogged about.
I realized that the small 75ml  bottle of Real Tan wasn't enough for 3 days because I wasted one application on the first day (Wednesday).  I had put it on when we arrived and then it painfully rained and STAYED CLOUDY (thanks) before I could sit for any ounce of sunshine.  The sun appeared all-day Thursday and by today (Friday) I needed to top up my tan which was on a roll but not quite there yet and I had finally run out.  The color that Real Tan had pushed forth however was spot on (golden without being sallow, deep without looking burnt) plus I have to say my skin on both my body and face have never felt THIS naturally soft and supple at the beach in awhile thanks to that.  But then Sunday ( the Lady I met) came into the picture with this Heaven-sent bottle.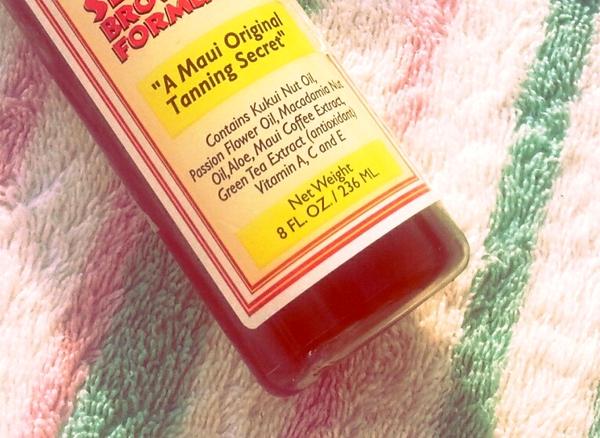 INGREDIENTS:  Light Mineral Oil, HBESC, HEPSC, Cycolomethicone, Kukui Nut Oil, Tocopheryl Acetate (Vitamin E), Retinyl Palimate (Vitamin A), Ascorbyl Palimate (Vitamin C), Maui Coffee Bean Extract, PAssion Flower Oil, Green Tea Extract, Macadamia Nut Oil, Aloe Barbaensis Extract.
Word of advice, this is Sunday's bottle and it cost a relative of hers  $11.99 because you can only get this shipped to you from the Maui Island Secret website if you're based in the U.S. or Canada.  Have a quick look at Amazon, too (although they might cost more)!  Alternatively she says that certain Multiply stockists carry this for about Php600+ per bottle and that Chocolate Clothing boutiques stock travel sizes of the even better (she says) Maui Babe Browning lotion (also from Hawaii but not from the same brand…I think) for the unsurprisingly hiked up price of Php1000+ (for an eensy weensy bottle).  Cost aside let's cut to it…here is where Maui Island Secret Browning Oil INSTANTLY wins upon experience.  It smells so yummy and fragrant without being too gourmande.  It's got fruit notes (my tito thought strawberry but passion flower is the answer) and is tropically, ever so sweetly warm without being sickly.  To me it smells so super duper good you're bound to apply generously whether you're instructed to or not.  I love that you smell great but don't end up smelling like someone should wrap you in foil or stick you into the fridge.  Real Tan, although it smelt nice to say the least, after awhile was kind of bordering on "snacks on a plate" with the coffee and coconut notes leading the ol' factory charge.  Secondly, and most importantly I absolutely prefer Maui Island Secret Browning Oil because I see more obvious results in a matter of 2-3 hours…not as unnaturally quick as Hawaiian Tropics but noticeably better than the day upon day build up of Real Tan by Ritual which was becoming somewhat dragging.  I wanna be a brown cow now! LOL!  I already had a base tan going thanks to Real Tan before I first used Maui Island Secret and I actually had a silent laugh to myself thinking "what could possibly happen between 4pm and 6pm?!" (and I'm leaving tomorrow).  Sunday was right, this was really good and she said something about the tan being like healthy and golden as opposed to being just darker.  I can easily say if it took me 2 whole days to get 1.5 shades obviously deeper with Real Tan, in a matter of 2 hours Maui Island Secret had topped up the job and made me a full second shade deeper.  I don't have a shot of myself to show you just yet, but I know you guys believe me when I say I'm telling the truth.  Maui Island Secret products aren't 100% organic but they're made of more natural and nourishing ingredients than some top-of-mind tanning oils on the market.  Plus here's the best part…tada…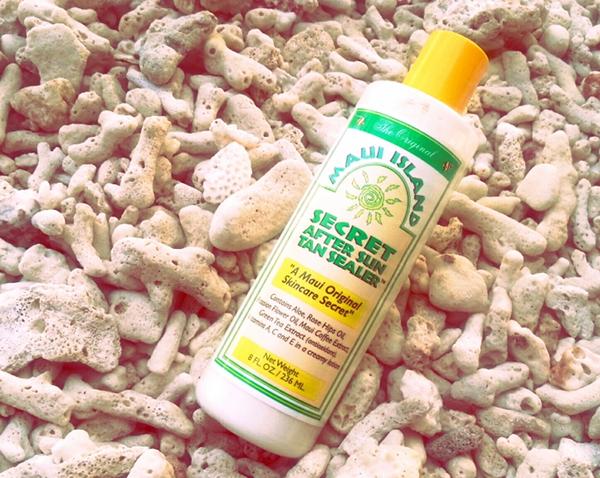 The range comes with a tan sealer!  Sunday also let me finish off after my shower with the Maui Island Secret After Sun Tan Sealer, to help lock in that hard-earned tan which contains aloe and rose hip oil and similar ingredients in a lotion form with nourishing vitamins.  I still plan to roast myself a little bit more on shore.  Of course when using products like this I don't tan like a dumbass, I apply a low level waterproof sunscreen first early in the day, at LEAST 30SPF first and let it adhere and set before smoothing in slicks of any tanning oil.  If you prefer you can mix some of the tanning oil into the low level sunscreen and smooth it on like a lotion…it will still work, just not as quickly.  I know some of you are groaning at me for saying I SUPER like something that's so hard to get but anyway here's yet another thing you can possibly ask friends and relatives in Hawaii or the U.S. for when they say they're coming home.