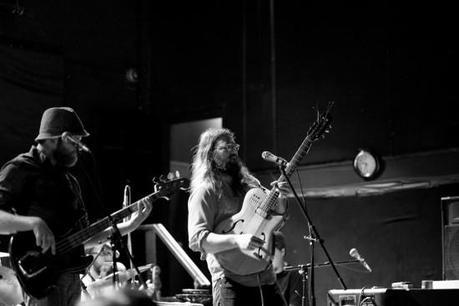 With CMJ at an end, those of us who've been going day and night to check out the latest and greatest of music's offerings finally have a second to breathe, think about what we've seen, and share the highlights of the week. Tuesday night at the Bowery Ballroom was definitely one of those highlights. The Mountain Goats' (@mountain_goats) John Darnielle was in perfect form — as was the sold-out house that sang along, word-for-word — but this story isn't about Darnielle's notably outstanding performance; it's about the opening act: Matthew E. White (@amattwhitejoint).
Mentioned as one of our CMJ Bands to Watch, Matthew E. White exceeded our expectations. Pointing out that the title of Big Inner, his first full-length LP, was a pun that wasn't as good as he wanted it to be, White played all seven tracks from the album. Though it was released less than two months ago, there was still a decent crowd singing along to his soulful tunes. The Richmond native brought about a quarter of the musicians who played with him on Big Inner out on tour, and with nine people on stage at Bowery, things seemed a bit cramped — not nearly as bad, however, as it would be the following night at Union Pool's tiny stage.
Though not all nine members of White's horn section, the Spacebomb Horns, were in attendance, the sax, trumpet, and trombone players there that night were more than enough. (Fun fact: Darnielle liked the Spacebomb Horns so much, he asked them to play on the most recent Mountain Goats album, Transcendental Youth.) Not surprisingly, the three horn players would also make a few appearances during The Mountain Goat's set that night. All nine musicians, including the percussionist, drummer, keyboard player, bassist, and awesome pedal steel guitar player, looked like they were genuinely having a blast.
Though it can be difficult to get crowds in New York to uncross their arms, unpop their hips, and put down their cell phones, some of White's funkier tunes got the crowd moving. His mix of Stax-style R&B, folk, gospel, pop, and Tropicalia, was a welcomed gift to those piling into the venue pre-Mountain Goats. White ended the night  with "Brazos", an 11-minute-long gospel anthem that successfully converted many in the crowd into Matthew E. White fans.