Matt Lauer Allegedly Flashed A Co-Worker And Gave Another One A Sex Toy As A Gift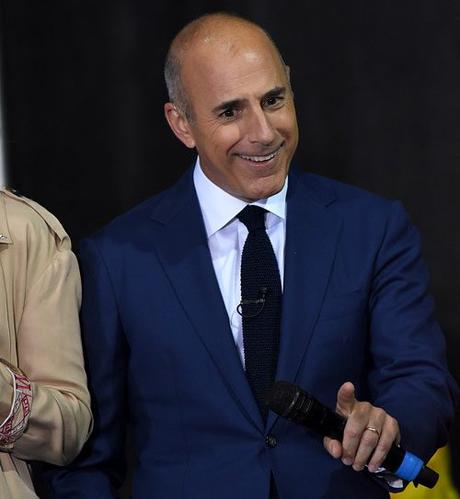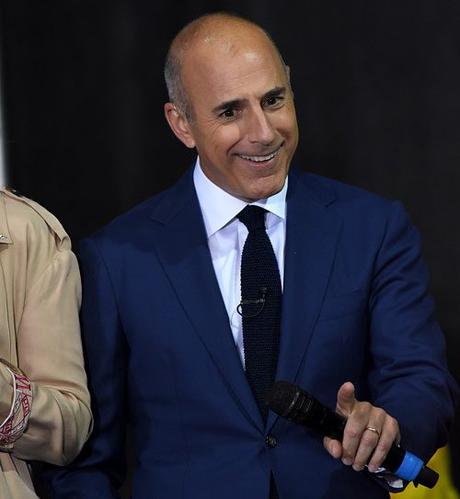 The keyboards at Variety's offices must've burnt up from writers furiously pounding away while rushing the exposé about Matt Lauer that has been in the works for two months. The New York Times and Variety were both working on their own Matt Lauer story, but NBC News beat them to the punch by announcing his firing this morning. Variety got their piece out today, and includes stories from three female employees. One claims that Matt flashed his dick at her and another one says he gave her a sex toy as a gift. Defending Matt Lauer gives me the heaves, but is that female employee sure that he gave her a sex toy? Maybe he gave her a Matt Lauer doll. I mean, most of us wouldn't be able to tell the difference between a dildo and a Matt Lauer doll.
Variety says that the stories told by the three women were corroborated by friends or co-workers they told at the time. The colleague who says that Matt gave her a sex toy says he included a note about how he wanted to use it on her. The colleague who says that Matt took his dick out in front of her claims that when she refused to do anything with it, he scolded her for not doing sex stuff to him. Based on Variety's story, it seems like Matt checked every box on the list of How To Be A Mega Perv at work.
Sources say he regularly talked to employees about which female co-anchors he wanted to bone, and also asked female producers which male employees they wanted to do. Matt was reportedly so paranoid about being in the tabloids and was such a pro at being a creep that he had a button installed under his desk. The button controlled the lock on his door. So he could lock his office door without getting up. Up until now I thought that the most terrifying place to be in Today's studio was Kathie Lee Gifford's dressing room when her assistant tells her they're all out of chardonnay. But now I know it's Matt Lauer's horrifying dungeon of grossness.
NBC News said this morning that they fired Matt because of a detailed complaint made by one female employee (who was allegedly harassed by him during the 2014 Winter Olympics in Sochi). They also said that it was the first sexual harassment complaint made against Matt in the 20 years he's been with NBC. But according to the accusers Variety spoke with, that's a river of bullshit. The women say they went to executives at NBC News but were ignored. Since Today was at the top of the morning show game, the executives cared more about ratings than silly sexual harassment shit. Executives protected their golden douche Matt Lauer, apparently.
The accusers asked Variety not to name them because they're afraid of what will happen to their careers if they go public. One producer said that they were afraid to turn Matt down because he had such power and could ruin them professionally, which leads me to…
We all heard the stories about Matt being a gigantic slut who cheats on his wife all the time. If dicks could get frequent flier miles, his would have billions from all the traveling and wandering it's done. One employee tells Variety that some female employees did have sex with Matt, but they did it because they felt like they had to.
"There were a lot of consensual relationships, but that's still a problem because of the power he held. He couldn't sleep around town with celebrities or on the road with random people, because he's Matt Lauer and he's married. So he'd have to do it within his stable, where he exerted power, and he knew people wouldn't ever complain."
The sources say that Matt's pattern was usually to focus on one female employee he found attractive. He'd invite her to his hotel room when covering events, like the Olympics, and he'd focus "intently on her career ambitions." I always figured that Matt Lauer was a living and breathing version of this PSA from the 80s.
You can read Variety's entire piece here, and afterward, you're going to want to bathe in some industrial strength thick bleach. You can buy some here. Use coupon code: IJUSTREADAMATTLAUERSTORY
Pic: Wenn.com
Source: Matt Lauer Allegedly Flashed A Co-Worker And Gave Another One A Sex Toy As A Gift 
2 total views, 2 views today