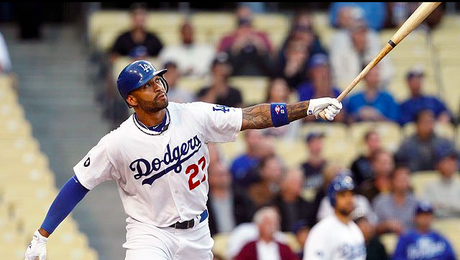 Photo: fanpop.com
- Adam Parker
You don't need glasses. Your eyes aren't playing tricks on you.
Could this fast start by the Los Angeles Dodgers have been expected or predicted?
I don't see how.
The McCourts have been replaced by Magic Johnson, which was a lightning bolt. But has a change in ownership really brought on such a quick turnaround for the culture of Dodgers' baseball?
It would seem so.
The Dodgers are off to an MLB-best (9-1) start so far on the young season, and have looked nothing short of dominant during this early stretch.
Matt Kemp is playing like the best player on the planet -- yes, even better than Albert 'The Machine' Pujols -- at least for the moment. Andre Ethier is on pace for one of the best seasons of his career, and rightfully so, seeing as how he's playing for what will likely be a monster contract, hopefully with L.A.
The starting rotation led by reigning National League Cy Young winner, Clayton Kershaw, and Chad Billingsley looks very solid. Strikeout machine Aaron Harang (okay, that moniker may be a bit premature, but we're rolling with it), veteran Ted Lilly, and Chris Capuano round out an overall consistent and effective group.
Jonathan Broxton who?
Enter Javy Guerra, the man with a spotless 0.00 ERA and a perfect five for five on save opportunities. Guerra has picked up all the slack in the closer role for the Dodgers, and is beginning to look like one of the best in baseball early on.
I love the way the Dodgers have looked coming out of the gates.
If I was giving them a report card, it would likely read A+'s across the board.
But let's not get ahead of ourselves. Let's not rush to pull a Dennis Green and 'crown their (expletives)' just yet.
Take a look at who the Dodgers have played thus far. Through ten games, they've played only two different teams -- the Padres and the Pirates.
Needless to say, those two squads are exactly the who's-who of Major League Baseball right now.
They haven't been for quite some time. In fact, it's probably more accurate to classify them as the cupcakes, or doormats, if you will, of the National League. The last time the Pirates were good was before my lifetime and the Padres haven't been the same since Adrian Gonzalez jumped ship to Boston and to be frank, they weren't that great even when they had Gonzo.
Basically what I'm saying is that winning nine out of ten games against some of the worst teams in baseball doesn't prove anything. I understand that the Dodgers can't choose who they play and a win is a win. But let's see how they're fairing come May when they get into the real meat of their schedule.
But until then, we'll leave it up to you. What do you think?
Is this early success just the result of a hot streak, or is it something that can be sustained throughout the grind of a 162-game schedule?
Are the Dodgers pretenders or contenders?
Be sure to follow Beard And Stache on Twitter 
@BeardAndStache
, 
and also Adam 
@Adam_Parker43
, Like our Facebook page 
HERE
!