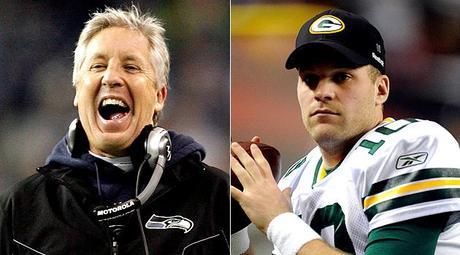 Photo: US Presswire
- Adam Parker
The Seattle Seahawks reached an agreement Sunday with Matt Flynn on a three-year deal, bringing one of the most sought-after -- yet unproven -- free agents to the Pacific Northwest to try and solidify Seattle's quarterback position.
The contract is worth $26 million with $10 million guaranteed, a league source told ESPN NFL Insider Adam Schefter. 
Flynn agreed to a deal with Seattle after meeting with both the Seahawks and the Miami Dolphins over the past week.
By choosing Seattle, Flynn also spurned his former offensive coordinator in Green Bay, Joe Philbin, who is now the Dolphins' head coach.
"I really enjoyed everyone (in Seattle), and I got a chance to sit with (offensive coordinator) Darell Bevell and felt really good about the offense, like it was something I knew very well," Flynn told SI.com on Sunday night. "I just felt like it'd be a great fit."
Flynn to Seattle is great for the Seahawks, just not so much for the Dolphins.
Miami has just had horrendous luck getting their preferred free agent targets to sign on the dotted line. They lost coaches Jim Harbaugh and Jeff Fisher to NFC West teams, and were left without a rose from Peyton Manning.
Now you add in that Miami lost Flynn to yet another NFC West team, and it wouldn't be surprising if the Dolphins' front office cried 'collusion' after the 'big boys' from the NFC West came in and stole what amounts to their 'lunch money' over the last three seasons.
I mean, if you're a Miami sports fan you have to be getting a little tired of the Dolphins' lack of success in the free agent market. After all, just two seasons ago your Miami Heat executed arguably the biggest coup in NBA free agency history by convincing LeBron James and Chris Bosh to join Dywayne Wade in South Beach. The Dolphins? Nada. 
You're probably thinking, 'How couldn't we land Flynn? It should have been a done deal after we brought in his former offensive coordinator to be the head coach!'
I hear you, Miami. That's what the majority of the league thought as well. But Seahawks owner Paul Allen and Seattle clearly had other ideas. Add in the fact that you traded your best offensive weapon and only true receiving threat -- Brandon Marshall -- to the Bears for two third-round picks, and it's easy to see why that might have been a contributing factor for why the 'Phins didn't land Flynn.
Since they ended up being losers in the Peyton Manning sweepstakes and also lost out on Flynn, Miami instead decided to make at least one move, and signed former Jaguars quarterback, David Garrard. Hardly a suitable comparison to either Manning or Flynn, and really is a last-ditch effort to make changes for the new coaching regime.
The Dolphins are in a sad state right now, there's no doubt about it.
Steelers safety Ryan Clark said it perfectly when he tweeted out earlier Monday, "no one" wants to play for the Dolphins.
As for Seattle, they've now solved their quarterback search, at least for the 2012 season. Signing Flynn gives them the opportunity to fill other needs in the draft rather than reach for a quarterback like Ryan Tannehill or Brock Osweiler.
Seattle had inside knowledge of Flynn thanks to general manager John Schneider. Before coming to Seattle, Schneider worked in the Green Bay front office and was there when Flynn was drafted in the 7th round out of LSU in 2008.
Flynn's deal answers one of Seattle's biggest off-season questions. The Seahawks have focused mostly on bringing back their own free agents -- most notably running back Marshawn "Skittles" Lynch and defensive end Red Bryant.
After Charlie Whitehurst returned to San Diego via free agency, the only quarterback with experience on Seattle's roster was Tavaris Jackson, who played through a difficult pectoral injury for more than half of last season that won him admiration in the Hawks' locker room, but he never managed to take a firm hold of the job.
"We are really excited to bring Matt in here to compete with Tavaris," head coach Pete Carroll said.
Come on, Pete. Let's be honest with ourselves here. Paul Allen isn't paying Flynn close to $9 million a year to 'compete' with
anyone
. Flynn will be your day one starter, or your front office will look like complete imbeciles for handing over that kind of coin.
Seattle's the big winner of the 'consolation lottery' so to speak, and Miami, once again, will have to make do with a completely mediocre player at arguably the most important position in professional sports.
Good luck.
Be sure to follow Beard And Stache on Twitter 
@BeardAndStache
, 
and also Adam 
@Adam_Parker43
, Like our Facebook page 
HERE
!