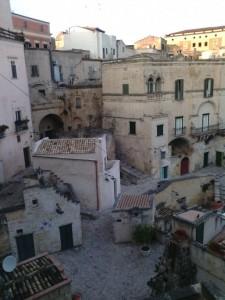 La mia amica Valeria è appena tornata da una meravigliosa vacanza in Basilicata .
Ovviamente il bilancio è positivo. Posti stupendi , incredibile e cibo delizioso.
Relax e soddisfazione culinaria. Insomma cosa si può volere di più?
Una sera ha chiesto al suo bimbo di 5 anni che cosa gli fosse piaciuto e sapete quale è stata la ripsosta?
Pensavamo, vista anche l'età che dicesse il mare, i giochi e invece già a cinque anni ha le idee chiare su ciò che è bello perchè, diciamocelo, Matera è decisamente bella e non sono io dirlo.
È diventata partimonio dell'umanità per dichiarazione dell'Unesco.
Matera è un centro vivibilissimo, tutto è aggiungibile piedi. Una città antichissima con testimonianze del passato. Detta anche la città dei Sassi. La bellezza del posto già parla da sola, ma si uniscono le tradizioni e cultura.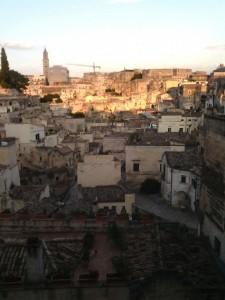 Il figlio di Valeria ha affermato che Matera è bella perchè è bianca, colorata ed ha un buon profumo.
Sapete che sarà capitale della cultura nel 2019? I magnifici sassi di Matera testimoniano come l'uomo si sia adattato all'ambiente non usurpandolo, ma semplicemente inserendosi nel contesto.Se un posto è magico incanta facilmente, e se è decisamente molto speciale saprà incantare anche un bambino perché con i suoi occhi, forse prima che con i nostri da adulti , saprà cogliere il fascino del bello.
Ecco le foto scattate da Valeria e suo figlio in giro per Matera ( e suo marito ovviamente).
My friend Valeria has just come back from a wonderful holiday in Basilicata.
She liked a lot! Amazing places, incredible sea and delicious food. Relax and culinary satisfaction in one place. So what could you want more? One evening she asked to her 5 years old son what he liked more during this holiday. Do you know what he answered? Matera! We thought he could answer he liked the sea or something else.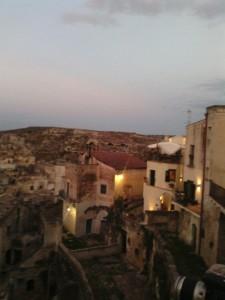 Anyway this 5 years old boy is smart and he can reconise what's is really beautiful. Let me say that Matera is simply gorgeous, and not only in my opinion. It has become patrimony of humanity for Unesco. Matera is a pleasant town, everything is reachable by walk. A very old city linked with past. Also known for Sassi. The beauty of this place is evident, in addition there are the trasitions and the culture. Valeria's son affirmed that Matera is beautiful because white and colorfull ; there also is a nice parfume. You know that Matera will be the city of culture in the next 2019?
The magnificent stones of Matera testify how man can live with the enviroment not usurping it but simply integrating in it. When a place is magical it can definitely enchant above all a child because he can see with different eyes from the adults. Here are the photos taken by Valeria and her son strolling around Matera (there also was her husband of course). Have a nice virtual walk