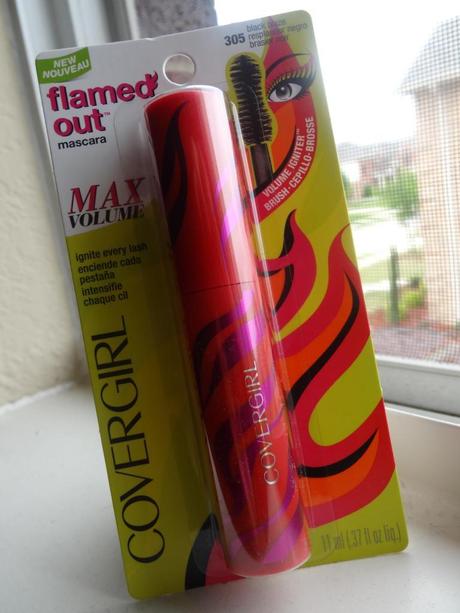 School is 
officially
 out and so it's time to start finishing all these unfinished reviews...haha! I've missed blogging so much that I was starting to have withdrawal symptoms - but I'll talk more about that during my May Chit Chat. Today is all about my new "series", Mascara Mondays, where every Monday this summer I will be posting a mascara review.
First up is Cover Girl's brand new
Flamed Out Mascara
.
Price: 
~ $7-$9
The Claims:
 Delivers maximum volume instantly and a bold winged-out look; water resistant. [Source]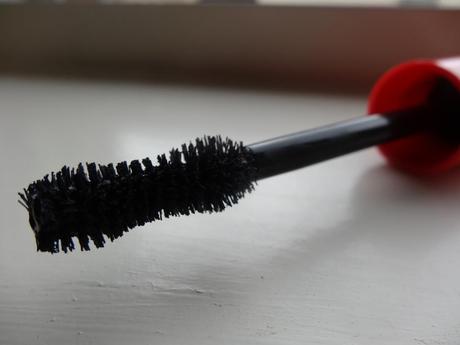 Packaging/Brush:
 The mascara tube definitely stands out with its coral tube + "metalic" magenta zebra-ish stripes (I believe it's actually suppose to be the flames of a fire, but it looks like zebra stripes to me).  The mascara brush itself is made up of wire bristles (like most traditional mascaras) and  is shaped like an hourglass with larger bulbous ends and a concaved middle.
The Formula: 
Not too dry and not too wet - very easy to layer! The formula dries fairly quickly to a nice soft-to-the-touch finish and will not harden your lashes and make them feel brittle.
Love It or Hate It? 
Personally, I thoroughly enjoy this mascara and reach for it quite often, but I definitely 
cannot
 recommend this for everyone. The brush takes a 
little
 while to get used to, but you don't need to be a rocket scientist to catch on. I love that it's water resistant, so it doesn't take me hours to remove it, but it does last all day. I even wore this to an amusement park on a hot and humid day and, although I was sweating buckets,  this mascara did not budge - no smudging, flaking, or the oh-so-attractive panda eyes. But beware - this mascara will weigh your lashes down a bit, but only in the beginning as you're applying the mascara. Once the mascara dries/set, it will not budge!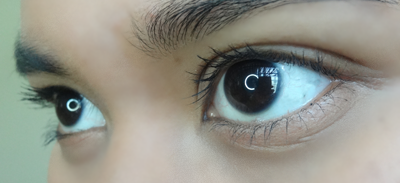 Two coats of Cover Girl's Flamed Out Mascara in Black Blaze

So Who Is This For? 
Unfortunately, if you're someone who prefers a lot of volume and length, then this mascara is 
not
 for you! If you are someone with really thin/sparse/difficult-to-work-with lashes, then this mascara is 
not
for you! Despite it's claims for "maximum volume" and "bold winged-out look", this mascara is extremely natural and just gives the
slightest
enhancement to your natural lashes. So if you're not happy with your natural lashes, then you won't be happy with this mascara. If you are okay with your natural lashes and you prefer the "no-makeup" makeup look, then you will get a lot of use with this mascara. The color I picked up was Black Blazed (320) and I have to say that it isn't as black as I expected, but the CG website does say there's a "Very Black Blazed" (325), so that may be a bit blacker for those of you who prefers ultra black mascaras.
Overall Rating
: Overall, I give this a rating of 3.5 out of 5. I'd actually rate this a 4 because on a daily basis I do prefer the "no-makeup" makeup look, but I had to take out some major brownie points for the misleading claims and the fact that you have to be blessed with decent/good lashes in order to benefit from this mascara.