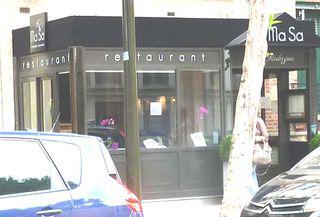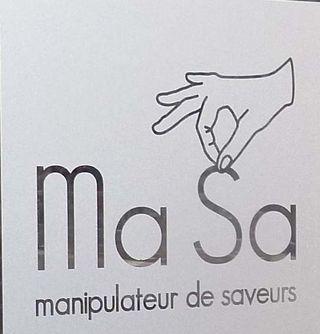 8.3 MaSa, 112 ave Victor Hugo in Boulogne-Billancourt (Metro: Marcel Sembat), 01.48.25.49.20, closed weekends is just one Metro stop outside the city but it is truly in another world.  If you think you've seen the name associated with a MaSa in the 17th, you're right, because Herve Rodriquez, ex-Lameloise, was at the Hotel Edmond for what seemed to be just a few heartbeats.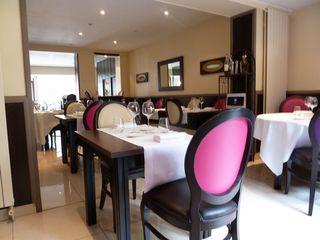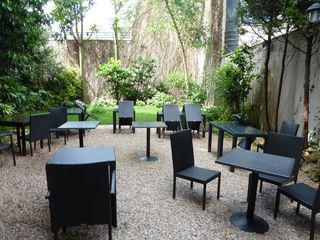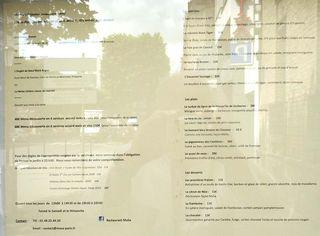 The interior is dazzling (as I recall the old Ducote Cuisine was when I ate a dazzling meal there in May 2008 suggesting that it could be "The next Big Thing"; it garnered and then lost a star and folded in May 2012  - there's a story there somewhere; the garden is beautiful but today a bit chilly and windy; and the carte is replete with complicated and intriguing sounding dishes which could easily drive the a la carte bill to more than 80 Euros a person, but luckily at lunch they have a 2-choice one course for 25, two for 35 and three for 42 E.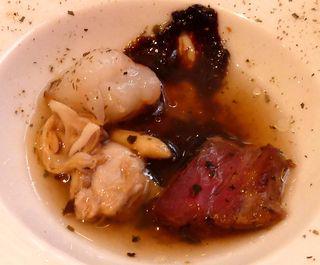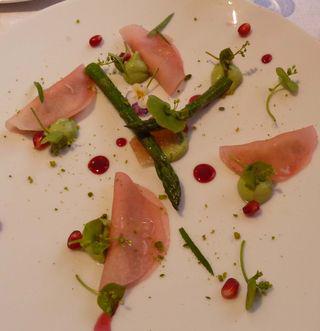 The amuse gueule was a sort of soup in which there was a luscious piece of beef, a perfectly cooked coque and another ingredient which with the tapenade looking but not tasting paste was never identified.  The bread to sock it all up with was splendid.  My poly-math dining partner, who'd walked 7 klicks from his flat near Sevres-Babylone ("there's a reason they call it the rue de Sevres," says he on arriving fresh as a daisy) and I both ordered the raviolis (really microtomed slices of giant ginger or gingerized beet, around decorticated crab, with asparagus, pomegranate seeds, grapefruit and dollops of avocado/yogurt yop) was exquisite and put behind me any second-wishes that I'd not ordered the heirloom tomatoes instead.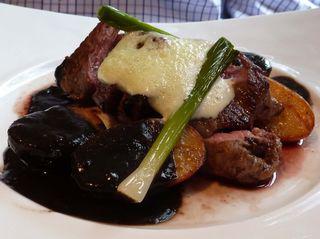 Then he, a reformed vegetarian, had the tenderist, best cooked bavette of Black Angus beef imaginable, served with a scallion, potatoes and two sauces and I (damn, lost that pix) had a wonderful perfectly cooked filet of rouget with a small hierloom tomato slice and divine eggplant puree.  Wow!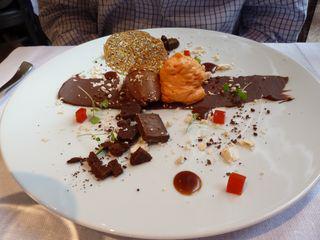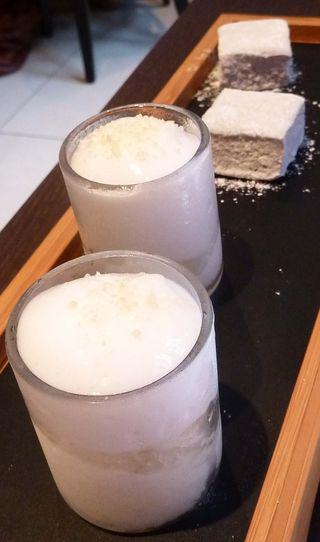 My pal had a chocolate mousse with brownie like bits and a bar looking piece with a red pepper fluff; all were beyond tasty; and we both got sesame marshmallows and rum fluff with our coffees.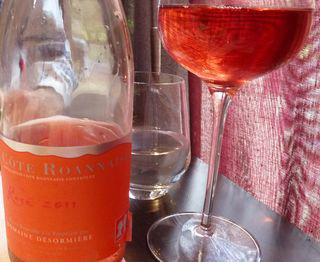 With a bottle of Cote Roannaise rosé, no bottled water and annoyingly inattentive service our bill was 109 E.
Go?  When have you seen me give a place a 7.0, far less over an 8.0, oh right - to the Auberge des Saints Peres, Spring, Violin d'ingres, Ze and a few others.  It's on Collette's "To Do" list.