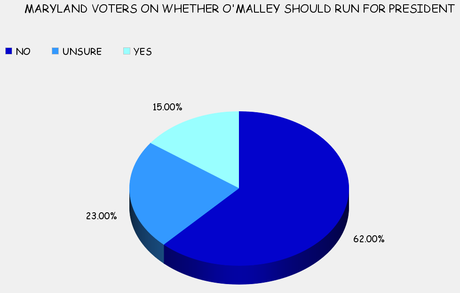 Poll after poll has shown Hillary Clinton is the prohibitive favorite for the Democratic nomination for president in 2016. Most people, including me, believe all she has to do is say she wants it and the nomination is hers. That hasn't stopped some other Democrats from making noises like they would like to run -- and one of those is Maryland Governor Martin O'Malley.
O'Malley has done quite a bit of traveling this year, speaking at Democratic functions around the country -- just trying to keep his name before Democratic voters. I think he is probably just doing this in case Hillary decides not to run, but who knows -- maybe he is really crazy enough to think he can beat her.
But as the chart above shows, he's got a long way to go if he plans to run in 2016. Only 15% of his home state voters think he should run, while a whopping 62% say he should not. He might be a viable candidate in the future, but 2016 is not that time (nor is it the time for any Democrat except Hillary -- and that includes Joe Biden).
This chart was made from information in a new Rasmussen Poll that was conducted on July 9th and 10th of 750 likely Maryland voters, and has a margin of error of 4 points.