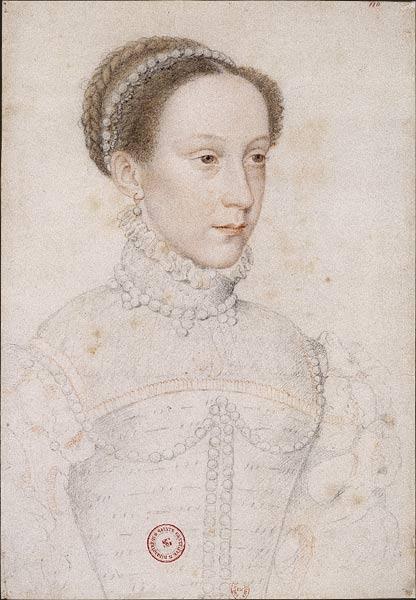 Mary Queen of Scots, Clouet, c1558. Photo: Bibliotheque nationale de France.

On this day in 1543, the nine month old Mary Stuart was crowned Queen of Scotland in the chapel royal of Stirling Castle. I've been posting rather a lot about Mary lately as I'm starting to research and plan a novel about her life – I'm not sure that I will ever be her greatest fan but I'm certainly a lot more sympathetic to her plight now than I used to be.
Anyway, what better way to return to my usual posting schedule than sharing my favorite portrait of Mary – a simple yet lovely line drawing of the sixteen year old Queen as she looked in around 1558, the year that she married the Dauphin François of France. It's such a pretty image and also, I think, rather poignant as it depicts the young Mary on the cusp of an adulthood that would bring her little joy and a great deal of sorrow. She had no idea, of course, despite the best efforts of Nostradamus and the rest of her mother in law's troupe of necromancers and soothsayers and I suppose that's what makes this image so interesting to me as it depicts a young girl, gently reared and completely indoctrinated with the notion of her lofty position and right to rule. She gazes out with supreme confidence on to a future that involves three crowns, jewels, children, worship, flattery and obeisance – with no idea that what actually lay ahead was frustration, betrayal, separation from her only son, gruelling imprisonment and then execution.
I've likened Mary before to the friend we all have who hurtles from one awful relationship to the next, gets sacked from all her jobs, kicked out of house shares for spending her rent money on shoes and spends a lot of time calling up at 3am to cry about how she just saw her ex snogging another girl in a bar. If Mary was alive today, we'd all be gawping in horrified and rather shameful amazement at her fall from grace as presented by the tabloids. There'd be photos of her falling out of bars dressed in tight crimson velvet; of Bothwell beating up photographers (he sounds the sort, doesn't he?); leaving courtrooms in dark sunglasses, looking frail and broken; sobbing on a yacht as her jewelry collection goes up for auction.
That doesn't mean that I don't feel sorry for her though but I have to wonder if, had she known at sixteen how it would all pan out, she would have changed anything or if she would have carried on endlessly repeating the same mistakes and trusting all the wrong people while blithely assuming as always that it would all come right in the end simply because it must.
******
Check out my new alternative lifestyle blog, Gin Blossoms!
'Frothy, light hearted, gorgeous. The perfect summer read.' Minette, my young adult novel of 17th century posh doom and intrigue is now £2.02 from Amazon UK and $2.99 from Amazon US.
Blood Sisters, my novel of posh doom and iniquity during the French Revolution is just a fiver (offer is UK only sorry!) if you order before the end of August! Just use the clicky box on my blog sidebar to order your copy!
Follow me on Instagram.

Copyright secured by Digiprove © 2013 Melanie Clegg