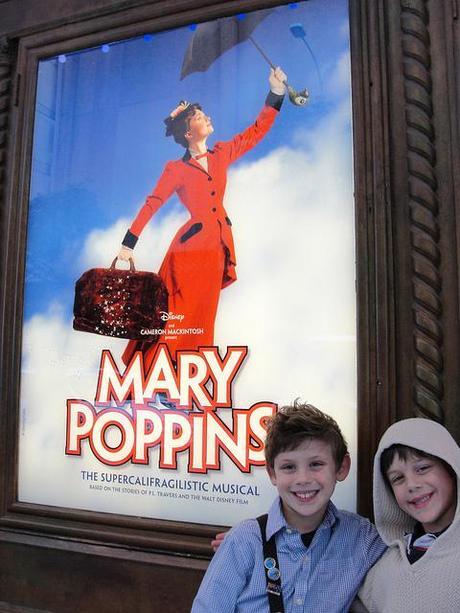 News Flash: Mary Poppins has landed in Sydney with the help of her highly fashionable, yet mysterious, umbrella... and sporting a harness with strings barely visible to naked-eye of middle-aged mums (moms); one mum specifically (wink, wink), who clearly needs reading glasses (a sad fact made even more evident after attempting to read the $20 Mary Poppins Program book.  Hmm, is it just me, or does the print just keep getting smaller???).    
But apparently, trying to get tickets to see the nanny who puts grown men in their place, isn't easy.  To get "the good seats" at Sydney's incredibly beautiful Capitol Theatre, we had to book months ago, but lemme tell ya-- it was well worth it!
Our six and seven year old boys loved it, and so did their parents :).
And I love going to the Capital Theatre, it's an experience in itself.  We saw Wicked there, and also Tap Dogs, which was really cool since at the time the boys were taking tap dance lessons at the Tap Dogs Dance School.
When you enter the Capitol Theatre it feels as if you've stepped into the glamourous days of yesteryear, where people dressed to the nines to see a show, and said things like, "Frankly my dear, I don't give a damn." 
Anyway, luckily for us, the the proximity of Mary Poppins was within walking distance of our regular Sunday morning church, sorry, I mean Yum Cha restaurant (it's our religious ritual so I sometimes get confused).  So we got ourselves some dumplings, salt and pepper calamari,  and Chinese broccoli, then walked in the beautiful, crisp Sydney weather about a kilometre (that's Aussie for 1/2 a mile) over to the Capitol Theatre.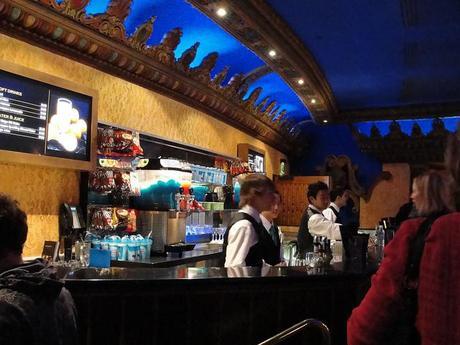 The kids were hoping they'd have popcorn, they didn't.  But they did have mini-cans of Pringles and blue Mary-Poppins-flavoured (that's Aussie for "flavored" if I lost anyone there) lemonade slurpee style beverages which came in these handy-dandy souvenir cups...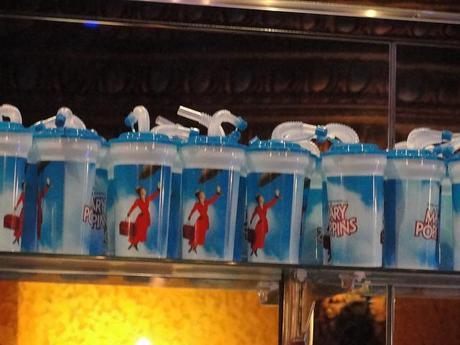 We stopped by the cloak room to claim a couple booster cushions for the boys, though they only "boosted" them a couple of inches higher, which wasn't all that helpful when seated behind seemingly ginormous stranger heads. 
Upon entering the theatre, we were shown our seats by a friendly usher who was oh so kind, and gently reminded us to switch off our mobile phones, and that photography was strictly prohibited.  We sat down, briefly checked-out our theatre-mates, and got some time to admire our surrondings.  Enamored once again by the Capitol Theatre's beauty, I reached for my camera-- and then I stopped, and I thought to myself-- surely he meant no photography during the show, right?  Why wouldn't you be allowed to take photos of the inside of the theatre? Duh.
And so-- snap, snap, sna...
And with a look of disappointment and disdain, the friendly usher turned on me.  "There's absolutely no photography allowed in the theatre, jackass."  Okay, well he didn't actually say "jackass", but he didn't need to-- it was implied.
Boy, my kids sure don't have a good rule-following, role-model in me...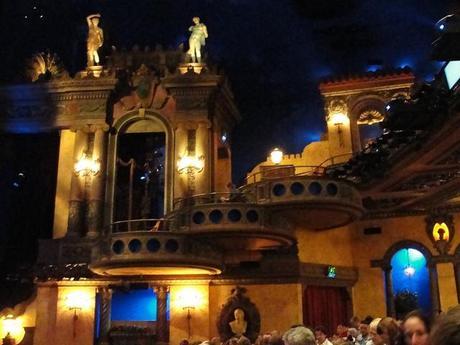 There you have it, an illegal photo of the inside of the Capitol Theatre.  I am a very bad girl.
Anyway, each actor in this production was outstanding.  The actress who played Mary Poppins was amazing.  The guy who played "Bert" was really good, and is apparently a judge on one of the innumerable reality talent shows here-- not that that matters.  The kids who were on that day were great, and adorable, and all that good stuff.  And the supporting actors were all extremely engaging and stole many of the scenes they were in. 
I also thought the adaptation of the show from screen to theatre was done in a very interesting way,  if I'm not mistaken, I believe some of the songs were in a different order than in the movie, and there were new songs also.
In my professional opinion, I would highly recommend going to see Mary Poppins while she's here.  It was an absolutely Supercalifragilisticexpialidocious show, and it looks like we're not the only ones who think so, as they took home a whole heap of Helpmann Awards last night at the Sydney Opera House, which is not at all surprising news-- because we loved it! 
The end.