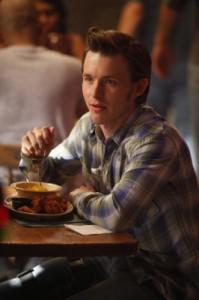 Just when you thought the nudity couldn't get any more extreme in HBO's True Blood, a video like this one pops up on Funny or Die!
Marshall Allman, who plays Sam Merlotte's brother, Tommy is giving newbie shifter, Luna (played by Janina Gavankar) a "shifting for the camera" lesson. What no one has told Marshall, though, is that he can't actually shift.
Warning: The following video is NSFW (not safe for work). Enjoy!
Method Shapeshifting with Marshall Allman
from
Janina Gavankar
Source: Hollywood Reporter - 'True Blood's' Marshall Allman Shows the New Girl How Shapeshifting's Done (Video)
(Photo Credit: HBO, Inc.)