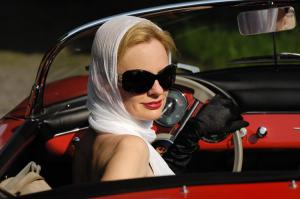 It's another first for women!  More women than men now have driver's licenses, and that one fact translates into safer roads, less pollution and economic considerations for us all.  Currently just over 50% of Americans with driver's licenses are women, according to the University of Michigan Transportation Research Institute.  (That figure is up from just 40% women in 1963.)  In 2010, 105.7 million women had licenses, compared with 104.3 million men.
The impact on safety, environment and economy comes from the tendency of women to purchase "smaller, safer and more fuel-efficient vehicles" and because they "drive less and tend to have a lower fatality rate per distance driven," according to Michael Sivak, a research professor at the U-M Transportation Research Institute.
However, when it comes to the actual driving, men drive more than women, making up 59% of all drivers on the road.  Back in 1963, men composed 76% of the drivers.
The percentage of young adults with driver's licenses is dropping over all, but dropping faster with young men.  Some attribute the trend to the economy, costs of insurance, media and technology providing less reason to drive and a growing dependence on public transportation.
The decline in the number of young adults obtaining drivers licenses has automobile manufacturers worried.  The "car fetish" that attracted baby boomers and Gen X to cars may not be shared by young adults today.  Millennials  grew up in the back seat of cars stalled in traffic with no relief.  They did not experience the same exhilaration of the open roads and backseats at drive-ins that prior generations enjoyed.
Oh, and by the way, women buy a little over half the number of cars sold in the United States, and take part in 80 percent of all family car buying decisions, according to traditional industry statistics. Sixteen of the top 20 brands with the highest percentage of female buyers in 2011 were import brands.  The top-selling female brands in 2011: Mini, followed by Nissan, Kia and Honda.  Men tend to buy either sports cars or work vehicles.  GMC and Dodge both had over 70 percent male buyers in 2011.