Hispanics are a growth target for consumer product brand marketers.  A new eMarketer study finds that Hispanics do more grocery shopping than the average US shopper and they spend 20% more during routine trips.  For marketers, it is also important to know that they are heavy online users as well.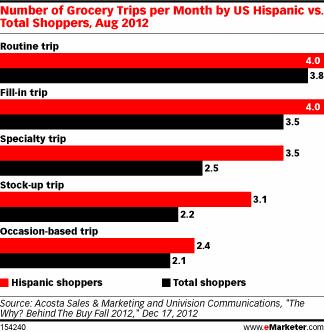 Hispanics have a strong family culture.  Some say that 75% of  their families have a traditional sit-down meal every day.  And Hispanics also take their friends and family with them when they shop.  Hispanics grocery shop with family or friends on nearly 80% of their shopping trips.
Their social nature also extends to social media.  eMarketer estimates that in 2012, 68.9% of Hispanics were using social networks, compared with 66.2% of the total US population. They are also more likely to post reviews and participate with brands.  A Post brand manager for Honey Bunches of Oats reported that their Spanish Facebook page garnered more than three times the engagement levels of their non-Hispanic page.  Currently the page has 211,000 likes.
Mobile is also an important part of their digital profile.  Their use of mobile and smartphones while shopping is higher than any other ethnic group.  They are more likely to compare product prices, call or text a family member about a product and look for a coupon.
Are you leveraging your Hispanic audience?