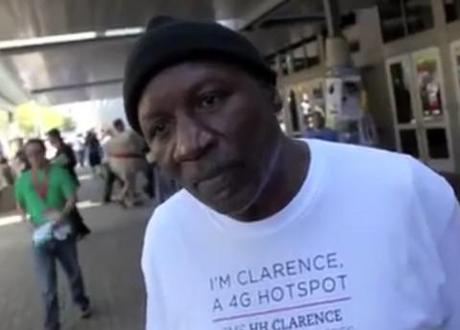 Clarence, human wireless hotspot
A US marketing company has come up with a scheme to use homeless people as wireless transmitters. No, apparently this is not a hoax: Jenna Wortham reported for The New York Times that Bartle Bogle Hegarty unveiled the idea at the South by Southwest technology conference in Austin, Texas.
"BBH Labs, the innovation unit of the international marketing agency BBH, outfitted 13 volunteers from a homeless shelter with the devices, business cards and T-shirts bearing their names: "I'm Clarence, a 4G Hotspot." They were told to go to the most densely packed areas of the conference," Wortham wrote. The homeless participants were paid $20 per day, along with whatever individual donations conference atttendees chose to make.
The project, carried out in partnership with local homeless shelter Front Steps, has proved unsurprisingly controversial. But is this exploitation or empowerment?
Uncaring. "This is my worry: the homeless turned not just into walking, talking hotspots, but walking, talking billboards for a program that doesn't care anything at all about them or their future, so long as it can score a point or two about digital disruption of old media paradigms," wrote Tim Carmody at Wired. Carmody described the project as "like something out of a darkly satirical science-fiction dystopia", and argued that BBH Labs are simply using the homeless as "platforms".
Sarcasm. Hurray for BBH, snarked Max Read at Gawker, for addressing a truly important societal issue: "You've definitely seen those poor souls, standing on the corner, unable to get a strong signal on their phone, or, even worse, only able to connect to a slow Edge or 3G network." Naturally, said Read, the project raises moral questions: "Isn't there a more compassionate and dignified way to treat those without internet than forcing them to stand next to homeless people wearing 'I'm a 4G Hotspot' t-shirt?"
Better than nothing. "So, what is so bad about this? You're giving the homeless more money than they might normally have. The homeless are providing a high-quality service. And you may actually get to know someone new," wrote Lance Ulanoff at Mashable. Admittedly the project will do nothing to solve the problem of homelessness; but "it is doubtlessly better than doing nothing, which is what most of us do", Ulanoff wrote.
"There's an insane amount of chatter about this, which although certainly villainises us, in many ways is good for the homeless people we're trying to help," said a BBH Labs blog, reported the BBC.
Potential. "What BBH is advocating, and I hope it stays true to its words, is that this could be the beginning of a new form of work for the homeless that is not demeaning," wrote Big Issue-founder John Bird on The Guardian's Comment is Free. According to Bird, the project's technology could eventually be used to make homeless people "content providers" rather than a "glorified ariel": "I suggest we turn BBH's plans into a new form of street smartness, and begin to turn street people into news and information providers."
Watch an interview with a homeless BBH project participant below.