LocalSolo provides an easily searchable list of curated freelance professionals working under a number of industry categories. For employers, LocalSolo is a convenient place where they can browse the expansive list, view individual profile information and credentials, and contact freelancers directly without any restrictions. Freelancers wanting to sign up for the service submit an application to the LocalSolo team, who then reviews it in order to verify experience and fit.
Below, founder Mark Fromson shares his startup story.
Q: Please tell us a little bit about your company - what is LocalSolo all about?
LocalSolo.com is a hyper-local curated freelance network. We provide a free and convenient place for agencies, startups and businesses to find local and available high-quality freelance professionals, offering hand-screened profiles of top freelancers in over 50 major market cities around the world. When employers join LocalSolo, they receive full access to the freelancer's credentials, personal links and direct contact methods. Our mission is to supercharge the connection between enterprise business and top-tier local freelancers. You can think of us as the LinkedIn for Freelancers.
Q: Please tell us a little bit about your background and how you started your company?
My background is as a freelance Digital Project Manager and UX Architect. I typically work sub-contract for leading interactive agencies in the US and Canada. I'm regularly called on to build startup platforms for clients, whether they be for corporations or entrepreneurs. My technical co-founder Stephen Hayes-McCoy and I met looking for partners to work on client projects with. We started LocalSolo because we knew that freelancing as a career choice was absolutely exploding, but the best freelancers in any given major market city were still usually found only through word of mouth. The top freelancers want more great projects with leading clients and businesses want easier access to the top local contract talent. Corporations spend millions of dollars on contract labor every year but it's become increasingly hard to identify and quickly recruit top freelance talent. We realized that there was a great opportunity to connect the two groups together and founded LocalSolo to serve that need.
Q: What are some of the projects you are working on right now?
We're currently working on growing our LocalSolo talent pool. We currently have over 1600 high-quality freelancers in 52 cities and hope to grow that to over 5000 in the coming months. In parallel we are continually adding new features to LocalSolo to improve the value for our Freelance and Employer users.
Q: What are your plans for the future, how do you plan to grow this company?
We think we're well placed to become the primary place that any sized business conveniently finds the best freelance talent in their local area, whether it's an agency, startup or large corporation. The freelance economy is rapidly growing, with an estimated 53 million Americans already freelancing, according to Forbes. That's 34% of the total workforce, a number that's expected to increase to 50% by 2020. Currently we're focused on a number of traditional and growth hacking methods to get the best possible freelance talent to join our network.
Q: How do you bring ideas to life?
Funny enough, most of our best ideas comes to us while brainstorming over a few beers. We then follow a rapid prototyping process, which is either done through an Axure clickable wireframe, or a quick design mock-ups. We then define the main agile stories in Basecamp and move quickly into the development, test and launch cycle.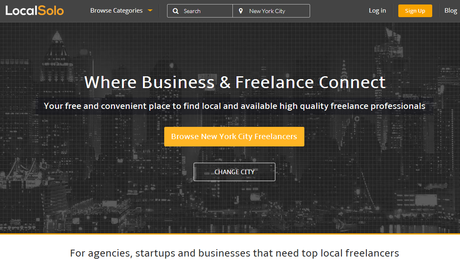 Q: What's one trend that really excites you?
We are really excited about the movement towards empowered individuals. The tools and methods are ever increasing for a single person to build a product that eclipses the value of an entire established corporation or industry model. We see this trend continuing with more and more people deciding to go out on their own as a startup founder or freelance consultant. Talented millennials no longer look primarily to a corporation as a lifelong career path. They expect to freelance or jump jobs on a frequent basis. Established pros are realizing they can make more money going out on their own and are starting to freelance at a later age. At LocalSolo we're trying to play our part in the facilitation and acceleration of these trends.
Q: What were the top 3 mistakes you made starting your business and what did you learn from it?
We could have started getting quality advice a lot sooner than we did. We worked on our product in stealth mode for quite a while, then launched without much guidance from established mentors. We've recently started an elite program at Vancouver's leading startup hub, Launch Academy, and the mentor guidance has been extremely valuable.
We could have employed more growth hacking techniques earlier than we did. We started our growth with some time consuming one-to-one communications. It worked well in terms of quality, but it doesn't scale very well.
We could have gotten more involved in the local startup scene earlier than we did. It's amazing just how much comradery and support there is out there if you're willing to accept and reciprocate.
Q: How do you go about marketing your business, and what has been the most successful form of marketing for you?
Our main marketing efforts are focused on direct outbound based on a variety of freelance talent identification methods coupled with direct email invitations that produce a 30% sign-up rate. We think that's an extremely high number and a positive indicator of both the high quality of our user experience and the need for our type of network. We have some viral components to our network as well. Our freelancers can invite other freelancers to increase their search rank and we also encourage freelancers to invite their past clients and coworkers to recommend them on their site profile, which brings qualified employer traffic to the site, increasing membership and content value. In terms of inbound, we focus on the main social channels and targeted publication outreach.
Q: What would you say are the top 3 skills needed to be a successful entrepreneur - and why?
Passion - You've got to have a passion for your business and really believe in the value that it creates.
Drive - You need to be driven to succeed and not let the negative feedback discourage you.
Commitment - You've got to have a commitment to success that transcends the rational.
Q: What are the top 3 online tools and resources you're currently using to grow your company?
Basecamp to do items keep us on track and make sure nothing falls through the tracks.
Publicize.co is a great low cost PR agency we've been using out of Colombia. Amazing value for the service level.
Our own custom admin for LocalSolo does everything we need to run the site and streamlines most of our common operational tasks.
Q: What are three books you recommend entrepreneurs to read?
Q: What is your favorite entrepreneurship quote?
"Design is not just what it looks like and feels like, design it how it works" - Steve Jobs.
Q: How can our community get in touch with you?
Shoot me a message on our contact form at https://localsolo.com/contact/
Twitter @LocalSolo
AngelList @localsolo
CrunchBase: crunchbase.com/organization/localsolo-freelance
The following two tabs change content below.
1 person found this helpful
0 people did not find this helpful