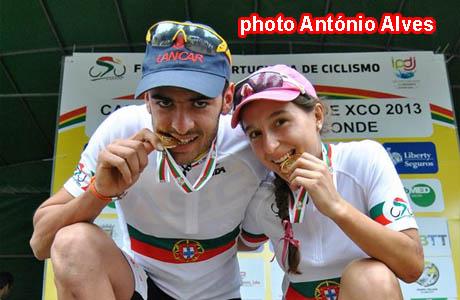 (google translate)David Rosa misses the goal to win for the fifth consecutive time the Portuguese national championship. The winner is Mario Costa. In women's race victory for Joana Barbosa.
In Elite Men's race big fight between David Rosa, defending national champion, and Mario Costa, promising young man who decided to question running through the Elite and then giving up a run in the U23 category (it would be the last year). A difficult choice, but that came after winning the national jersey in the U23 in 2010 and 2011.
Mario Costa is now strong party, challenged all comers except David Rosa has always kept a few seconds behind the leader but never able to close the gap. Costa arrives at the end to a great victory in front of the leader of the last years squad. Third place for Vitor Santos, trailing by more than 6' unleashed by the leading pair.
In the women's domain for Joana Barbosa that wins with almost 5' ahead Ilda Da Silva Pereira and Celina Carpinteiro.
Results, MEN:
1 Mario Luis Miranda COSTA POR 22 1:44:58
2 David Joao Serralheiro ROSA POR 27 1:45:30
3 Vitor SANTOS POR 27 1:51:30
4 João PEREIRA POR 26 1:52:02
5 Hernâni Sistelo SILVA POR 28 1:53:59
6 Ruben NUNES POR 27 1:57:28
7 Jacinto FIUZA POR 25 1:58:51
8 Gonçalo BRITO POR 29 2:02:26
9 Ivo PAIS POR 25
10 João SILVA POR 27
Results, WOMEN:
1 Joana BARBOSA POR 24 1:20:45
2 Ilda Carina Pinheiro DA SILVA PEREIRA POR 32 1:25:02
3 Celina CARPINTEIRO POR 33 1:26:06
4 Ana Rita BARROSO MIRANDA VALE POR 26 1:28:00