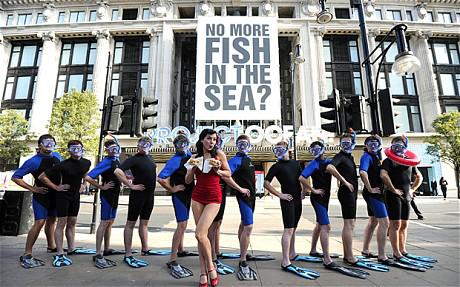 A new exhibition at London's Selfridges called "Washed Up" is making use of marine influenced high fashion to raise awareness of the problems caused by overfishing.
The exhibition is all part of Project Ocean which is being run by the department store for five weeks in partnership with Zoological Society of London. Exhibits date from as early as 1870 right up to present day.
Highlights include Lady GaGa's lobster hat designed by Philip Treacy and a dress from Alexander McQueen's last 2010 collection entitled Plato's Atlantis. A dress designed by Hussein Chalayan formed of clear bubbles resembling fish eggs is surrounded by coral seized from illegal smugglers.
The "retail activism" of Project Ocean was conceived by Alannah Weston, the creative director of Selfridges, in addition to the ZSL  the initiative also involves the Marine Conservation Society, Greenpeace and WWF. 22 environmental NGOs and high-profile activists are also taking part.
If you are passionate about marine conservation then why not get in touch and find out how you can make a difference on our projects abroad.