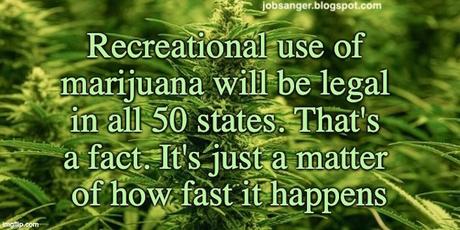 Marijuana should never have been illegal in the United States. It is the least dangerous of all the drugs -- far less dangerous than alcohol or tobacco, and even safer than aspirin. It was illegal because of government misinformation, and the government's desire for social control -- originally over minority citizens, and then later over young people.
All of that is changing. About 17 states have already legalized the gentle herb, and poll after poll has shown that at least 60% of Americans favor legalizing marijuana in the whole country. That is going to happen -- it's just a matter of time now. If the federal government acts, it could be done very quickly -- if it is a matter of each state acting on its own, then it will take longer. Either way, IT WILL HAPPEN!
The following is part of an article on this subject by German Lopez at Vox.com:
The US is nearing a tipping point of sorts on marijuana legalization: Almost half the country — about 43 percent of the population — now lives in a state where marijuana is legal to consume just for fun.
The past two months alone have seen a burst of activity as four states across the US legalizedmarijuana for recreational use: New Jersey, New York, Virginia, and, on Monday, New Mexico
It's a massive shift that took place over just a few years. A decade ago, no states allowed marijuana for recreational use; the first states to legalize cannabis in 2012, Colorado and Washington, did so through voter-driven initiatives. Now, 17 states and Washington, DC, have legalized marijuana (although DC doesn't yet allow sales), with five enacting their laws through legislatures, showing even typically cautious politicians are embracing the issue.
At this point, the question of nationwide marijuana legalization is more a matter of when, not if. At least two-thirds of the American public support the change, based on various public opinion surveys in recent years. Of the 15 states where marijuana legalization has been on the ballot since 2012, it was approved in 13 — including Republican-dominated Alaska, Montana, and South Dakota (although South Dakota's measure is currently held up in the courts). In the 2020 election, the legalization initiative in swing state Arizona got nearly 300,000 more votes than either Joe Biden or Donald Trump.
Legalization has also created a big new industry in very populous states, including California and (soon) New York, and that industry is going to push to continue expanding. One of the US's neighbors, Canada, has already legalized pot, and the other, Mexico, is likely to legalize it soon, creating an international market that would love to tap into US consumers.
The walls are closing in on this issue for legalization opponents — and quickly. . . .
Maybe it'll be a slow, state-by-state battle before the federal government ends its own prohibition on cannabis, or maybe federal action will lead to a flurry of states legalizing. What has become clear is that legalization will eventually win, and the vast majority of states, if not all, will soon join the ranks of the legalizers. . . .
There are, of course, still major barriers to full legalization nationwide. Marijuana remains totally illegal under federal law, including in states that have legalized it under their own statutes. International treaties prohibit countries from legalizing marijuana for recreational uses (although with Canada, Mexico, and Uruguay moving to legalize, it doesn't seem like anyone really cares). Most of the US population still lives in a state that hasn't legalized, and it will take a lot of time and effort in legislatures and ballot boxes to change that.
But it's now very clear where the trends are heading. It might take several more years to become national reality, but marijuana legalization is here to stay.