Mariah Carey Doesn't Like Being Called The Queen Of Christmas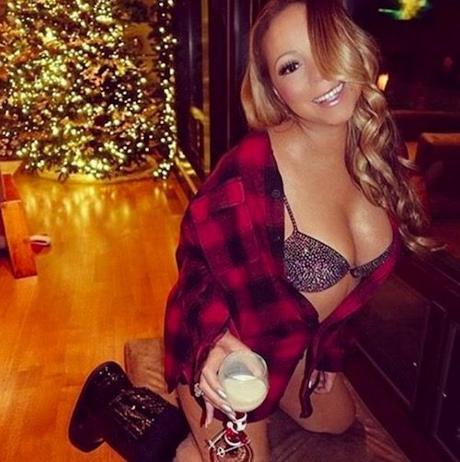 Then perhaps she shouldn't have trademarked "Mariah Carey Queen of Christmas" (in my mind she did that). Or chosen to live in a gigantic, glimmering pink and white Swarovski Christmas tree from Nov 1 to Dec 31 (right before she ruins NYE) every year! Or stuffed her overly spray-tanned bosoms into red velvet-with-white fur trim push-up bra seemingly every day in December! The Hollywood Reporter claims that Mariah Carey says that she doesn't appreciate the "Queen of Christmas" label. This advent calendar is missing a date because Mariah Carey IS Christmas. To some middle-aged gay in New Jersey, but still – know your role, Mimi!
Mariah spoke to THR about her new jam, a song for the Christmas movie "The Star," and she was serving PLENTY of 'tude for Christmas dinner.
So now they seem to call you "the Queen of Christmas."

"They." I don't know who "they" are. That is not my appellation.
"That's not my appellation" is a great line, right up there with "excuse my beauty" and "Then keep your eyes open, bitch." Mimi just gave you the perfect clapback for when someone calls you a shoplifter, husband-stealer or hit-n-run driver.
You're not thrilled with that title.

It's not that I'm not thrilled. I just don't think I deserve it. I'm just a person who likes Christmas, OK? Who happened to write some songs.
She was probably giving this interview while stuffed into a "Slutty Mrs. Claus" dress but ok, fine. Next up – a Hollywood Reporter writer makes the grave mistake of insinuating Mariah Carey is anywhere near "old." This is probably where she had her bodyguards (They're named "Rankin" and "Bass" and all dressed as the elf from Rudolph who wanted to be a dentist) train guns on this poor bastard.
Tell me about your childhood and what Christmas meant to you as young Mariah.

What are you trying to insinuate? As "little" Mariah, I think you meant.
The Elusive Chanteuse nearing 50 is the best version of Mariah since the spiral perm and tight jeans-era of "Vision of Love." Aging isn't festive, darling, so you better course-correct RIGHT GODDAMN NOW.
Of course, of course, my apologies. Tell me about your childhood and what Christmas meant to you.
I've always loved Christmas. Even though we didn't have a lot of material things, like money, my mom would always make it festive. She would wrap up, like, some fruit and sign the card from the dog or the cat. Just to have something to open up. Because I grew up in New York, sometimes we had snow at Christmas. Now I try to create this magical moment with Christmas where Santa Claus comes, and it's in Aspen.
And we all know what Mariah is about on Christmas in Aspen. Getting trashed in hot tubs in glam swimwear! Someone write a carol about that.
The fruit from the cat thing was almost touching. It was also hilarious cuz' cats are evil and there is no chance in hell a cat would take the time to wrap your present. Which is probably something it killed. It just leaves it for you to find when you're making the morning coffee. Because eviscerated mice start the day off right. Especially on Christmas.

Pic: Instagram
Source: Mariah Carey Doesn't Like Being Called The Queen Of Christmas
2 total views, 2 views today