by Beth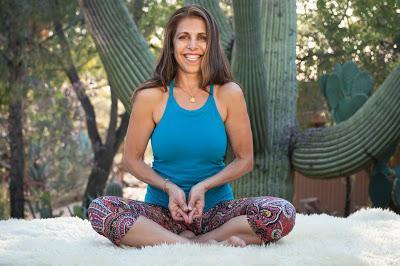 Maria Mendola, Age 57
Maria Mendola and I are senior faculty in Joseph LePage's Integrative Yoga Therapy program. Maria teaches Applied Kinesiology and I often sit in on her classes. She shares personal life stories with the students, and one story about an accident 20 years ago that resulted in a brain injury, a broken back, and traumatic amnesia has always fascinated me. The class gets the short version but I was curious about the full story and the role yoga played in her recovery. When Nina asked me if I would interview Maria about that experience, I readily agreed. 
Beth: Tell me about the accident. 
Maria: So, the great accident. Every year, around the winter holidays, when my kids were little, we would go to Mexico for about a month to camp on the beaches. One day, I decided to take a bike ride on the country roads. The last thing I remember was looking to the left to see pink flamingos on a lagoon and thinking how beautiful it was. The next thing I remembered was waking up on the side of a ditch trying to stand up with blood pouring down my face. Then I remember a Mexican family dragging me into their pickup truck and taking me to what I later learned was a natal (birthing) hospital. I didn't know who I was or where I was or what had happened to me. 
I remember people trooping into the room looking at me, trying to identify me. Finally, two guys came in and one said, "I know you. You camp on the beach every year with your family. You have little kids." 
Back at the campground my saving grace was an American ER nurse who came to our RV with a first aid kit. She got me cleaned up, monitored my paralysis, diagnosed a concussion, and told us that she thought I had a massive hematoma. The folks in the campground formed a community and took care of me and my family until I was well enough to handle the drive home to Tucson, Arizona. 
Beth: Were you able to walk at this point? 
Maria: I still could not walk. I had some feeling in my left toes. They could move a little bit, but nothing else from the groin down and I had severe pain in my spine. When I did see a doctor I found out that I had a series of bad compression fractures in my thoracic spine. I was presented with a surgery option; a series of fusions to my thoracic and upper lumbar regions to support all the compression fractures. It was probably one of the biggest decisions that I made in my life. I said no.
Beth: Why? 
Maria: I was an orthopedic nurse at the time and I saw the sorts of surgery that were going on back then. Most people that had fusions and rods put in didn't typically get better and often had more issues. I decided on my own, however foolish, that I would try to heal myself. The orthopedic surgeon was not happy with me and said I should have my license taken away and maybe I should have but I did get him to say that if my way didn't work, I could come back and get the surgery. 
Beth: What was your healing plan? 
Maria: I started doing yoga when I was a teenager to PBS's Lillias. That was my first experience. Then I started feeling how it was changing other parts of me—my psyche. I had a really abusive childhood so yoga was helpful for me. I was very aware of my body and I'd been learning how to relax it for years and how to tame my anxiousness and fears so I had that in my head and I decided to use it for my healing. 
Beth: What yoga tools did you use and how did they help you? 
Maria: I found that I was holding my breath because I was in so much pain. This was causing more pain and anxiousness so I began focusing on my exhales and getting them to lengthen (see Calming Breath Practices We Recommend). I worked with the three-part breath, alternate nostril breathing, and yoga nidra. The breathing helped calm me and helped me find longer periods of relaxation. It was helpful for my memory issues related to the head injury. The other techniques that were important to me were mudras (About Mudras for Healthy Aging). I used Adhi Mudra and Yoni Mudra. I also worked on range of motion, really slowly while elongating my spine and breathing into the tissues.  
Beth: How long did your recovery take? 
Maria: Within a month and a half I started to get more feeling back but every day was difficult. I have to admit that I got depressed at times, so depressed that I couldn't even move. Honestly it took six years to come to a place where I felt nearly fully recovered. During that time there were a lot of stages. Sometimes I'd wake up and have full feeling and I'd be so excited and then the next day very little. The CAT scan looked awful but the doctors were amazed that my spinal cord somehow was healing. Now, I have to be mobile everyday. I can't stand in one place. I can't sit for longer than 30 minutes. I have all of these things but I feel healed. I also feel very proud that I took that journey but I'm not so certain I would go that route these days. 
Beth: What makes you say that? 
Maria: I keep up on all of the orthopedics because I teach anatomy of movement therapeutics and these days the orthopedics is much better so I feel like I would have more choices now.  
Beth: Did you ever recover your memory of the accident?  
Maria: Yes. During my two-week yoga teacher training a really weird thing happened during a partner Pascimottanasana. It was a sound. It went CLICK! And all of a sudden, I who could barely sit to do a 90-degree seated angle without being up on pillows went straight down, nose to knees and the whole thing came back to me in living color: being hit, flying through the air, not really sure what hit me. I knew that this was another big step in my healing, a huge step. I realized my true calling was to put together some of these healing pieces using my nursing background and then share that with others.  
Beth: How are your back and spine now?  
Maria: I had an MRI done 6 years ago. The radiologist actually called me and asked me how well I move. And I said I move very well and I actually do handstands and I'm a cross fitter. And he said that's amazing because your spine looks like the spine of a very old woman. I said, "Really?" Then he said, "Yes, I don't see any damage to your spinal cord. It looks good but I'm curious." I told him that I move very well and of course very carefully. 
So that's my story. It's the first time I've told the whole thing in a long time.
Subscribe to Yoga for Healthy Aging by Email ° Follow Yoga for Healthy Aging on Facebook ° Join this site with Google Friend Connect