Game of Thorns and Thrones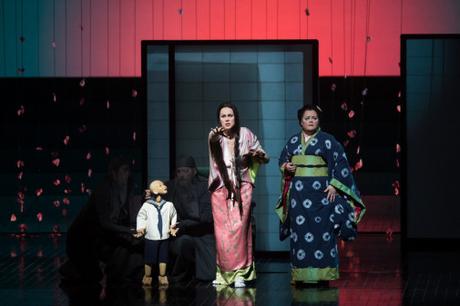 Bunraku puppet Trouble, Cio-Cio-San (Kristine Opolais) & Suzuki (Maria Zifchak) in Act II of
Madama Butterfly
(Met Opera Photo)
In a little under a decade, Puccini had achieved the seemingly impossible: he was finally recognized as the inevitable heir to Verdi's throne. With the premature passing of fellow Tuscan Alfredo Catalani, Puccini was, by all reports, the last man standing. If the title of Italy's leading composer had any significance for him at all, it meant he had no alternative but to go on providing one hit opera after another.
As you can imagine, the pressure on his nervous system was enormous. Added to which, Puccini's penchant for endlessly searching for a viable story, plot element or theme grew precipitately worse with age. With his two most dependable collaborators, Giuseppe Giacosa and Luigi Illica, Puccini created La Bohème (1896) — all poetry, no drama — and Tosca (1900) — all drama, no poetry; works as different from one another as Genoa salami was from Virginia ham.
And, to be perfectly blunt, Puccini was never more enticed by a subject than when another composer had begun to work on it. We have ample evidence of his "theft" of other's ideas, to call it what it was. Despite warnings of box-office doom, a decade earlier he had turned the Abbé Prévost novel Manon Lescaut, previously adapted by Frenchman Jules Massenet, into a major triumph (with certain musical-dramatic reservations, that is).
Two years later, while sipping espresso at a restaurant with fellow composer Ruggiero Leoncavallo, Puccini let it slip he was working with another French novel entitled Scenes from Bohemian Life. This innocent aside led to a heated argument. For it seemed that Leoncavallo had also been busy working — on the exact same title. Did Puccini not recall that fact, which Leoncavallo had conveniently told him about only a few months prior?
Brushing this revelation to the side, Puccini told his friend he was forging ahead with plans to set La Bohème, as it was going to be called, to music (loose copyright laws being what they were back then). In the meantime, Leoncavallo left the restaurant, and his espresso, in a steaming huff. Settling down to write both the lyrics and the score, Leoncavallo labored over his version of La Bohème for what seemed an eternity. Consequently, Puccini beat Leoncavallo to the punch by having his opera bow a year and three months before his former friend had laid down his pen.
To be fair, some niceties do abound in the Leoncavallo piece, including a dramatic air for tenor much favored by Caruso. All in all, Puccini's lighter touch in depicting his opera's star-crossed lovers touched audience's hearts as well. In Leoncavallo's drier-eyed reading, the plot focused instead on the foibles of Marcello the painter and Musetta the saucy hoyden. Wrong choice of leads! The winner: Puccini by a head.
Almost the same situation occurred a few years hence when Puccini got wind of French playwright Victorien Sardou's five-act melodrama, La Tosca. He caught the play in performance, and straight away grasped the idea that this was the vehicle for his next opus. Alas, it too was currently being worked on, having been assigned to composer Alberto Franchetti (Cristoforo Colombo, Germania) by Puccini's own publisher, Giulio Ricordi.
Such was Puccini's determination to possess the rights to the work that Ricordi, once he learned of his interest in it, realized his talented protégé would be the right choice to do justice to the bloody tale. A plot was thereby hatched to "convince" Franchetti that Tosca was a bad play, that it would be hooted off the stage by respectable folk, and that anyone attempting to draw poetic verse out of this tripe would be in for a rude awakening.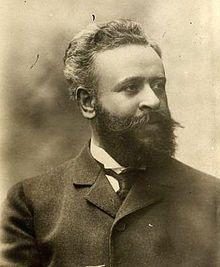 Alberto Franchetti, circa 1906 (en.wikipedia.org)
The deception worked. Franchetti returned the libretto to his publisher and Puccini was handed the assignment forthwith. But unlike the resentful Leoncavallo, who harbored a lifelong animosity toward his ex-colleague, Franchetti was made of stronger stuff. In the first place, he was born into wealth; ergo, he felt little need to depend on a successful stage work for his survival. In the second, it was clear that Puccini, a fellow Touring Club member, would be much better at setting a play of this notoriety. Besides, he had the redoubtable Giacosa and Illica at his beck and call. The winner and still champion: Puccini!
With his next work, Madama Butterfly, which premiered at La Scala, Milan in 1904, the composer found himself facing an exotic-themed subject alien to his nature. Inspired by another live play he had seen performed on stage (by American impresario David Belasco and lawyer John Luther Long's one-act Madame Butterfly), Puccini was overwhelmed. Although he barely understood a word of English, he claimed to have followed the story line with relative ease. To him, it made perfect sense that if he could comprehend the mechanics of the plot, then others would have no trouble discerning them as well.
The main problem was obtaining the authorship rights, negotiations for which were long and protracted. When they finally came through, Puccini settled into his old pattern of providing local flavor and effects. Much time was spent on researching Japanese customs and foreign mores. There are accounts of his visiting the noted Japanese actress and former geisha, Sada Yacco, for tips on how to dress and walk; and there were more than a few conversations with the wife of the Japanese ambassador to Italy, whose promise to send Puccini recordings of her country's music never materialized.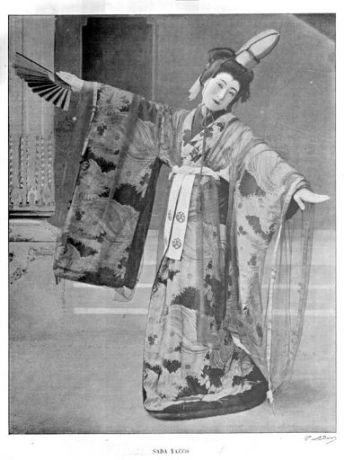 Japanese actress and former geisha Sada Yacco (alchetron.com)
The outcome of his obsession with authenticity, however, was a far cry from what Puccini had anticipated. The opera, as we know from history, was an abject failure at its La Scala premiere. After considerable alteration to its original two-act structure, Madama Butterfly stretched forth her wings anew in a revamped three-act version for Brescia. Failure was turned into a massive success as the opera settled in for an extended run.
For more on the troubled history of, and background to, one of Puccini's most in-demand works, see the following link: https://josmarlopes.wordpress.com/2015/11/14/madama-butterfly-north-carolina-opera-triumphs-with-puccinis-japanese-tragedy-part-one/.
One Fine Day (Or Not)
With the exception of Japanese hostilities during World War II, there has hardly been a time when Madama Butterfly was out of favor with the public. Every major and minor opera house you can think of has made the work an integral part of its permanent repertory.
And speaking of which, the late Anthony Minghella's opulent Metropolitan Opera production has been a mainstay at the company for the better part of a decade. With sets by Michael Levine, costumes by Han Feng, lighting by Peter Mumford, and direction and choreography by Minghella's widow Carolyn Choa, this revival has set the standard for modern-day presentations of this Italian masterwork. That was then; this is now.
Familiarity, as the saying goes, can also breed contempt. And for this writer, I find this once path-breaking adaptation to be suffering from a midlife crisis. For one, it's too slow moving; the pacing of the opera's key scenes — in particular, the wedding party in Act I, the love duet that ends the act, Cio-Cio-San's sliding partitions in Act II, the Bunraku puppetry, et al. — have the added problem of trying to appear fresh and innovative. True, at one point this production was on the cutting edge of topical theatricality. Today, however, it's burdened with taking on too much of its own weight.
For instance, the wedding party is lacking in energy. With the addition of two extra minutes of music for the Met (most regional opera companies tend to cut the scene down to a bare minimum, as witnessed by this author in last season's North Carolina Opera presentation), they can liven up the proceedings twofold. When the fanatical Uncle Bonze makes his entrance before the ink is even dry on the marriage certificate (in the manner of Count Monterone in Verdi's Rigoletto), he must shake the rafters with bombast and rage, as I've seen in countless other productions. He's an oriental holly-roller, if you will, and his denunciation of Cio-Cio-San for having abandoned her ancestral religion is the central thrust of the action.
Because of those gorgeous polished mirrors above and below the stage, running about — even walking from one side to the other— becomes as precarious as scaling Mount Everest. In my experience, there have been a host of fantastically costumed Bonzes weighed down with all types of Kabuki and Noh paraphernalia. Yet, the effect of their curse has been nothing less than stupendous. In this production, we had (for once) the powerfully intoned pronouncements of bass Stefan Szkafarowsky in the part. His movements, however, and everyone else's were visibly hampered by the treacherous footing on those same polished mirrors.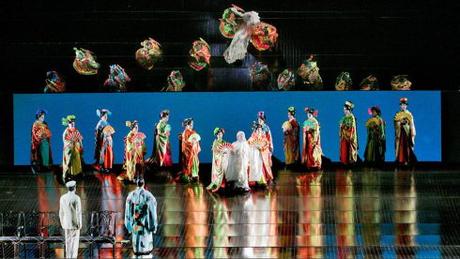 The Wedding Party scene, Act I of
Madama Butterfly
(Met Opera Photo)
This effect spilled over into the singing and acting, which was not necessarily a blemish. On April 2, 2016, Latvian diva Kristine Opolais took over the title role. Opolais has sung Cio-Cio-San on prior occasions, including a memorable Friday evening two seasons back, on April 5, 2014. Due to the indisposition of fellow artist Anita Hartig, Opolais filled in for her at the proverbial last-minute as Puccini's Mimì in a Saturday broadcast of La Bohème.
Opolais was joined on the radio broadcast by rising star tenor Vittorio Grigolo as Rodolfo, baritone Massimo Cavaletti as Marcello, bass Oren Gradus as Colline, baritone Patrick Carfizzi as Schaunard, and soprano Susanna Phillips as Musetta, all of whom gave absolutely splendid accounts of their respective roles. The Live in HD transmission captured the spirit of camaraderie of these fine singers, especially those of the men.
In Kristine Opolais' case, she had just come off the Madama Butterfly production on Friday, April 4, when, bright and early the next morning, she received an urgent call from the Met's management imploring her to take over the matinee broadcast of Bohème. It was the first time that a Met artist had sung two back-to-back performances in two different works with barely a few hours notice in between.
Working off only three hours sleep, Kristine nonetheless came through like the trouper that she is. Her singing, though sounding tired and forced in certain spots, was just what the doctor ordered for the part of the consumptive heroine. In fact, she brought Mimì to life, delivering a beautifully phrased and elegantly expansive reading of "Si, mi chiamano Mimì" in Act I, as well as a pulsing, thoroughly vibrant "Donde lieta usci" in Act III as she bade farewell to her lover, meltingly sung and acted by the suavely handsome Grigolo, an unusually reactive Rodolfo.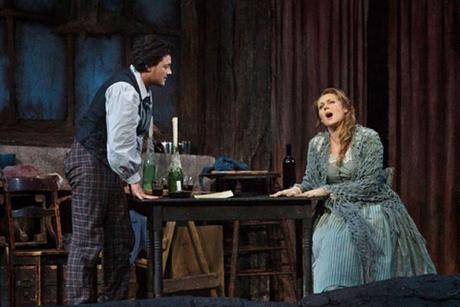 Vittorio Grigolo as Rodolfo with Kristine Opolais as Mimi in
La Boheme
(AP Photo/Metropolitan Opera, Marty Sohl)
Her death scene was poignant and affecting in its subtlety, with all of the players contributing truly heart-breaking asides at the close. At the curtain, one could sense that the participants were as emotionally drained and spent by the experience as they were justifiably satisfied with their performances. These artists gave it their all in pitching in for a fellow player. And their efforts showed.
Only Opera Lovers Left Alive
Incidentally, not only was that April 2014 Butterfly Kristine Opolais' role debut in the grueling part, she had also made her Met stage bow with La Bohème. And here we are, almost two years to the day, with the Latvian soprano at it again. Her colleagues on this occasion were French tenor Roberto Alagna as Lt. Pinkerton, baritone Dwayne Croft as the Consul Sharpless, tenor Tony Stevenson as Goro, mezzo-soprano Maria Zifchak as Suzuki, the aforementioned Stefan Szkafarowsky as the Bonze, Yunpeng Wang as Yamadori, mezzo Edyta Kulczak as Kate Pinkerton, and David Crawford as the Imperial Commissioner. Karel Mark Chichon was the conductor for this matinee performance.
Height advantage in opera can be either a blessing or a curse, especially for sopranos paired with much shorter colleagues. Because a lower-voiced singer needs the additional height for resonance, basses tend to be on the tall side. Tenors, on the other hand, require less height to reach their top-most notes. This is not a hard and fast rule, not by any means. I've noticed that the average Rodolfo or Pinkerton falls somewhere in between the tall and the short side of their parts.
Alagna, whose Chevalier des Grieux we reviewed in our last post, is not the puniest of the breed, but nor is he the most lanky Pinkerton on record. I must admit that seeing him perform next to Ms. Opolais in Manon Lescaut was a bit like watching a boy in confrontation with his mother. It's hard for artists to overcome these economies of scale, so let me say this: whatever disparity in their relative stance, Alagna and Opolais sang and acted their roles about as well as anyone could, given the above set of caveats.
Shy and demure as the teenage child-bride in Act I, Opolais blossomed into a tough and determined woman in Act II, fighting to keep her family circle intact. That family circle included her three-year-old son Dolore ("Sorrow" in translation, but called "Trouble" in the original play) and her loyal maidservant Suzuki. I noted in my Manon Lescaut write-up that her vocal production was akin to that of Italian prima donna Renata Tebaldi. The rubato and overtones she employed were unmistakable in their resemblance, a sign of Opolais' growing development as a serious artist and performer.
Both on the radio and in the Live in HD transmission, Opolais dominated the field through the sheer force of her personality. I do believe, however, that vocal maturity may guide her further along the path of becoming a singer of the first rank. Shaping her Italian vowels more precisely may help, while making those sounds more distinctive in contrast to her consonants can only enhance what is already a fully-formed portrait of the geisha girl-turned-protective parent.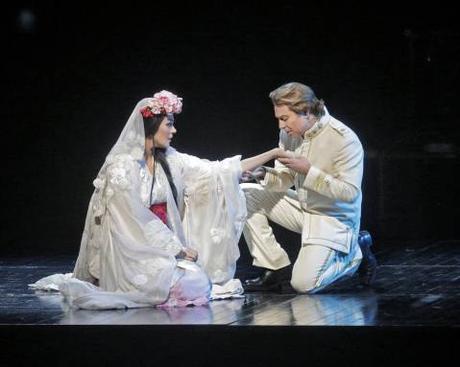 Cio-Cio-San (Opolais) & Pinkerton (Alagna), Act I of
Madama Butterfly
(Met Opera Photo)
One curiosity for lovers of useless trivia: in the original Italian vocal score, the lieutenant's full name is given as Benjamin Franklin Pinkerton or "B.F. Pinkerton" for short. However, when the opera was translated for English-speaking audiences in Great Britain, the initials "B.F." were an abbreviation for the disparaging phrase "Bloody Fool." Therefore, the name was changed to Francis Blummy Pinkerton, with the ensuing "F.B. Pinkerton" taking the place of the traditional "B.F." Sounds like "BS" to me, but the result is that audiences have been treated to an array of misnomers that clash with the prevailing wisdom. Sopranos, including Ms. Opolais, still continue to call Pinkerton by the initials "F.B.," even on records and DVD; while the rest of the cast address him as "B.F." Go figure!
As for Alagna, his easy vocalism and casual deportment are positive assets in his personification of the callous Navy lieutenant. One should also make note of his lifting of the taller Ms. Opolais into his arms, as he carried her off into their love nest. (Include weight training as a prerequisite for operatic stardom.) The role is not as strenuous as that of the Chevalier des Grieux, nor does it encompass the extremes of range of a Prince Calaf in Turandot. Above all, the artist portraying Pinkerton must display a noticeable swagger to his tone, a carefree above-it-all attitude to Cio-Co-San's relatives and servants, to the slimy marriage broker Goro and, most important of all, to the American Consul Sharpless.
This Alagna did, though at the expense of extending his basically lyrical instrument beyond its comfort zone. He took the unwritten high C at the end of the Love Duet, as most modern-day performers do in this part, and made the most of his wonderful banter with Goro and Sharpless early on — superb examples of Puccini's gloriously natural writing for tenor and baritone.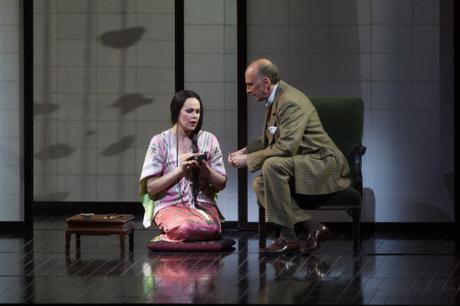 Cio-Cio-San (Opolais) speaking with Consul Sharlpess (Dwayne Croft) in Act II of
Madama Butterfly
Moving on to the other singers, Dwayne Croft was his old sympathetic self as the Consul Sharpless. Now here is an artist who completely envelops himself in the Consul's dilemma of having to relay the bad news to Butterfly of her husband's coming to take her son away. Croft fully recovered from some uncharacteristic unsteadiness earlier in the season as the minister Ping in Turandot, during scene one of the Act II trio. Always a welcome presence on the Met Opera or any stage, for that matter, Croft acquitted himself well. He was awarded the Richard Tucker Award back in 1996, and has been making Met appearances for well-on 20 years and counting. Great going, Dwayne!
A veteran of many a Butterfly production both here and elsewhere, Maria Zifchak sang Suzuki about as well as could be expected. It's been stated that Puccini had an unfortunate tendency to slight his minor characters out of extended solos and such. That may well be. However, artists of the exalted caliber of Zifchak, Croft, Tony Stevenson as Goro (a tad underpowered vocally, but portrayed with oily pomposity), and the rest of the Met cast are as valuable to a production's success as any lead singer's contribution — solo numbers or not.
London-born British conductor (by way of the island of Gibraltar) Karel Mark Chichon, who is also married, by the way, to Latvian mezzo-soprano Elīna Garanča, led the Met Opera Orchestra in an evenly-paced, thoroughly satisfying navigation through the Puccinian minefield of melody and tone painting. At the end, I was left to ponder how the Met's outgoing principal conductor, Fabio Luisi, would have sounded in this piece after his extraordinary double-duty in Cavalleria and Pagliacci, and the previously stipulated Manon Lescaut. They were to die for!
Copyright © 2016 by Josmar F. Lopes