August 12, 2014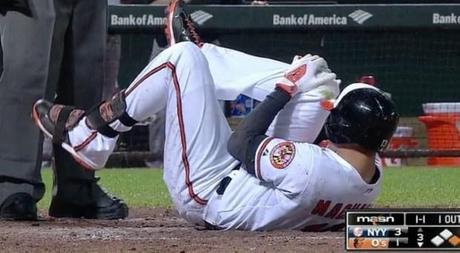 Could not have come at a worse time for the Baltimore Orioles.
Via Baltimore Sun: Orioles third baseman Manny Machado was able to walk without help after Monday night's game against the New York Yankees, but he said he has no feel for what Tuesday's MRI on his injured right knee might show.  "We don't know," he said. "We will know more tomorrow about what's wrong with it. The MRI will give us an idea of how many days I'm going to be out. That's what's going to tell us what's going on."  Machado suffered a right knee sprain on a swing in the third inning and appeared to be in great pain after he crumpled to the ground. He eventually was helped up and assisted off the field by head athletic trainer Richie Bancells and manager Buck Showalter.
Yikes.  Orioles fans must be waiting for 10am like you wait for your STD results.  From what you've seen and heard all signs point toward everything being ok, but there's that one image in the back of you mind that keeps you thinking about the negative.  For Orioles fans, a sprained knee is what every fan went to bed hoping for.  A tear in the knee may mean a similar end to this season for Machado as last year.  Different knee, hopefully different story.  The O's are rolling right now but and the last thing they need is another injury and some negative vibes in an otherwise positive atmosphere.
Let's be positive and watch Machado be awesome.
Updates to come…
Post navigation
← Late to the game: Jason Sudeikis Returns As Coach Lasso For NBC Premier League Soccer Updated Thoughts On The Tony Stewart/ Kevin Ward Jr Incident From This Weekend →