Today for #ManiMonday, I actually have a 4-day old manicure! 4 days!!! For me that is unheard of! My nails tend to peel, and though they are improving, my polish tends to peel off with the nail underneath in 2, maybe 3 days tops. Well today's 4-day old polish is the newest release from
Wet n Wild
. It's called the
1 Step Wonder Gel
 and I have been testing the formula out for maybe a week and a half now because the first shade impressed me so much. This shade is called "
Don't Be Jelly!
" and, aside from liking the color, I wanted to test out a really pale formula to see if it was streaky. Nope! I bought the white to test as well, but haven't had a chance to use it yet. Anyway, these polishes are supposed to be comparable to gel. They're not...I don't think since I've never had gel nails...but they are great none the less. The formula is thick, but it is easy to paint and it covers well. The only possible downside is that the first shade bubbled a bit on one nail (I painted it really thickly for some reason which may be why) and I
have
 noticed a spot here and there that may be a popped bubble, but nothing too noticeable or deal breaking. The shine is decent on the first day, but fades a bit and I don't think it resembles gel. Somehow it does still look a bit gel-like though. Maybe the thickness? Not sure.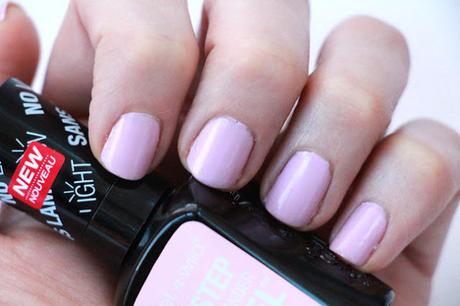 Wet n Wild's "Don't Be Jelly!" after 4 days of wear!!!
Anyway, these polishes are a bit pricey for Wet n Wild at $4.99 a bottle, but they're pretty darn good. Wet n Wild is often on sale
somewhere
 too (Rite Aid has 40% off this week!) and these have had $1 Off coupons sitting near the displays everywhere I've seen them.
That's
 a good deal. :) I definitely recommend giving them a try. The shade range isn't terribly unique, but the formula is pretty damn good!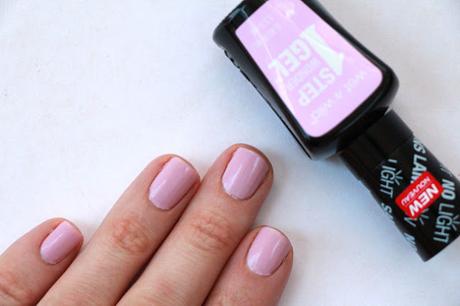 As for the color, "Don't Be Jelly!," it is a nice lavender-based baby pink with the subtlest of shimmer in it. You really cannot detect the shimmer unless you get real close and know to look. The color reminds me of Butter London's Fruit Machine or Molly Coddled - maybe if the two had a baby. It doesn't have as much white to the base though. It's a pretty color and kind of a nice not quite neutral skin-tone-esque shade on me. It's pretty and soft and I like it! Fantastic job on these Wet n Wild!!!