Today for you all, I have a very very cute looking snack which is very healthy too.Mani kozhu kattai is a specialty of Tamil nadu and it is mainly prepared during Vinayaka chathurthi.  The English translation of mani kozhukattai is steamed mini rice balls.This is a very healthy dish as very little amount of oil goes into the preparation and steaming is one of the highly recommended cooking techniques.This will be a sure hit with kids as these look very cute and they will have fun eating this.The only time consuming part in this recipe is making very small balls,once that is done the rest can be finished in no time.Try this and you will surely like :)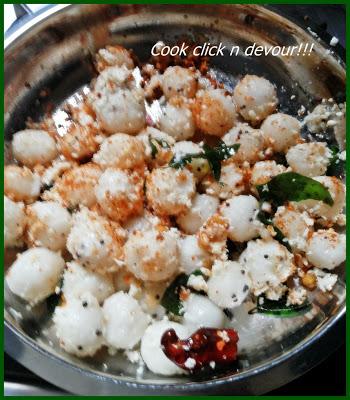 Mani kozhukattai recipe
Star ingredient :Rice flour
Time:45 minutes
Yield:40-50 
Ingredients:
1 cup very fine rice flour
1 1/2 cups water
1/4 teaspoon sugar
Salt
For seasoning:
1 teaspoon urad dal
1 teaspoon channa dal
10 curry leaves
1/4 teaspoon asafoetida
1 green chilli
2 dried red chillies
1 teaspoon sesame oil
For topping
2 table spoons grated coconut
1 teaspoon gun powder (Idly milagai podi)
Method:
1.Make sure the rice flour you are going to use is super fine.Sieve the flour once or twice if necessary.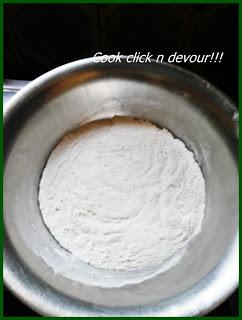 2.Boil 1 1/2 cup water along with salt and sugar.Once it reaches rolling boil,remove from flame.Add the rice flour little by little and mix vigorously.There should not be any lumps and the consistency should be little looser than chapathi dough.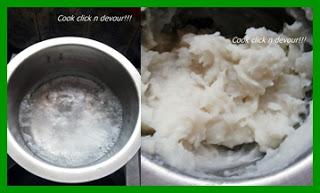 3.Apply little oil to a bowl and transfer the dough.Keep aside until it turns warm enough to handle.
4.Now knead the dough for 4-5 minutes and start making very small balls out of them.The size of the balls should something similar to marbles.
5.Grease a idly plate and arrange the balls as shown in picture.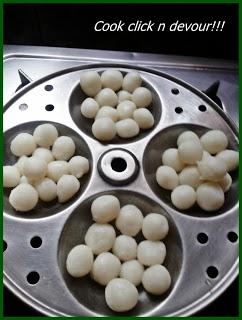 6.Steam for 10-14 minutes in a cooker without whistle.Gently remove and transfer to a wide vessel and let it cool for 10 minutes.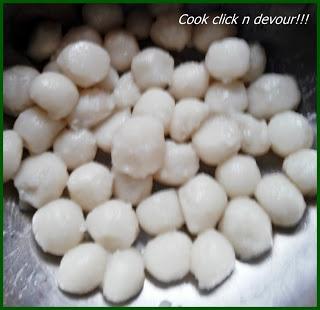 7.Heat a skillet and add 1 teaspoon of sesame oil,add the seasoning and let them splutter.Now add the kozhukattais and stir just once or twice with out breaking them.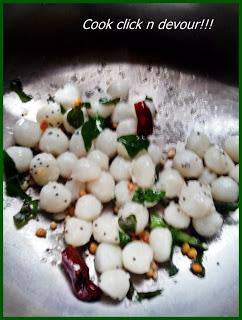 8.Add grated coconut and gun powder,mix once and serve hot.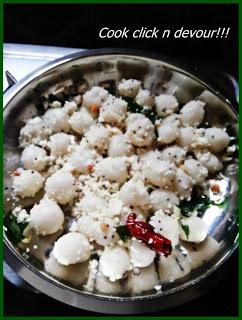 Notes:
1.The quality of rice flour is very important in this recipe.If there are husk or broken pieces then the dough will not be smooth.
2.Do not over crowd the idly plate with too many balls as that will break the balls.Work in batches if required.
3.These balls are very soft and fragile so be very gentle while seasoning
.