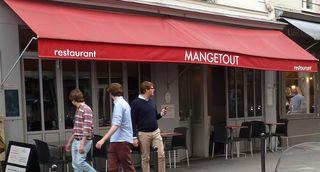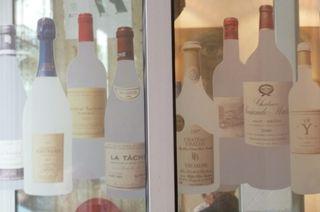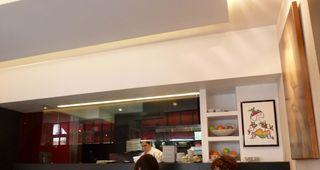 7.0 Mangetout par Alain Dutournier, 82, rue Mazarine in the 6th, 01.43.54.02.21 (Metro: Odeon) is in his old Pinxo Rive Gauche spot which I liked a lot but I guess the business model didn't work out in this crossroads of Yankee college students, visitors from all continents and  Rue de Buci market devotees. It has a refreshingly red (as opposed to gunmetal grey) awning, faded wine bottle windows (La Tache, eh?) and an open kitchen, here called "California."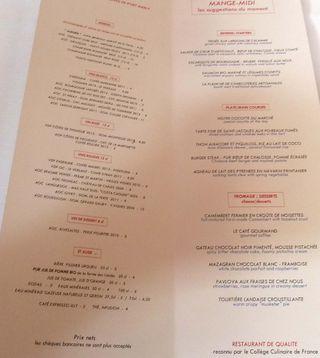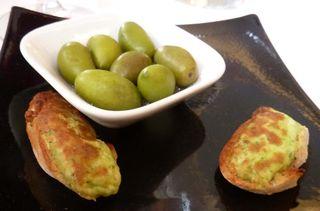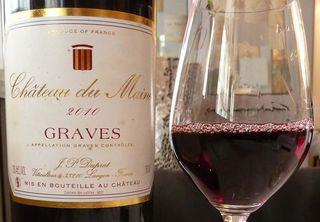 At first I thought the offerings while not wallet-busting (20 E for 2 courses, 25 E for three) were fussily complicated and uninteresting, but when they served some wonderful olives and toast with pesto and parmesan along with a Red Graves, I thought things would go very well, and they did.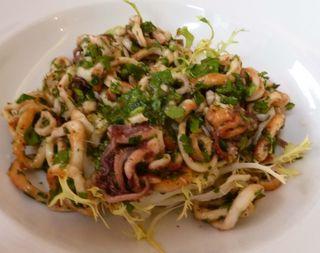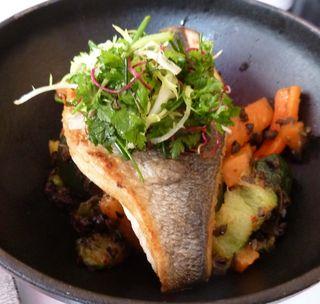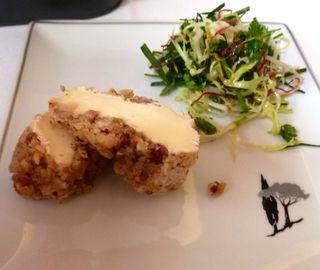 My first was called a salad frisee with calamari but the wait-person apologized for the substitution of chipirons and since in the Basque country the two words are often used interchangably, as far as I was concerned, the dish, with just enough zip from the espilette, was ideal.  Then I had ordered the 7-hour lamb but was urged to take the cocotte of the day - a lovely half of daurade with crisp skin and flesh that with the chopped olives and sliced lemon suggested, was most tasteful.  For my finale I had the camembert with a nut crust that was not runny but ripe, and salad, very very nice.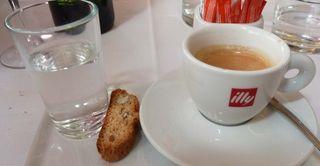 To finish I had an Illy coffee that came with a wonderful biscotto and - what is this? - a grappa - they know who I am and my taste for a caffè corretto, but no, it was just old plain water.
A bill for a couple who had two 3-course lunches, a bottle of wine, no bottled water and 2 coffees would come to 84 E.  By the way the warmed/sometimes toasted bread was quite good.
Go?  I realize, being the 5th of Dutournier's joints, despite its location in Yankee Visitor Central, with no pesky fellow Yankees but plenty of pesky fellow Franciliens and a dB level of 71.2, despite being full,