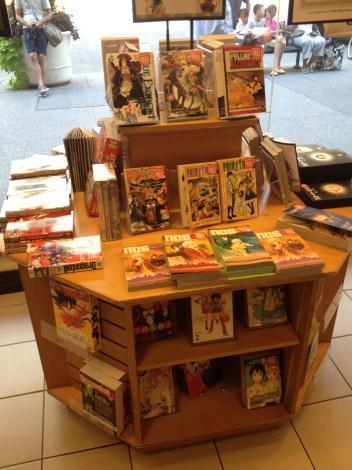 Need to get your manga fix? Well, here's a list of some of the great deals on new and used titles! As always, prices can fluctuate, so please check prices before ordering.
Amazon
Amazon offers free shipping with Prime or on $35+. They are matching a lot of Walmart's prices, so compare the two. If you see a lower price somewhere, use Amazon's "tell us about a lower price" feature to encourage them to match the price.
Attack on Titan 16 (Special Edition) – $10.47
Attack on Titan 17 – $5.70
Attack on Titan: Colossal Edition 2 – $26.18
Citrus 3 – $7.32
Inu x Boku SS 8 – $6.28
My Hero Academia 1 – $5.23
One Piece 75 – $5.18
So Cute It Hurts!! 2 – $5.18
Trinity Seven 1 – $6.81
Uzumaki Deluxe 1 – $14.11
---
Barnes & Noble
Barnes & Noble is offering a buy 2, get the 3rd one free manga sale until July 25th. Offer is available online and in-store. Members ($25/yr) get an additional 10% off plus free shipping. You may be offered a free trial at checkout if you are not currently a member.
---
Right Stuf
From now until August 3rd, get 33% off all Viz Media books with coupon code VIZ15 at Right Stuf. Got Anime members can save even more and get up to 40% off.
---
Thrift Books
Thrift Books is offering new customers 15% off their entire purchase with coupon NEWBUY. Used manga starts at $3.59 with free shipping on $10+.
---
Viz Manga
Viz Manga continues their digital manga bundle sale, offering titles as much as 71% off. Highlights include the complete Dr. Slump series for $36, Dragon Ball for $48, the Matsuri Hino bundle for $36, and  Ouran High School Host Club for $54.
---
Walmart
Walmart offers free shipping on $35, normally $50. If a title is marked as a preorder, it is eligible for free shipping with no minimum purchase required. Many more preorder titles are listed on my blog.
A Silent Voice 4 [preorder] – $5.70
Akame ga Kill! 3 [preorder] – $6.75
Black Rose Alice 3 – $5.18
Cardfight!! Vanguard 6 – $5.68
Fairy Tale: Master's Edition 1 [preorder] – $20.75
FLCL Omnibus – $10.94
Gou-Dere Sora Nagihara 1 – $7.79
Master Keaton 1 – $10.37
My Little Monster 8 – $5.70
My Neighbor Seki 1 – $5.68
Naruto 72 [preorder] – $5.18
Natsume's Book of Friends 18 – $5.18
Nisekoi 11 [preorder] – $5.18
Phantom Thief Jeanne 4 – $5.85
Requiem of the Rose King 1 – $5.18
Rin-ne 16 – $5.18
Skip Beat! 6 [3-in-1 edition] – $8.20
Spell of Desire 5 – $5.18
The Seven Deadly Sins 10 [preorder] – $5.70
Tiger & Bunny 6 – $5.18
Until Death Do Us Part 8 – $12.98
UQ Holder! 5 – $5.70
X 4 – $10.75
Yu-Gi-Oh! 3 [3-in-1 edition] – $7.78