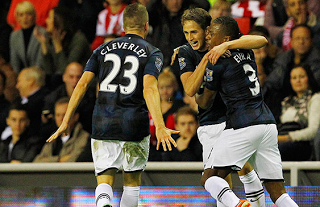 The sound that's being sneezed out of just about everyone's mouths these days is that of "Adnan Januzaj". What before was just a blending of vowels and soft sounding consonants has now become the prodigal son which Manchester United have already hurled their hopes and dreams upon for the season. While Januzaj's second goal could be considered "one-of-a-kind", I can't help but feel some mystical sense of déjà vu as this Manchester United youngster has burst into the side with a fantastic performance. That feeling was present throughout the match, during his gliding runs, winning goals, along with his now forgotten dive. Moyes will be glad that now he too has a speedy, diving, goal-scoring phenomenon to take care of, just like the many his predecessor Ferguson had.
And speaking of the red-nosed retired manager, the young Belgian/Kosovan/Albanian was basically a parting gift from Old Saint Ferguson, and now it's up to Moyes to use him properly. There's been a fair share of Fergie-bred players which have left their mark on the world of football, the notable ones being: David Beckham, Ryan Giggs, Paul Scholes, and Cristiano Ronaldo. Yet it's all too easy to remember the youngsters which had the weighty label of superstar flung on a bit too hastily and ended up tripping on it: Federico Macheda, Bebe, and Obertan being a few of the recent cases. Right now, Januzaj is profiting due to the fact that he's the latest Manchester United winger who's able to score right now. While he's shown some definite talent in his goal-scoring, it's remarkable how good Januzaj's been playing when compared to the dismal performances Ashley Young has been putting in.
So while the desperate outcries of an England future are already being contemplated by Roy Hodgson (with Jack Wilshere sparking up his own thoughts on the matter), perhaps the most important thing to remember about Januzaj is that he's earned David Moyes three important points. For now he'll be training, eyeing how England (and Wilshere) face the international break's final two tests of hosting Montenegro and Poland. Januzaj will have his chance to show his consistency when the Premier League returns and United host Southampton, and there will be plenty of time to judge how well the 18 year-old deals with the high expectations being pencilled into his future.

What are your thoughts on Januzaj's performance? What do you expect from the upcoming international break? Share your thoughts in the comments below!