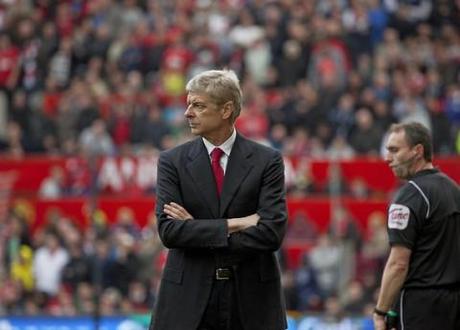 Arsene Wenger at Old Trafford, August 29 2011. Photo credit: Atila the Hun http://www.flickr.com/photos/austinosuide/6090184223/sizes/z/in/photostream/
The shocking Manchester United loss follows a terrible few months for Arsenal. The north London club have sold star players Cesc Fabregas and Samir Nasri, been hit by a string of injuries to key players including Jack Wilshire and Thomas Vermaelen, and netted just one point from three Premier league games. Wenger remains revered by a large section of the Arsenal fanbase, who still tie up "In Arsene We Trust" banners at the Emirates stadium, but there's a loud minority upset at his inability to deliver a trophy for six years and beginning to call for his head.
"You know me well, you should give me more time," said Wenger when the inevitable calls for his resignation came after the defeat.
End of the Wenger era? At The Daily Telegraph, Jim White said the game had the "the air of an obituary, the marking of the end of an era, a defining of values that appeared to be fading before our eyes." White argued that Wenger's unbending faith in young talent is harder and harder to justify. "The listing for Arsenal's substitutes looked like a round of Countdown: an apparently random collection of consonants. Oguzhan Ozyakup, Gilles Sunu, Ignasi Miquel. If Arsène Wenger is right, by the end of the season one of them will be a household name. Arsenal fans would prefer it if they had a vague inkling of who they are now … Wenger's bench appeared to be populated by recent graduates of the nursery." 
Failure is Wenger's fault. Richard Williams of The Guardian argued that if Wenger's team "were a regiment of soldiers, Arsenal would be swiftly withdrawn from the line. In their fifth game of a new season, they looked weary and shell-shocked. The general who led them to so many victories now stands stripped of his virtue, his plans dismantled by an old foe whose own troops looked fit for this or any other battle." Williams insisted that Wenger is a "strong character" but questioned whether "whether he will be able to summon the resilience needed to overcome such a catastrophe." "When his side were invincible, Wenger was quite properly given the credit for his genius," reminded Williams, who insisted that "now (responsibility for) failure must be laid at his door.
Wenger's fruitless summer. Martin Samuel of The Daily Mail stressed that Arsenal's current problems stem from Wenger's failure to bolster his threadbare squad in the summer: "Wenger's greatest mistake this summer is to let it pass him by; as the world and his wife knew Cesc Fabregas would be leaving, why did he not move for an experienced defender early, buying before he sold? Now, Arsenal appear desperate and prices shall be adjusted accordingly. As for transfer targets, they might suddenly develop cold feet. As a selling point, the only way is up is never the most enticing line." To patch up Arsenal's defensive inadequacies, Samuel pressed Wenger to sign both Bolton's Gary Cahill and Everton's Phil Jagielka.
Give Wenger more time. Patrick Barclay of The Times (£) argued that Wenger is "owed a period of readjustment" and insisted that "to judge the Wenger regime on the evidence of this one match, however humiliating for the depleted visiting team, would be to miss the point of what the Frenchman has brought to Arsenal — an almost infinite supply of hope — as well as ignore the extraordinary context." Barclay said a full-strength Arsenal would never have capitulated so easily yesterday, and reminded that Arsenal have been thumped by Manchester United in the past yet still bounced back: "Something like it did happen before: in February 2001, when Wenger was aghast to see a less understrength side than yesterday's lose 6-1 on the same ground — and 15 months later Arsenal ended a sequence of three United title triumphs with victory at Old Trafford." Barclay argued that Wenger may well respond to this "renewal of crisis" and that "the construction of a squad capable of qualifying for the knockout stages of the Champions League remains well within the manager's compass."