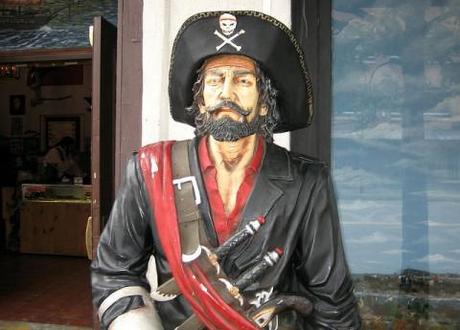 Thar be pirates. Photo credit: Fuzzcat via Flickr.
The background
There are more illegal downloads per person in Manchester than in any other UK city, according to a new study by monitoring service Musicmetric released to the BBC. Nottingham and Southampton come second and third in the piracy stakes, with London clocking in at number 20. The data also revealed that Ed Sheeran is Britain's most frequently illegally downloaded artist. According to the BBC, the singer-songwriter was unmoved by the news: "Nine million people have my record, in England, which is quite a nice feeling. I'm still selling albums, but I'm selling tickets at the same time. My gig tickets are like £18, and my albums £8, so … it's all relative," Sheeran said.
Ed Sheeran? Really?
"It's been revealed that the emu-faced terrible songwriter and loop pedal abuser Ed Sheeran is the most illegally downloaded artist in the whole of the UK. Which is all we need to conclude that people who think it's acceptable to steal music are sh*tbags who don't really deserve ears," wrote Tim Chipping at HolyMoly.
 No need to panic over piracy
"Piracy is largely the province of teenagers and people with too much time on their hands," said Mic Wright in The Telegraph. This is because legal online music services have improved immensely, and are in fact more convenient than scrabbling round for a free illegal version. And the more these services continue to improve, the less demand there will be for piracy. "If music fans have more convenient choices, illegal downloading will become even less appealing and the young will put their virtual peg-legs and eye patches away," Wright argued.
Please stop calling it piracy
"Piracy involves people on a boat who attack, loot and capture other boats and often the people within," wrote technology journalist Ian Morris on his blog. The correct term is copyright infringement. "But the industries won't call it that, because it doesn't sound serious," said Morris.