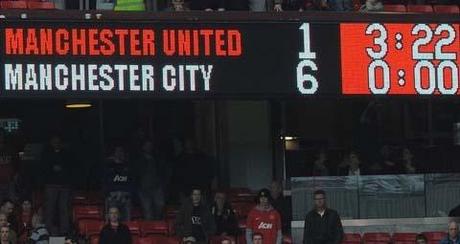 Weekends like this were made for football pundits. Shock results, red cards aplenty, and off-the-field idiocy make for excited football journalists, and the footballing world has wasted no time responding to a weekend jam-packed of drama. Does Manchester City's 6-1 hammering of Manchester United signal a shift in premiership power? Is David Silva the best player in the league? Are Chelsea a bunch of thugs? Are Arsenal 10 men short of a proper team? One weekend of football, so many questions.
"For the oppressed people of the nation of Manchester City, this was the day in which they ousted the dictator, toppled the statue and walked blinking into the light, wondering what to do with this new-found liberty", enthused Sam Wallace for The Independent.
"A changing of the guard." Sam Wallace declared Man City's win "a fork in the road … for English football." The blue side of Manchester has challenged the certainties of English football, and "the establishment has been rocked." "Wowsers", he concluded. Oliver Holt of The Mirror shared Wallace's sense of grandeur, celebrating the end of "two decades of oppression" at the hands of Man Utd. The game, however, was "more about the rise of Manchester City than the fall of United."
City's bright sparks. Mario Balotelli did his best to grab the headlines, asking "why always me?" on his celebratory t-shirt. Having set fire to his house by setting off fireworks in his bathroom the night before the game, Balotelli netted twice in the rout of Utd. The Wall Street Journal's Gabriele Marcotti, however, said that despite his "high-jinks", Balotelli's footballing development is "as positive a development for City as its historic win." Others turned attention to "Spanish sparkler" David Silva. The Guardian's Paul Hayward named him "comfortably the player of the season so far", and suggested that he was at the heart of City's rise – "Silva is City's chain reaction", liberating players with his "higher talent".
"Chelsea's reputation for professionalism was sullied by a horrid hybrid of a display that blended cheating and thuggishness", spat Patrick Barclay for The Times (£)
Chelsea stumble. As Queens Park Rangers continued their admirable start to the campaign with a win over the crippled nine men of Chelsea, accusations have started flying about Chelsea's etiquette. They picked up enough cards to warrant an FA fine, and accusations of racism have now emerged for John Terry. He has emphatically denied the claims, blaming a "misunderstanding". QPR had gone into the game as massive 19/2 underdogs.
Van Persie saves Arsenal (again). As Arsenal quietly find some form, winning six from their last seven games, some are voicing the opinion that they are somewhat over-reliant on their captain. "Arsenal have become so dependant on van Persie, such a one-man team, that it's not funny. Without him they would be just another mid-table side", wrote John Cross in The Mirror.