Man of Steel?  More like Man of Gold!  Am I right?  But, no, seriously people, Man of Steel just made a lot of money.  However, being a modern film lover means not taking the studios at their word when they tout record-breaking openings.  After all, some of the box office records films break and studios happily report are so comically specific (e.g., highest August opening weekend for women aged 18-34) that the only accepted response is a thoroughly earned rolling of the eyes.  Of course, there are also times when the box office numbers are legitimately impressive, and there is often no better indication of the likelihood of a sequel than box office gross.   So, where in this divide does Man of Steel fall?
How Much Money Did Man of Steel Make?
Domestically, Man of Steel took in an estimated $12 million from Thursday preview screenings and $116.7 million between Friday and Sunday for a combined total of $128.7 million.  The film also opened in most worldwide territories this past weekend as well, and brought in a foreign gross of $71.6 million.  This combines for a worldwide gross of $200.3 million after just 3 full days for a film whose production budget is reported as being around $225 million.
How Does This Compare to Superman Returns?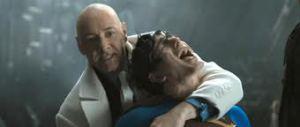 Tell the people just how much more Man of Steel made than me?  Fine, just stick the dagger back in and twist it around why don't you.
The previous installment in the franchise, the much-maligned Superman Returns, made a comparatively meager $52 million in its opening weekend in late June of 2006.  However, it's even worse than that.  From BoxOfficeMojo:
[Superman Returns] opened on a Wednesday and earned $84.6 million through its first five days. Adjusting for ticket price inflation, that would come out to $102.5 million, or noticeably lower than Man of Steel's $128 million haul so far.
So, even after adjusting for inflation and giving it two extra days of box office figures Superman Returns still fails to best Man of Steel.  And for the "holy shit, are you kidding me?" moment of this article – Superman Returns reportedly ended up with a production budget of $277 million.  Check out BoxOfficeMojo for a side-by-side comparison of the two films.
What Does This Mean for the Chances of Man of Steel 2: The Legend of Jor-El's Gold?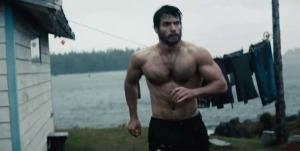 Henry Cavill and….most importantly…his abs will almost certainly be back in the red and blue suit.
The Superman film franchise is now in far better financial shape than it was in 2006.  In fact, no matter which adjustment you do – inflation-related or looking at total number of tickets sold – Man of Steel's opening weekend thoroughly trounces any prior film in the Superman franchise. In actual numbers, it looks set to easily become the highest grossing film in franchise history, although if you adjust for inflation the original 1978 Superman made $455.5 million in domestic box office alone which Man of Steel is unlikely to beat.
As such, a second cinematic opportunity to ogle instant sex-symbol and new Superman Henry Cavill seems like a guarantee.  Although critics haven't been crazy about the movie (nor were we – check out our review here) the CinemaScore grade of A- indicates a strong word of mouth and rather low likelihood of the film drastically dropping in subsequent weeks.
How Well Did it Do in 3D – aka Is 3D Dead Yet?
On the domestic front, Man of Steel benefited from the 3D bump – 41% of all ticket sales coming from 3D showings – but like most 2013 films that bump was nowhere near as pronounced as in prior years.  Basically, the box office for Man of Steel was a 60/40 divide between 2D showings and 3D showings whereas in the past it was more common for the 60/40 divide to favor 3D over 2D.  For example, Toy Story 3 and Shrek Forever After each owed around 60% of their opening to 3D showings, and Alice in Wonderland owed a stunning 70% of its opening gross to 3D.
It is a bit more difficult to tease out the influence of inflated IMAX prices since almost all IMAX screenings are in 3D and thus included in the 3D figures, but 12% of people who saw Man of Steel this past weekend viewed it on a IMAX screen.
What's All This Nonsense About Man of Steel Scoring the Biggest June Opening Weekend Ever?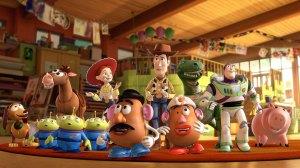 In this picture from Toy Story 3, only Woody seems to realize just how thoroughly Man of Steel crushed their record for biggest June opening ever.
It's more of a factually true statement than nonsense – in actual (non-adjusted) figures Man of Steel now holds the record for highest opening for a film released in June in film history.  The previous record holder had been 2010′s Toy Story 3, which just like Man of Steel also featured midnight screenings in advance of a Fri-Sun weekend and played on 3D IMAX screens.  Toy Story 3 raked in $4 million from midnight showings on the way to a total Friday to Sunday opening weekend of $110.3 million.  This is in comparison to Man of Steel's higher Friday to Sunday total ($116.7 million) and combined total after factoring in Thursday night preview showings ($128.7 million).
If you guessed that things might look a little different after adjusting for inflation you'd be right.  However, it's not actually Man of Steel that suffers after adjustment but Toy Story 3, probably due to Man of Steel only enjoying 40% bump from 3D vs. Toy Story 3's 60% bump.  So, after you adjust all June opening figures to reflect the average 2013 ticket price thus negating any benefit alotted to Man of Steel the list of biggest opening weekends for June looks like this:
1. Harry Potter and the Prisoner of Azkaban – $119.7 million (came out in 2004)
2. Man of Steel – $116.7 million (not counting the Thursday previews)
3. Transformers: Revenge of the Fallen – $115.9 million (came out in 2009)
4. Toy Story 3 – $111.1 million
Somewhat surprisingly, when you throw the money out entirely and just look at the most-attended June opening weekends via total number of tickets sold the above order remains identical:
1. Harry Potter and the Prisoner of Azkaban – 15.1 million tickets sold
2. Man of Steel – 14.7 million tickets sold
3. Transformers: Revenge of the Fallen – 14.6 million tickets sold
4. Toy Story 3 – 13.9 million tickets sold
What Does This Mean for the Justice League?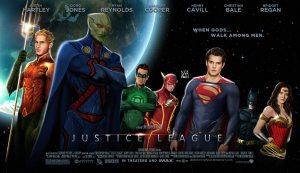 A fan-made Justice League movie poster with adorably hopeful casting suggestions for each character.
In recent history, DC has failed to launch franchises or make Marvel-like box office money on anything not directed by Christopher Nolan and featuring a peculiar winged bat at its center.  However, Nolan's Dark Knight trilogy is over, and both the director and screenwriter of Man of Steel have said the new film is separate from the Nolan film universe meaning no Christian Bale Batman in the future.  So, all future DC properties can spring from the universe established in Man of Steel, meaning Superman is now DC's Iron Man as far as the films go.
However, there is a lot of conflicting information out there as to what to expect in terms of future films.  The latest indication is that DC might attempt to completely mimic Marvel and release several stand-a-lone movies building toward a Justice League film.  Just because Man of Steel has done well so far doesn't necessarily mean we should trust DC to be able to pull off a Wonder Woman or Aquaman film, especially considering their colossal recent failure with Green Lantern.  Of course, even without such an example its hard to imagine Wonder Woman or Aquaman ever transitioning well to film, although the same was said about Marvel's Thor and look how that turned out.  However, even with such skepticism for now the Justice League film – which was shelved earlier this year and said to be dependent upon Man of Steel – is probably officially back off the shelf.
Everytime you leave a comment an internet writer gets his validation wings.  You wouldn't deny me my wings – would you?  No, seriously, this article is over.  If you want to continue the conversation take to the comments section.
All numbers in this article come from BoxOfficeMojo (go here for their Man of Steel page), and reflect their latest figures at the time of this writing.  The initial figures announced for Man of Steel appear to have actually been a little too conservative thus the reason I write about it making $128 million whereas all early reports said $125 million.