We saw some pretty rare and bizarre stories of people trying to look like celebrities and superheroes, from a man getting plastic surgery to look like Superman to a woman getting a third breast implant. But I bet this particular story can beat them all.
This 23-year-old makeup artist named Jordan James Parke is probably the biggest Kim Kardashian fan, who's spent over $156,000 on fifty cosmetic surgeries to look like the TV celebrity.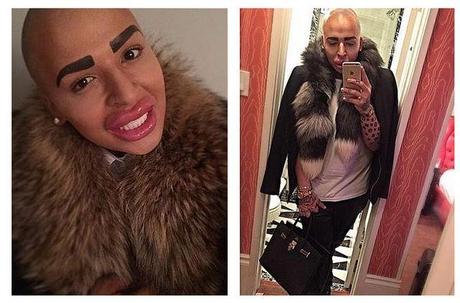 Read Also: Weird Pet Sensation in Russia Makes Cats Look Like Dragons
After watching an episode of the TV show "Keeping Up With The Kardashians", he's fell in love with Kim Kardashian and ever since then he's been working hard to look like the star. He also has a message for all the haters as well.
"I laugh when people try to insult me by telling me I look plastic or fake," says Parke. "Do they think I'm going for the natural look? If I was, I'd ask for my money back."
[Via: NY Post / News.com.au ]
(All images, trademarks shown on this post are the property of their respective owners)
Follow @nrjperera – Roshan Jerad Perera