Mallary Hope Releases Two New Holiday Songs, "A Baby Changes Everything" and "O Holy Night", Available Now on Christmas Is All About You
 Joins Point of Grace's A Christmas Story Tour This December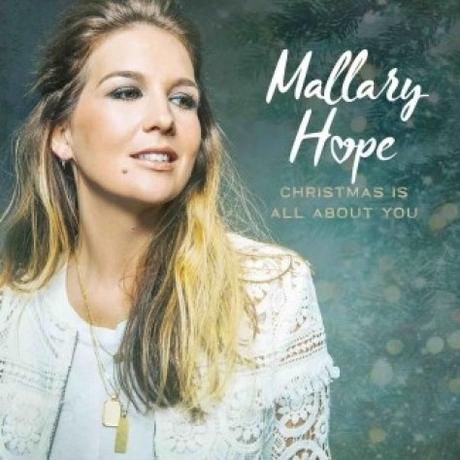 Nashville, Tenn. (November 8, 2019) — Singer/songwriter Mallary Hope releases two new Christmas songs on her previously released holiday EP, Christmas Is All About You, available today (11/8). The five-track collection features two new recordings as Hope puts her personal stamp on "A Baby Changes Everything" and "O Holy Night." The EP also highlights three previously released tracks, including Hope's cover of "Mary, Did You Know?" and original Christmas selections, "Just A Baby (Mary's Song)" and the title track. Listen to Christmas Is All About You HERE.
This December, Hope will be a special guest on Point of Grace's A Christmas Story Tour, also featuring Aaron Shust. A full list of tour dates is below.
Stream or purchase Christmas Is All About You HERE. For more information and all tour dates, visit www.mallaryhopemusic.com.
Christmas Is All About You EP Track Listing:
Christmas Is All About You
Just A Baby (Mary's Song)
Mary, Did You Know?
A Baby Changes Everything
O Holy Night
A Christmas Story Tour Dates:
12/1 – Murfreesboro, TN
12/6 – North Augusta, SC
12/7 – Alexandria, LA
12/12 – Yukon, OK
12/15 – Tri-Cities, TN
12/18 – Elizabethtown, KY
12/19 – Sugarcreek, OH
12/20 – Manheim, PA
12/21 – Wabash, IN
*All dates subject to change.
About Mallary Hope:  Ever since she knew she wanted to be a singer at 9 years old, Mallary Hope dreamed of becoming the next Dolly Parton. It wasn't until she encountered some closed doors, heartbreak and rejection that she finally realized she was never meant to be Dolly. She was only meant to be Mallary. Her songs have been recorded by Faith Hill, Sara Evans, Lauren Alaina and Jana Kramer, among others. Now, finding her voice in Christian music, the singer/songwriter introduces the rawest form of her artistic self on her debut LP, Out of My Hands (Curb | Word Entertainment), a declaration of releasing her plans to a God who writes far better stories with our lives than we could ever imagine. Her first holiday EP, Christmas Is All About You, is also available now.
~ ~ ~ ~ ~ ~ ~ ~ ~ ~ ~ ~ ~ ~ ~ ~ ~ ~

It would be great if you would stay connected with me!! You can follow me on Twitter @DebiL1611, like me on Facebook at 2014 and Beyond, circle me on Google+, follow me on Tumblr, Instagram and Bloglovin', subscribe on YouTube, or connect with me on LinkedIn and Pinterest.

Please make sure to visit my homepage and subscribe to my blog for more great posts on running, fitness and lifestyle topics as well as food, product, music and book reviews, and more!