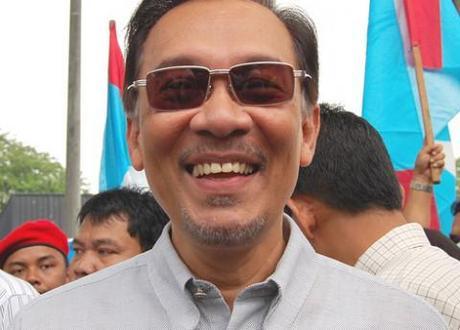 Anwar Ibrahim. Photo credit: BugBitesandCo
Malaysian opposition leader Anwar Ibrahim has been surprisingly acquitted of sodomy after a two-year trial. Ex-Deputy Prime Minister Ibrahim consistently denied the charges, and said the allegations were fabricated by the administration of Prime Minister Najib Razak in order to damage his reputation and upset his political ambitions. The government has denied the allegation.
Judge Zabidin Mohamad Diah said DNA evidence submitted by the prosecution was unreliable and discharged the case, reported the BBC. Sodomy, even between consenting adults, is still a crime in Muslim-majority Malaysia. Anwar had been accused of having sex with a former male aide. He had faced up to 20 years in prison if found guilty.
"Thank God justice has prevailed I have been vindicated", Anwar told journalists outside the courtroom, where 5,000 of his supporters gathered. "To be honest, I am a little surprised."
The allegations against Anwar surfaced months after March 2008 polls, in which he led the opposition to unprecedented gains at the expense of the ruling party. The not guilty verdict means Anwar is set to lead the opposition into elections which must not take place later that 2013 and could well come sooner. In a tweet, Anwar signaled his intention to challenge the governing party, which has held power for over 50 years: "In the coming election, voice of the people will be heard and this corrupt government will be toppled from its pedestals of power."
Malaysia's moment of sanity. Writing at The Wall Street Journal, Bridget Welsh, a consultant for Freedom House, interpreted the decision as Malaysia's "moment of sanity" which "will help the country end dirty politics and focus on the future." Welsh said the acquittal is "a sign that Malaysia is moving forward and a win for several key players. Prime Minister Najib Tun Razak can run in the upcoming election as a reformer who has allowed the rule of law and fairness to prevail, giving him an opportunity to earn his own democratic mandate. Mr. Anwar is free to focus on leading the opposition. The judiciary can stand tall with the credit that when the final decision was reached, it was made on the basis of the evidence rather than politics." Welsh said the acquittal is also a victory for Malaysia as it can now begin to "showcase its successes rather than being endlessly associated with sex scandals." The acquittal sets up an exciting election, predicted Welsh, who noted that "over half the seats are highly competitive. Each side is sure to use the trial for political capital, though the verdict has now made the playing field more level. The mass political support around Mr. Anwar shows that he remains a political force, with iconic charisma, tenacity and staying power. For Mr. Najib, the acquittal shows he is willing to engage his opponent in a fairer fight, and stand on his record."
Election will be tight. Liz Gooch of The New York Times said the acquittal "may give opposition an edge in Malaysia's elections." Ibrahim Suffian, director of the Merdeka Center, an independent polling firm, told the newspaper: "I think both sides will benefit out of this, but it benefits Anwar a bit more. Anwar has been under this case for nearly three years. This has in some sense created a problem for him in terms of his domestic image with the Malay Muslim electorate, and today's judgment allows him to be free from that." Analysts expect the election to be a hard-fought battle with much depending on which way new voters sway.