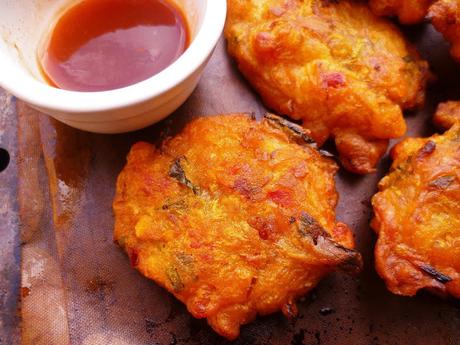 malaysian crispy prawn fritters (cucur udang) with a sweet chilli dipping sauce
There are many food bloggers who have a specific focus. While I suspect I am equally obsessive about food, I have always found it difficult to concentrate on one type of ingredient or cuisine. I always wanted to be a general practitioner rather than a specialist.

I haven't been blogging very much in the past six months, although I have been cooking (and eating). Life got in the way and the ongoing carpal tunnel problems in my hands and wrists has made typing and writing quite difficult. It also makes me someone to be avoided while in the kitchen, particularly when sharp knives are involved! But on a happier note, I have literally hundreds of photographs that I could be posting. A quick analysis of these photos suggests that if I have had any kind of focus it has been around the food of Asia, and in particular Malaysia, my childhood home and the food that educated my tastebuds.
So over the next few months, I will be posting these. While writing about food history or food in literature, discovering Mediterranean or Middle Eastern gems, or even rediscovering lost British treasures still appeals to me, I think that over the next few months I should just concentrate on the food of my heart.
And since it is summer here in England, a time when we grab the opportunity to eat outdoors, no matter what the weather is like (pissing down in London at the moment); can I introduce you to this Malaysia classic nibble? These prawn fritters (cacur udang) are a taste of Malaysian night markets (pasar malam) and are a delicious snack no matter what time of day it is. They are also the perfect party food.
As a child growing up in Kuala Lumpur, it was a weekly ritual that my father, Henry, would take me out for dinner. It was a chance for us both to indulge in some of our favorite street foods. I loved the noise and bustle of the market and the hawker stalls, and was mesmerised watching the stall holders cooking their wares. It was absolutely magical. But now with this prawn fritter recipe you can enjoy some of that magic too!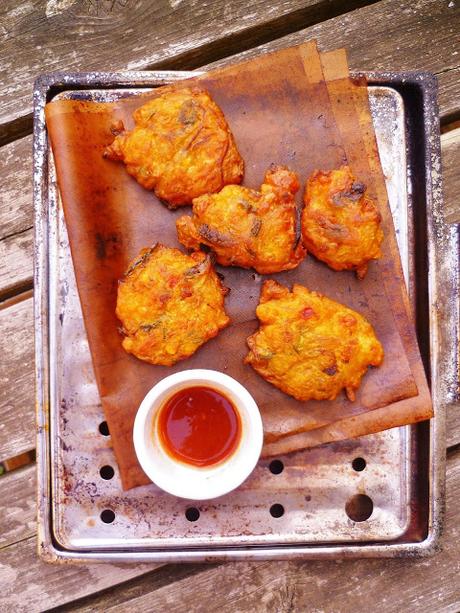 malaysian crispy prawn fritters (cucur udang) with a sweet chilli dipping sauce
In April this year, The Guardian's Readers' Recipe Swap challenge was FRITTERS. Food writer Eve O'Sullivan introduced that week's challenge with "It's a good thing I have an unusual fearlessness when it comes to hot oil, as this week's fritter theme used it by the bucketload, providing perfect snacking material for a weekend of warm weather. I now smell like a chippy, but it was more than worth it." I couldn't agree more. I am not going to eat fritters every day, but for summer snacking and a taste of Malaysia's food stalls, cucur udang is the snack for me.
My recipe won the fritter challenge. Hurrah! I particularly like the photograph taken by Jill Mead that illustrates the feature. Eve O'Sullivan goes on to say "My favorite fritter of all came from Marmaduke Scarlet. Extremely simple to make considering how much they show-off when they come out of the pan, I've made three batches of these seafood and sweetcorn cakes this week, all of which disappeared within minutes. I'd highly recommend them with a cold beer in the sun."
Ice-cold beer and a plate of prawn fritters is my perfect way of enjoying a hot summer's evening in the garden. Cheers!
Serves 4
Skill level: Easy
ingredients: 
180 g plain flour, sifted
1½ tsp salt
½ tsp baking powder
¼ teaspoon ground pepper (white)
1 teaspoon ground turmeric
375 ml water (plus extra if necessary)
150g cooked crayfish tails or prawns, roughly chopped
½ small red onion, very finely sliced
4 spring onions, chopped (green and white parts)
2 tbsp fresh chives, chopped
100g tinned sweetcorn, drained or a handful of beansprouts
vegetable oil, for deep-frying
dipping sauce
4 tbsp chilli sauce (I used Linghams but Maggi would be good too)
2 tbsp Worcestershire Sauce
1 tbsp light soy sauce
1 tbsp fresh lime juice
1 tsp palm or light brown sugar
½ tsp mustard powder
directions:
Make dipping sauce by combining all the ingredients. Set aside.

Sift flour with baking powder. Add salt, pepper and turmeric.

Slowly stir in the water so that batter is smooth and thick. (Add more water if very stiff). Set aside.

Prepare the seafood, herbs and vegetables. Tip into batter and combine well to ensure that everything is well-distributed.

Heat the oil in a deep-sided saucepan or wok until hot enough to brown a cube of bread in about 20 seconds. (About 170-180C if you have a cooking thermometer).

Spoon heaped tablespoons of the batter carefully into the hot oil. Deep-fry until golden brown, (about 3-4 minutes). Drain on paper towels and serve warm with dipping sauce.