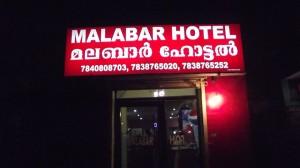 My love for Keralite cuisine was sadly buried in a corner of my heart after Kairaleeyam restaurant closed down in Delhi a couple of years back. I had tried Kerala Bhawan a couple of times but always came away disappointed. This love was reignited by an innocent comment of a Keralite new to Gurgaon who had joined the foodie group and had asked for a restaurant serving Kerala cuisine. That is how I ended up discovering Malabar Hotel.
It is right opposite Medanta Hospital and the landmark is the gurdwara from where one goes into a narrow lane.The approach road was decently crowded dotted with small grocery shops on either side. I could read the prominently displayed Malabar Hotel signboard from there.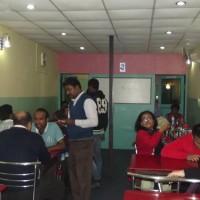 The restaurant had the billing counter with the cashier/owner at the entrance. Then there were two rows of neatly placed simple tables and chairs with no frills attached. There was nothing fancy about the place either in décor or in ambience. At the end of the rectangular 32 seater hotel was a kitchen at one end with a washroom at the other end. Each table can seat only four people.The simplicity of the place again reminded me of Kairaliyam.
We were seven of us and the owner flatly refused to join the tables to seat us all together. Then I remembered that the main reason why we were all there and sat on two separate tables on either side of the passage which runs through the hotel.
Now let's get to the food guys…..
Firstly, be prepared to wait for a while if you are ordering anything other than a thali or a biryani. After a long wait of half hour, we were served with a beef biryani (btw, interesting to note that all the beef items on the menu are written in Malayalam only).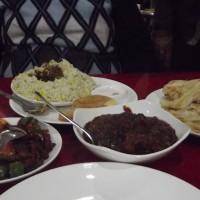 The Beef Biryani, to say the least, was simply awesome. The bite sized small beef pieces were well hidden and sandwiched between two layers of rice. The beef pieces were in a nice thick bhuna masala around it so that when you mixed it with rice it was neither a runny nor a dry affair. Highly recommended !

Mutton coconut fry (Rs. 180) was another dish to die for. Tender succulent pieces of mutton tossed in Kerala masalas, onions, tomatoes and thin strips of dry coconut were very well prepared.

Kappa Biryani (Kerala Special at Rs. 110) :Kappa is tapioca a root vegetable like sweet potato but it is not sweet. It was my first time trying it and I would strongly advice non-Keralites to stay away from it.It was like a bad, gooey khichdi with boiled, roughly mashed big pieces of kappa and beef in it. It does nothing for the taste buds as it is neither spicy nor sweet nor tangy.

Mutton Masala(Rs. 150) :The preparation of the dish was good with just a hint of sweetness from the caramelized onions.But alas! Some of the mutton pieces were tough.

Egg Masala (Rs. 50) :I quite enjoyed this dish which came with one split boiled egg served on a bed of thick, yummy onion and tomato paste masala.

Beef Chili Fry was a huge disappointment for me. I love beef chili fry and get reminded of that lovely taste and easy availability in all nooks and corners of Kerala. The preparation was not Keralite to begin with. It was tossed in capsicum and onion-the heat and coconut were totally missing. O.k. this can still be forgiven but the beef pieces by themselves were so tough that I chewed on them, sucked the juices and had to leave the uneaten pieces by the side of the plate. Suggest that this dish be left alone.

Beef Curry was a simple thin curry with a strong beef flavor. It was nice with no other flavor dominating its taste.

Malabar Special Chicken Curry (Rs. 150) :The rich creamy texture of the gravy had a hint of sweetness to it from coconut cream and caramelized onions. It was a treat for the taste buds.But the downer in this dish were the overfried tough chicken pieces. But I would like to try it again-with changes.

Now coming to the two most disappointing dishes-the fish dishes – the first being curry meen fry (Rs. 150). It looked nice but did not have the marinade flavor at all. The marinade generally has haldi, red chilli, crushed pepper corns, shallots, garlic, lemon juice and curry leaves and salt ground to a paste. The whole fish is scored and this marinade put in the slits and allowed to sit for an hour and then shallow fried on both sides. This one was rawa fried, tasteless and very dry.

Fish Manchurian : As the name suggests, this again was not a Keralite dish and was a very smelly boneless fish.

Coming to the end, rounding off with the breads…

Porottas (Rs. 10) were very soft and fluffy, lachedar (flaky) maida paranthas – were very well made.

Appams (Rs. 8) are softer, pulpier versions of Paalappam and has holes in it due to the fermented batter. They were good – when you dip the appams in the gravy it soaks it all up and tastes heavenly. A personal disappointment for me was that Pallappam though on the menu was not available. They are soft roundales of appam laced with the sweetness of coconut milk-crisp on one side and soft on the other with a slight pulpy center. Will come back another day for them.

Sadly, there was no dessert available.

Overall  Malabar was a great find. The prices were great with decent portion sizes.This place is definitely seeing me again but now I know what to stay away from.

Ratings (out of 5):

Food: 3.5 | Ambience: 3.5 | Service: 3.0 | Overall: 3.5

Meal for two: Rs. 600 | Alcohol: No | Credit Card: Yes | Home Delivery: Yes

Address: Malabar, 1305, Sector 39, Opposite Medanta Medicity, Jharsa, Gurgaon | Telephone: 7838765020/7838765252/7840808703

- Rohini Ghosh