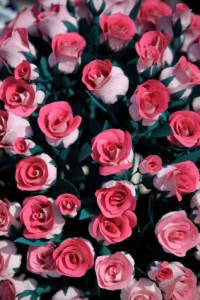 You are a crafts maven, the queen or king of DIY. You probably like assembling any and all things handmade and perhaps you even have an addiction to visiting Etsy. At the same time, you're a busy person who divides time between work, school, and a desire to keep on crafting. Looking for a craft to brighten up your home, something to soothe end-of-semester stress for students working towards an online degree or an idea for a bridal shower decoration? Read on.
Paper flowers are in vogue. Their combined simplicity and beauty make them a welcome addition to any home, cubicle at work, or professor's office (if you're aiming for a few brownie points). This project will engage your creative senses, delight those who like a little attention to detail, and provide a nice study break from seemingly-endless hours of homework. You'll need the following materials:
A pair of scissors
A glue gun
A cutting mat or board
A ruler
A craft or Exacto knife
A seven-inch piece of covered floral wire (widely available online, if not at your local craft store)
The paper of your choice – cardstock, newspaper, scrapbooking paper, or even returned homework assignments (just kidding about that last one)
1. Using your knife, cut your paper into 1.5"-wide strips.
2. Divide those strips into five pieces – four two-inch-wide strips and one four-inch piece.
3. With your knife or scissors – depending on how precise you want to be — round off the top and bottom corners of the four-inch piece on one side. Turning the curved side down, roll the piece of paper into a cone shape. It may take a couple tries to get the result you're aiming for. Make sure the paper overlaps a bit as you're forming the cone. Your result should be fairly recognizable as a bud when folded properly.
4. Glue the paper together to preserve your conical shape, being very careful not to burn yourself on hot glue. (Not that we have any experience with that.) Next, glue a piece of wire to the bottom of the cone. Voila, a flower!
5. Create petals from your smaller pieces of paper. Round the paper's corners on opposite sides to create symmetry. Glue petals to the stem in a staggered fashion. Repeat until you've made all the flowers you need – or you're aching to get back to homework.
While this craft doesn't take a lengthy amount of time – unless you're making multiple bouquets for your home or members of the wedding party – you'll want some flexibility in your schedule to make the prettiest flowers possible. This activity would likely make a good craft for students pursuing online degrees as they aren't bound to the classroom. Similarly, stay-at-home parents might like to do this craft with older children who are good with scissors… and aware of glue gun perils.
Whether your flowers are staying in your home, being presented to someone as a gift, or walking down the aisle in a wedding procession, get creative. Experiment with different types and sizes of paper for a varied look. Mix and match complementary colors like orange and purple for vibrancy, or use your school colors. Rip apart magazines for an array of glossy, slick feel. Above all, have fun!