Wearing glasses together with eye makeup can be quite a challenge! In order to achieve a balanced effect, you'll need to take into consideration several factors before deciding how to apply your makeup. Here are some guidelines to help you look your best.
Frames and Lenses
The first things you'll need to think about are your frames and lenses. If you wear rimless glasses, you can be very creative and experiment with many different makeup styles. If you wear thick or brightly-colored frames, your makeup will need to be more subtle so it doesn't clash or look like it's competing with your frames for attention.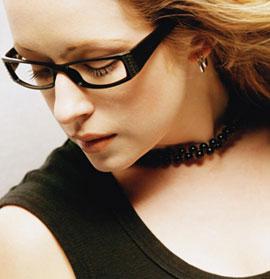 From: http://www.lokdsunglasses.net/
Did you know that your prescription lenses can make a difference in how your makeup looks? If you're nearsighted or have a very strong prescription, your lenses will have a tendency to make your eyes look smaller. You'll want to wear minimal eye makeup and choose very light shades of eye shadow – these will actually help your eyes look larger. If you're farsighted your eyes will already look bigger under your lenses, so smoky eye makeup effects and dark, dramatic colors can help your eyes look better proportioned.
Foundation and Concealer
Glasses can use the light against you by casting shadows under your eyes, so it's important to conceal any dark circles you already have before applying your makeup. Use a non-greasy foundation so your glasses will stay put, not constantly slipping and sliding down your nose and smudging your makeup along with them! Another technique is to cover your concealer and foundation with a layer of matte powder. Experiment and see what works best for you, because some people have trouble with powders flaking up onto their lenses during the day. Your current weather conditions may also become a factor – if you live in a very hot climate a thick foundation is going to melt off your face whether you wear glasses or not!
Eyeliner and Mascara
No matter your type of lenses and frames, eyeliner and mascara will be a beauty necessity! Use as thin a line of eyeliner as possible. Liquid eyeliner works great for this! Then apply mascara to only your top row of lashes. This is because adding weight to your lower lashes can cast more shadows under your eyes, making you look like you have under eye circles.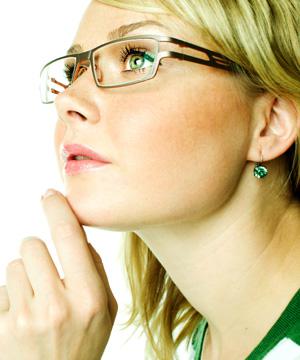 From: http://www.aliraqi.org/forums/showthread.php?p=147842889 – post 'Beauty Tips for Women with Eye Glasses'
Limit the Sparkle
When choosing your makeup, try to steer clear of anything that has shimmer or glitter in it. This is true not only for your foundation and powder, but eye shadow and blush, too. Because your glasses tend to amplify everything on your face, having too much shine or glitter can actually look overpowering. It's best to let the only sparkle on your face be the sparkle in your eyes!
Application Tips
Since you can't put on your makeup with help from your glasses, invest in a standing magnified mirror. You'll be able to see what you're doing, and can periodically put on your glasses to check how things look if you're unsure. Always make sure your makeup is dry – especially your mascara – before you put your glasses back on! Wet mascara will leave black specks all over your lenses, and will be very difficult to clean. If you are blessed with naturally long eyelashes, you might need to curl them so they don't brush against your lenses.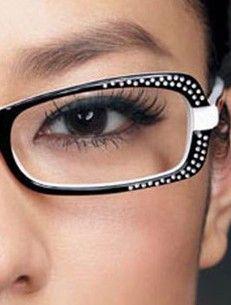 From: http://www.pq365.com/archives/category/beautiful-auditorium/page/22 – post 'Simple eye makeup tick glasses full of girl power'
Sara Roberts writes for Just Eyewear, an inexpensive glasses and cheap prescription sunglasses retailer.